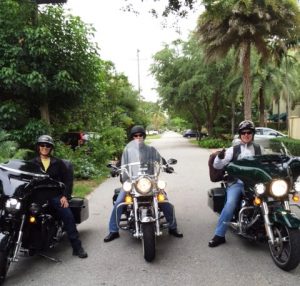 Headed to the UP with my good friends Mr. Smith and Pietro. We biked to Sanford on Day 1 and hopped on Amtrack for the overnight trip to Lorton, Virginia.  Met our newest best friends, Bucky,  Tony, and the lovely Becky.  All long time bikers and wonderful folks.  They made the train ride even better. We then off-loaded and started our trip through West Virginia on route 50.  What an incredible ride! Two hours and like 70 miles of twists, turns, switch backs, hooting and hollering as we wound through the Appalachian Mountains of West Virginia.  Easily on the Top 10 list of rides so far. Really technical, so much so that my left hand was tired from clutching so much. I'd love to show you pictures, but we were having too much fun to stop and take a photo. We spent the night in Bridgeport, W Va after a fun 200 miles of riding.  On to Ohio in the morning.
By the way, some fools tried to hack into the website, so the boys at InMotion had to suspend editing of the website until I could be "re-validated". Hey crooks, go find something better to do with your time! Anyway, I had to compress the first couple of days, but you'll get the flavor of our fun.
Day 2 –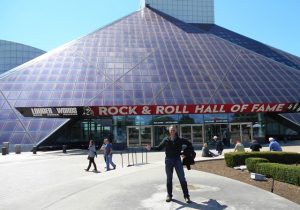 A great day for a ride!  We had to leather up though as temps in W Va were in the low 50's as we headed to Cleveland, OH and the Rock and Roll Hall of Fame and Museum. We took 50 to Route 250 from Bridgeport which took us nearly all the way into Cleveland.  More great fun riding and the chill was invigorating.  You know how much I love the cold (NOT!). We will definitely be doing the "route 50/250 run again! All told probably 200 miles of great technical riding with little traffic on weekdays. The Rock and Roll Hall of fame was great as well,  My favorite was the video montage of clips from the inductions through the years where you got to hear the music you remember and listen to the artists speak from their hearts.  Spent the night in Cleveland. On to Michigan in the morning.
Day 3 – Temperature warmed up to the high 50's as we left Cleveland.  We had only clocked around 300 miles so far, so we decided over breakfast to make up some miles and white knuckle it about 450 miles to Mackinaw City just this side of the Upper Peninsula of Michigan.  Mostly Interstate 75 all the way, so not much to say other than we had a very safe ride in very comfortable weather. Mackinaw City sits on the northern most point of the Michigan Peninsula, separating Lake Michigan to the west and Lake Huron on the east.  The city has great shops and restaurants and must be filled to capacity in the summer!  Tomorrow we head across the Mackinac Bridge onto Mackinaw Island of the UP which will lead us into Wisconsin. Today we added the 46th contiguous state to our collection of states we've ridden through.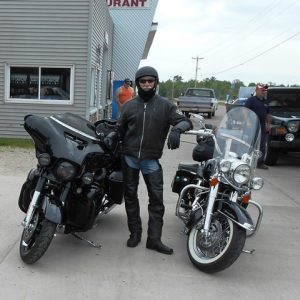 Day 4 – We left Mackinaw City all bundled up due to the 48 degree temps (don't mind the local in the picture behind me with the sleeveless shirt on. To the locals, this is "spring weather"!) and headed across the Mackinaw Bridge onto Mackinaw Island and the Upper Peninsula of Michigan. From there, we headed along Route 2 west and then Route 8 west headed to Wisconsin.  The ride was pretty and let's say "placid". After lunch, we jumped onto 52 west which took us through Wisconsin lumber country and diary farms. 52 west was a lot more fun than Routes 2 and 8; we finally got on some twisties and curves, no hills though in the  "Land-o-lakes".  After 335 miles, we bedded down in Wausau, Wisconsin where it is 90 degrees in the shade.  We went from freezing our cuchungas to roasting our buns all in one day. Headed across Wisconsin towards Minnesota in the morning.  Weather's holding up.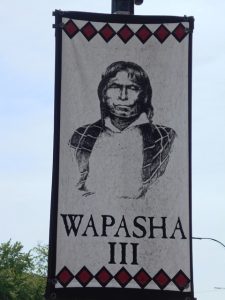 Day 5 – It was in the low 70's when we left Wausau, Wisconsin this morning. A great temperature for riding. We traveled through diary fields and sprouting corn fields as we rode from Route 39 south to 10 west followed by 37 south and then 35 north.  This is the America that fed the multitudes who made us a great country (or "grate" country since Wisconsin is known as the "Cheese State").  We then jumped onto 25 west which took us across the Mississippi River and into Minnesota, where we stopped for lunch in Wabasha named after the Native American Chief Wapasha.  After lunch we headed onto 60 west for some real fun twisties through the rolling farmland hills of Minnesota and eventually Interstate 35 south to our resting spot in Clear Lake, Iowa after a "warm" 340 miles. Tomorrow we head to Nebraska.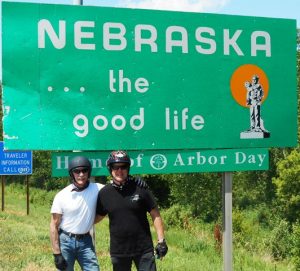 Day 6 – Boy does Iowa have a lot of corn growing! We left Clear Lake, Iowa bright and early to take advantage of the cool mid 80's temperature and headed to Nebraska.  Route 10 west to Route 69 south took us on a peaceful Sunday morning ride through a hundred miles of corn fields that were just sprouting. From 69 south we headed west again on 30 west which brought us into Nebraska, our last state to complete all 48 contiguous states!  Reed Mapwell then got us onto Route 75 south which finally had some nice curves (temps in the mid 90's!) and got us onto 32 east back into Iowa for a short time. That set us up to get on 29 south which took us into Missouri and to our resting spot for the night in St. Joseph, Mo after just over 400 hot miles.
Day 7 – We left St. Joseph, Mo early again, temperature was 82 degrees, and started onto Route 29 south back onto 69 south.  We even got a chance to ride a little on our old friend, Route 66, for a little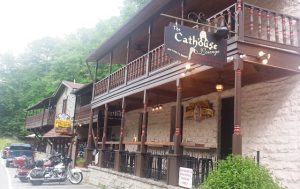 while.  From Route 66 we jumped onto Route 60 headed east which took us back to Kansas and Oklahoma so Pietro could add a couple of extra states to his "Rookie" ride with us.  From 60 east Reed Mapwell got us onto Route 90 south which is that great twisty road that we took previously through the Ozarks of Arkansas that brings us to our favorite resting spot in the Ozarks, Eureka Springs and the ever popular Cathouse Lounge.  362 miles of partly cloudy skies and mild temperatures in the mid 80's.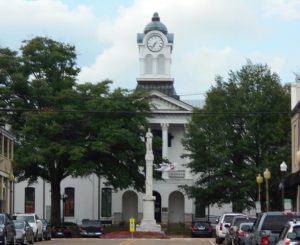 Day 8 – My newest favorite three words (just after "I love you" darling) are "crooked and steep".  What a great day of riding! We left Eureka Springs with temperatures in the high 70's on route 23 south to route 16 east.  These two routes had some great twisties and curves through hills of Arkansas. We had the video camera going, so we'll hopefully have some video to share of that ride. We then jumped onto Route 7 for a little way until lunch and then decided to make up some time and avoid some ugly clouds by getting onto Interstate 40 east which took us to Route 49 east over the Mississippi River and into Mississippi.  On the way, we visited the hallowed birthplace of Mr. Smith (even passed his elementary school and high school).  Sorry, the actual town's name will remain a secret. We eventually ended up on Route 6 east which took us to Oxford, Mississippi, home of Ole Miss and author John Grissom (this is a picture of the court house where Grissom's attorney protagonist would fight for the little guy) after 430 miles of some really fun riding.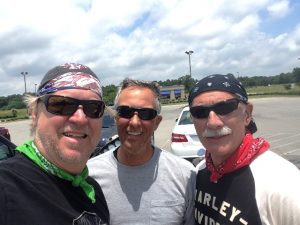 Days 9 through 11 – Mostly travel. On day 8 we took a quick riding tour of the beautiful Ole Miss Campus as we left Oxford, Mississippi under cloudy skies.  From Ole Miss we got onto Route 30 East which took us to 72 east and finally 231 south which took us into Alabama where we said goodbye for now to Pietro after lunch.  He headed north for home and Mr. Smith and I continued south on 231 into Montgomery, Alabama where we will spend the night after 430 cloudy, but dry miles.  From here, we'll continue home for the next two days through states that we've ridden through many times before.  Not much will be new, so I'll sign off from this trip now expecting that we'll clock about 4000 miles for the total trip.
We spend most of our time riding, so there aren't too many pictures. Here's little snip of one of our rides in Minnesota.  Mr. Smith is in front, with me catching him on video right behind him.  We're still figuring out how to use the camera, conversion, compression, etc. and using a free trial of the video compression software for now, so please disregard the watermark. Not bad for a couple of old "baggers" huh.
Check out the other pictures from our trip in the photo album below.  Either click on the "slideshow" or arrow down to page through the pictures one at a time.  Enjoy!  Don't forget to sign in on our Guest Page!