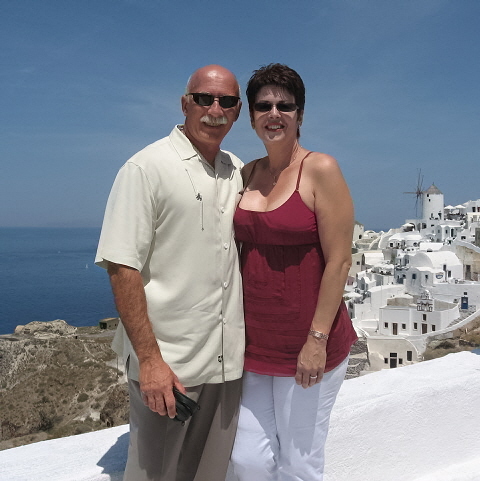 Welcome to our 2009 trip to Greece!  We flew to Greece just in time to beat the summer busy season.  We landed in Athens for a rest before traveling onward to Mykonos.  We stayed at a great little hotel called "The Electra Palace" and ate a little and walked a little.  Our favorite meals on the first day included Greek meatballs wrapped in filo dough and fried, pork in rosemary and thyme sauce, and an incredible lamb shank with pasta.  One of the Greek red wines we've had so far reminds me of a mild Beaujolais and another tasted like a Merlot.  Don't ask me to pronounce, let alone spell the names of the wines.  I am completely stymied be the Greek language. Mom looks pretty sexy aye!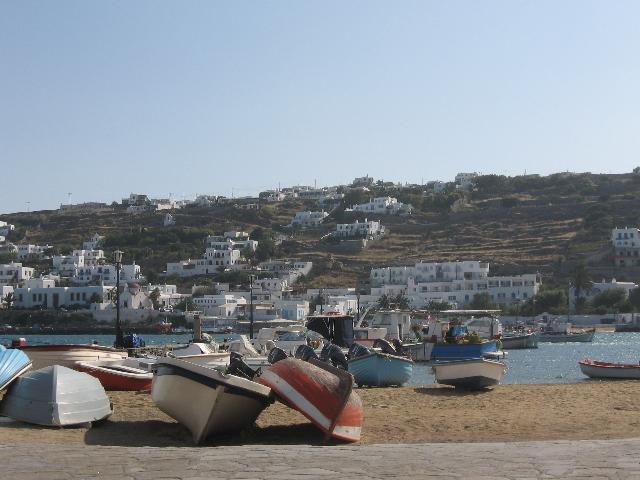 On Day 2 we traveled to Mykonos for our three-day stay at Kouros Hotel (www.kouros-hotel.com) which overlooks the Aegean Sea and several of the Greek islands. Citizen's of Mykonos themselves would not call their little island beautiful, but Europeans flock here every year.  Apparently Jackie Onassis used to vacation here in the 60's and it has been the "in" place to hang ever since.  I think that Mykonos can best be described as a free-wheeling international party place that fronts as a sleepy fishing town as the fish is great and all kinds of celebrities are known to party here.  As for mom and me, we stuck to the great hotels and restaurants that are connected through a labyrinth of narrow, shop-lined streets and left the partying and alternate lifestyle festivities for the single folks.  We ate some delicious lamb souvlaki and the best fresh tasting salads I have had in a long time. I had to try their fresh grilled sole and several octopus dishes.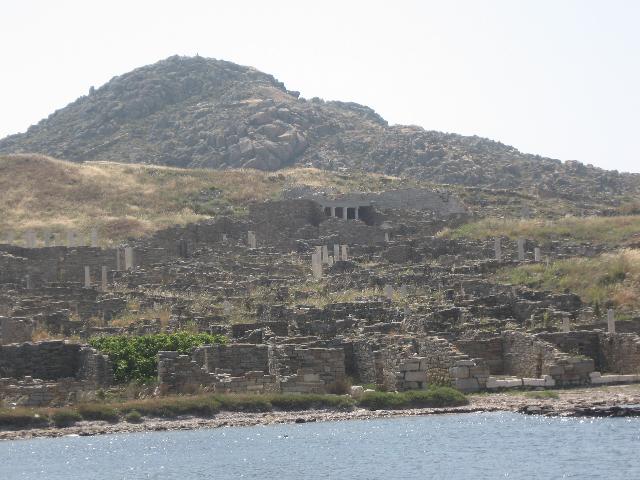 Day 3 was spent taking a fast ferry to the little island called Delos.  Delos was considered the holiest of all the islands by ancient Greeks as mythology has it that Apollo and his twin sister Artemus were born there.  In fact, back in the 8th century BC, the first of three Temples to Apollo were built.  Over the next 700 years, Delos was built into a crowded, bustling, "center of the commercial universe" that eventually housed between 20,000 and 30,000 inhabitants on this tiny 3.5 square mile island.  Delos was unique in that while it was always dedicated to the God Apollo, it was a melting pot of all of the religions practiced by the wealthy merchants that traded on that Island.  There is even evidence of a synagogue built around the first century BC!  The inhabitants were so convinced that the island was protected by Apollo, that no forts or armaments were ever built on the island as everyone lived peacefully together even though there were so many different religions and cultures living side-by-side on this crowded island.  However, with wealth always comes someone to take it, and Delos was plundered in 88 BC by a king of Asia Minor and nearly all of its undefended inhabitants were slaughtered and their riches plundered.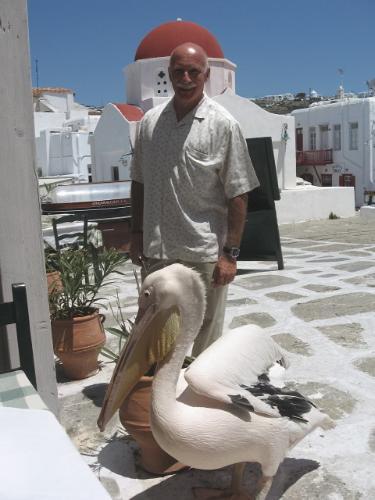 We crossed Mykonos city to go to Fabrika on Day 4 to go on a walking and bus tour of Mykonos Island.  On the tour we met two of the biggest pelicans mom and I have ever seen.  Their ancestors were gifts from Berlin and these babies are bigger than large turkeys!  They have their run of the Venetian section of Mykonos and the locals tolerate their poor manners.  We saw some of the most famous beaches in Mykonos such as Paranga beach, Psarou beach, and Platis Gialos.  Great places to chill and enjoy a cold beverage.  We had a great dinner that night at an Argentinian steak restaurant called "Uno con Carne".  This is an authentic meat-eaters paradise unlike other steak restaurants we have been to in Europe.  The steaks are U.S. sized and grilled to perfection.  Being in Greece however, mom and I decided to settle for something as Greek as possible, so we both ordered the New Zealand rack of lamb which was coated with a balsamic vinegar-honey glaze.  DELISH!  Our wine was a Greek cabernet-merlot blend that was pretty good.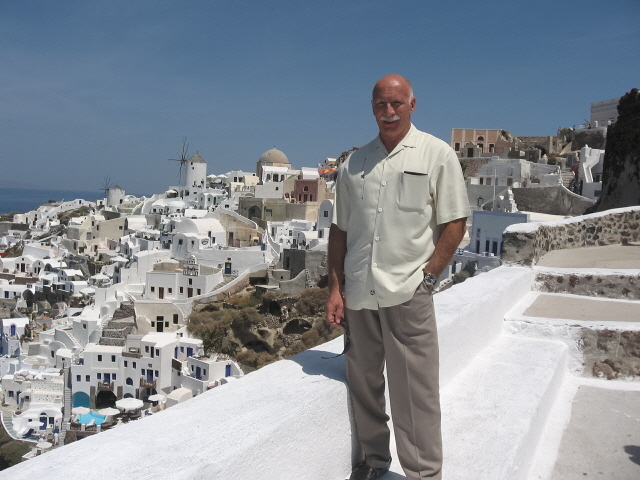 We arrived in Santorini on Day 5 via a fast ferry from Mykonos.  The trip took about 3 hours and we met a young Western Indian couple now living in New Jersey (originally from Queens) who gave us the name of their favorite Indian restaurant which is in Jackson Heights.  We stayed in this really cool remodeled, old sailors home turned bed-and-breakfast called Ikies Hotel that overlooks the caldera area of the Aegean Sea.  More about the caldera later. After a short reconnaissance walk through the town of Oia (pronounced EA), we enjoyed a light dinner of pork souvlaki and grilled octopus (guess who had what) and opted for a carafe of local wine (750ml for 8 euro!) which was the best wine I had so far this trip!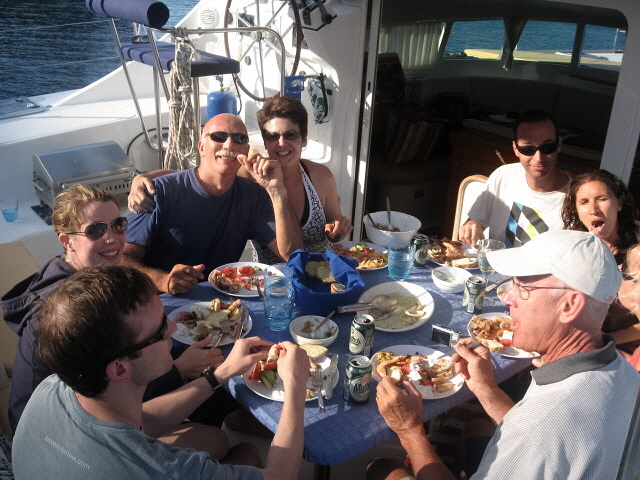 On Day 6 after a late breakfast on our patio and a little shopping (guess who's idea that was), we took a tour of the caldera on a 10 person catamaran (www.santorinisailing.com).  The caldera was formed 3000 years ago when a huge volcano in the Aegean Sea erupted and formed the island of Santorini.  Seismologists believe that the volcano will have another major eruption within the next 50 years.  Our little voyage was no Jungle Queen cruise.  Jimmy (from Astoria, Queens) and Vladimir (from Serbia), our captain and first mate, took great care of us and showed us a great time.  We and the three other couples that were with us were wowed by Jimmies cooking ability.  In the boat's galley Jimmy prepared grilled squid, pasta salad with tomatoes and olives, baked vegetables, grilled prawns, grilled pork steaks, and fruit for dessert.  We also enjoyed a delicious local white wine.  Unbeknownst to us, Jimmy has cooked for Giada DeLaurentis and some of his recipes were featured on the Food Network with Giada.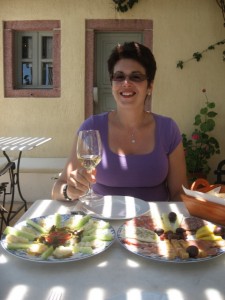 We toured and had a wine tasting at the Domaine Sigalas vineyard on Day 7.  The cultivation and wine processing of the wines in Greece is much different than that in Tuscany for example.  The lovely Stella, enologist and tour guide explained that the biggest reason for the difference is the environment of Santorini.  The soil is largely influenced by the presence of pumice and minerals from the eruption of the nearby volcano several thousands of years ago.  The minerals provide richness to the grapes while the pumice helps keep moisture in the soil.  Secondly, it rarely rains in Santorini so the grapevines that do best are those that stay close to the ground.  While the vineyard is experimenting with the typical upright cultivation we would see in Napa or Tuscany for instance, most of the vines in Santorini are cultivated as low bushes.  This type of cultivation allows the grapes to protect the soil from evaporation leaving moisture for the vines themselves.  As red grapes require more moisture that white grapes, Santorini produces much more white wine than red wine.  Also of note is the fact that Santorini has not been infested by the insects that destroy the vines' roots as had happened in France for instance, so it is one of the few places in the world where vines can be grown without grafting the varietals onto U.S. root stocks.  While the harsh conditions require that the vineyard more carefully monitor the fermentation process, the advantage of little to no rainfall and dependable sunshine is that the grapes grow reproducibly from year to year since there is no annual difference in the environment.  Once you have perfected your process, a similar wine is produced from year to year!  Not only did we learn a lot, and taste some great red wines, white wines, and a red vin santo, but we took home a few souvenirs!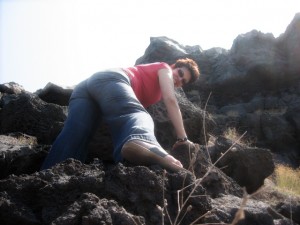 On Day 8, we headed down 242 steps to the fishing area below Oia and did a little exploring.  Mom tried her hand at rock climbing.  It was good thing that she brought her "all-terrain" sandals with her :).  She was definitely the best dressed rock climber out there that day!  For lunch, mom had grilled sepia or cuttle fish, which is like squid but has an arrow-shaped head.  You've probably seen them on the Discovery Channel.  Tasty!!.  I found the ugliest, scariest looking fish in the fishcase called a scorpion fish.  It was not only ugly, but had spines all around it.  I had it grilled and boy was it good.  With our lunch we had a local white wine that reminded me of a pinot grigio.  After lunch we said good bye to Santorini and Oia and took a fast ferry to the island of Crete.  We arrived at nearly 10:30PM and after a lazy dinner of lamb stew and goat stew, with a bottle of Greek red wine at probably the most famous restaurant in Crete, the Avli, we called it a night.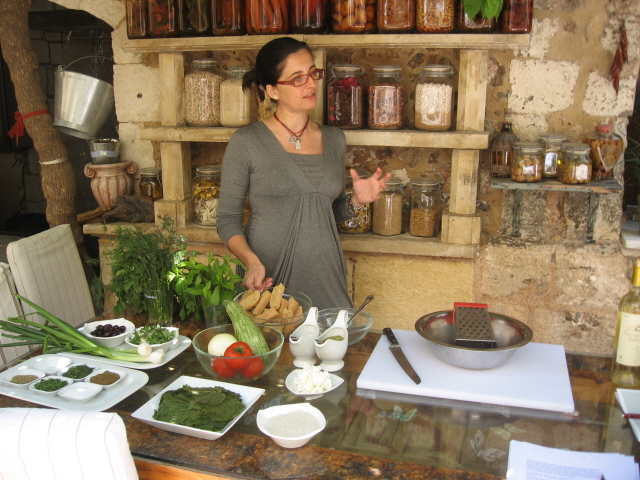 Day 9 was our first full day in Rethymno and what a day it was!  We woke up late and headed downstairs to the Avli restaurant for breakfast at around 11 AM.  Well, breakfast (fruits, Greek yogurt, frittata, breads, and tea) took nearly 2 hours and we immediately headed into our cooking lesson at the Avli which was scheduled for 1 PM.  The owner Caterina, and her chef Aris did a wonderful job of teaching us about the Greek diet and cooking and showed us all kinds of savory little meals.  We started with dried bread which was wetted and then doused with olive oil, and then sprinkled with salt, pepper, oregano, and covered with tomato, garlic and cheese.  Boy do the Cretans like olive oil!  They pour heaping amounts into all of their cooking.  Apparently, Cretan olive oil is tastier than Italian olive oil and a lot less expensive.  Our other appetizers consisted of two different eggplant salad towers: one consisted of a layer of fava bean paste, a layer of eggplant puree, and a layer of chopped grilled octopus, the other tower consisted of a layer of beet salad, a layer of eggplant puree, and a layer of Greek yogurt and fennel.  We of course watched how dolmetes (stuffed grape leaves) are made and boy were they tasty!.  We enjoyed our appetizers with a delicious bottle of Crete sauvignon blanc.  Our main course was goat and paparadelli pasta in tomato sauce and a 2008 Crete cabernet.  This was a marathon eating feast.  When you take into account that we started breakfast at 11 AM and didn't finish the cooking lesson until 5PM, Mom and I ate for 7 hours!!!!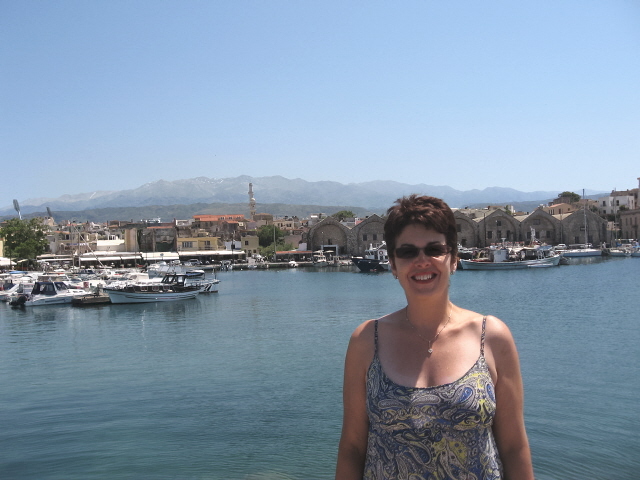 We woke up early on Day 10, 8AM, and after a small breakfast took a one hour bus ride to the town of Chania, or Xania, or Xavia.  It seems that the are at least three spellings of this town.  Anyway, Chania is an old Venetian port city of the Middle Ages.  Back when Venice ruled the commercial waterways, they built several port cities in Crete.  The Old Town is dotted with ancient landmarks and great restaurants abound.  It was interesting to see that even in the Middle Ages, the commercial folks could live in harmony regardless of religion.  In addition to the shipyards we found a synagogue, Greek churches, a Catholic church, and a mosque in the Old Town.  We tucked into this old restaurant called Tholos Restaurant on the fringe of the Old Town for a dish of goat stew and octopus stew, very tasty, indeed.  We headed back to Rethymno (or Rethymnon) for dinner at Veneto, another famous restaurant in Crete.  Mom and I shared mushrooms with meat and Parmesan cheese as an appetizer, mom had shrimp with saffron and I had grilled bream as entrees with a delicious light white wine from Crete.  Dessert was an incredible dark chocolate mousse cake.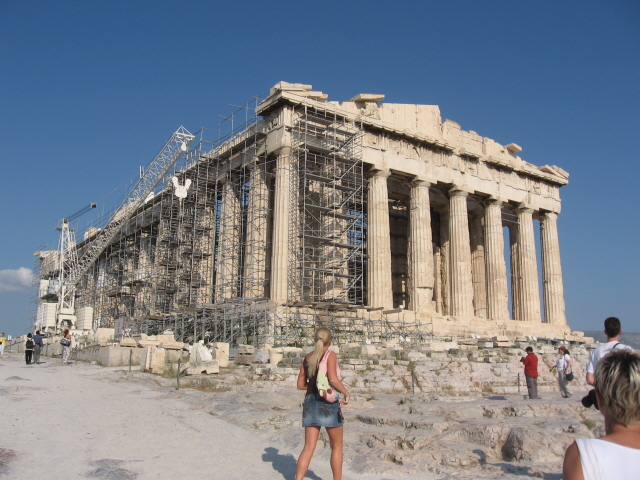 We flew back to Athens on Day 11 and took a 4-hour tour of the City of Athens and the Acropolis.  Our first stop in Athens was the site of the 1896 Olympics which was a completely marble stadium that holds 70,000.  We then drove to the buildings where the Prime Minister and President work.  Unlike the US, in Greece, the President and the Prime Minister live at home and commute to the office.  While there, we witnessed the changing of the guard.  On our way to the Acropolis we drove past several other significant buildings such as the Academy, Athens University, and the Library.  The Acropolis is amazing.  There is so much to tell about the Acropolis and the buildings that stood there that the only way to do justice to its history is to take a tour of.  Briefly, building on the Acropolis started over 3000 years ago.  Initially meant for small wooden temples to Athena and Poseidon, over the centuries advanced building and architectural technology led to the marble buildings that we now see on the Acropolis.  The Parthenon was built as a tribute to Athena, while the temple of Athena is a much smaller building close to the Parthenon.  The Parthenon was built so well and with such huge marble stones that it probably would have lasted all these years in its original state if not for the wars between the Venetians and the Turks.  The Venetians stored their gunpowder and munitions in the Parthenon due to its sturdy structure.  Unfortunately during one of the battles, a Turkish cannonball flew into the Parthenon and while it alone probably did little damage, it ignited the munitions which resulted in completely demolishing the Parthenon.  The Greeks have been attempting to put it back together ever since.  After the tour we had an incredible dinner at the Horizon Restaurant which stands on a hill overlooking the Acropolis.  Mom enjoyed a grilled steak and I had a roast lamb shank sautéed in beer and vegetables.  It tasted nothing like beer.  You have to go into the photo album below and see the pictures of the Acropolis.
We definitely has a great time in Greece and ate great food and drank delicious wine.
Here are a few more pictures and stories.  Either click on the "slideshow" or arrow down to page through the pictures one at a time.  Enjoy and don't forget to leave a comment in the Guestbook!