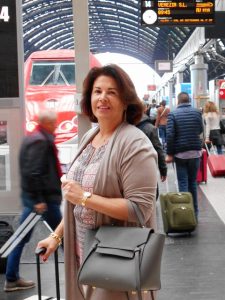 We arrived in Milano last night and are boarding a train to Venezia to eventually end up in Treviso and the start of our Prosecco Tour of the Veneto region with our trusty guides, Raffa and Marcello Tori. We spent the night at the lovely Spadari Hotel just outside of the magnificent Duomo of Milano. We enjoyed a delicious dinner of oso bucco (Mom) and beefsteak over artichoke hearts (Dad) with a bottle of Bertone Ripasso at the Hosteria Borromei. We'll be spending our nights at the four star Hotel Villa Soligo in the province of Treviso, near the cultural center of Treviso and Venice. The hotel is part of a neo-classic villa built in 1782, renovated in 1980 with only 30 rooms, surrounded by a huge garden. This will be a peaceful place to relax between wine tours over the next 10 days!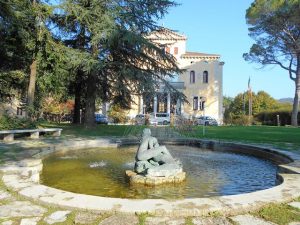 Day 1 We arrived at the Hotel Villa Soligo had had a light lunch with Alessandro and his wife, Roberta. Lunch included eggplant parmigiana, pasta with almond pesto and tomatoes, and sliced beef followed by panna cotta; all accompanied with a delicious local prosecco. In the evening we traveled a short distance to our first prosecco wine vineyard, Borgo Col where the owner Daniele taught us about prosecco.
All wines from this region come from the glera grape. The initial fermentation is similar to that of essentially all white wines in that they are fermented for around 10 days in steel vats. After that, the wine is then transferred to a second set of steel vats for a second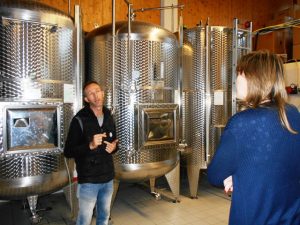 fermentation with added yeast and sugar. This second fermentation can occur over 2 – 4 weeks with repetitive transfers to separate the liquid from the solids. The enologist decides whether the wine should be bottled quickly creating a "Tranquillo" or remain in the tank to form prosecco. The prosecco can then be dry, extra dry, or brut depending on how much of the second fermentation is allowed and how much sugar is added, brut having the least amount of sugar and dry having the most amount of sugar. All proseccos will have around 11 – 12% alcohol. The DOC designation indicates that the prosecco came from the appropriate area, while the DOCG designation indicates that the glera grapes came from vineyards high on the hills of the region imparting the most character to the prosecco. Often the DOCG prosecco wines are called "superior". After the tour and lesson we enjoyed a wonderful dinner at the winery consisting of homemade salumi, pickled vegetables, grilled meats, with prosecco and light red wine.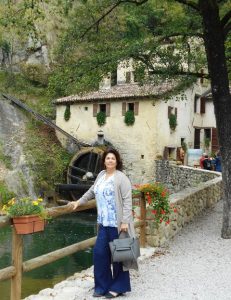 Day 2 was a little chilly as we headed to Il Molinetto della Croda which is a corn and wheat mill built in the 17th century and was active until 1953. The mill has been the site of sudden flash floods in 1941, 1953, and most recently 2014 when more than 10 onlookers actually drown. From the mill we headed into Conegliano to taste the proseccos made by this very small mother and son winery da Lozzo. Lunch was at a local trattoria (I had snails and baccala; Mom had salad and roast sausage). Following lunch, we headed to the Carpene' Malvoti winery which boasts being the first winery to prosecco as a sparkling wine and is responsible for the technique used in prosecco wine making today. They make a dry, extra dry, and brut prosecco that is very complex, delicious and best of all, available in the U.S.!
Day 3 met us with warmth and a bright sun. Our trusty driver, Vittorio, drove us about 45 minutes to Treviso for a cooking class at Ca' Mauro on how to prepare radicchio di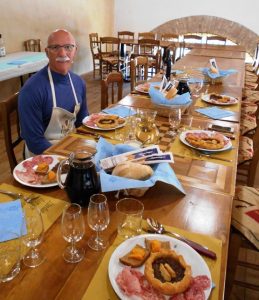 Treviso. This is nothing like the radicchio that you pick out of your salad at home because of its bitterness.  The town prides itself in the local growers who have perfected radicchio cultivation to the point that their radicchio goes for as much as $10/kg in Bologna!  It's cultivation is complicated and includes harvesting from the ground in the early winter, followed by cleaning and placing in the water of a local stream under tarps to keep the radicchio in the dark to effect the white and red color. Pictured here is half of our lunch which included a warm radicchio tort, salume, bread with butternut squash, radicchio risotto, and a radicchio pastry.  After lunch we headed into historic downtown Treviso for a tour from Laura, a local and very informative guide. Treviso is a gem of a city full of history and culture as much of Venetian nobility kept a palace in Treviso, making good use of the major canals in the city that provided easy access to Venice. Dinner was at a great four generation old restaurant called Lucinda da Condo. Mom had lamb shank (stinko in Italian) and I had braised rabbit.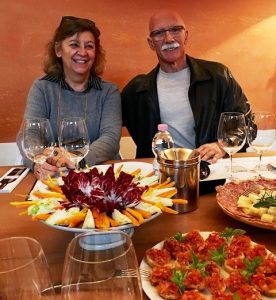 Day 4 threatened rain as we headed to Asolo, the town of 100 horizons. Our lovely guide, Boyino (from Croatia, via Tampa and Chicago) led us on a pleasant and informative walk (asolando) where we viewed the many royal mansions, shops, and art of this medieval town. Asolo is nestled in the prealps in the shadow of Mount Grappa, so around every corner is a beautiful vista of the surrounding landscape. From Asolo we headed to Villa Angarano which is a villa built in the 1500s designed by the famous architect, Palladian. The Villa is now owned by 5 sisters and is a winery. We met one of the sisters, Carla, and enjoyed a lunch of salumi, brochette, and vegetables while tasting a couple of their wines. Our favorite was their white Vespaiollo made from a local white grape called Vespaiola. From the Villa we headed to Marostica for an espresso in their town square famous for the huge chess board where a "live chess" game is played biannually. We then traveled to Bassano del Grappa just outside of Mount Grappa for a walk and a taste of the grappa from the area. Dinner was at Enoteca Corte del Meda' near Congliano where Mom had rabbit and I had quail. We enjoyed dinner with an interesting local red wine called Malanotte which was pleasantly fruit forward (cherries), yet nicely balanced with tanins and alcohol (14%).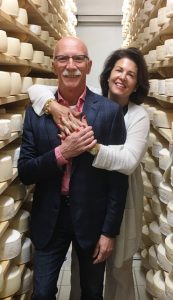 Day 5 is another sunny, warm day as we travel to the town of San Pietro di Filetto to tour the Perezin Lateria which is a 5 generation-old cheese factory. There, our trusty guide (and fellow surfer) Mattia took us on a tour of the dairy/cheese factory and taught us about the cheeses the family makes. Lunch started with a prosecco and a tasting of several of their award-winning cheeses (my favorite was San Pietro in Cera di Api = St Peter in Beeswax) followed by pasta (Mom had tagliatteli with mushroom sauce, I had penne with eggplant and cherry tomatoes) followed by a generous hamburger over roasted potatoes (Mom had a cheeseburger) and roasted eggplant, peppers, and mushrooms (carponeta). With lunch, we drank another local white wine called Rubello. For dinner, we headed to the Bortolomiol Winery in Valdobbiadene for a cooking lesson from chef Stefano and a wine tasting of their delicious DOCG proseccos, Gran Cuvee sparkling wine, and smoooooooth grappa. In the cooking lesson we made an butternut squash appetizer with ginger, pomegranate, and pine nuts, a first course of gnocchi with tomatoes and speck, followed by chicken breast with chestnuts and pomegranate, and for dessert a cream with chestnuts, pastry dough, and pomegranate juice. Delicious!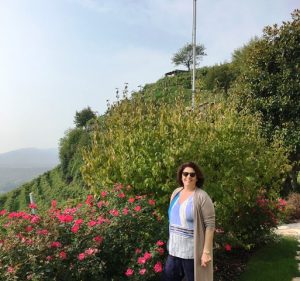 Day 6 is cloudy and chilly as we travel to the Col Vitoraz winery for a tasting of their DOCG prosecco and Cartizze prosecco.  They make several dry versions of their prosecco ranging from Dosagio Zero (no added sugar in the second fermentation) with 1.5 gm sugar/L to Millesimato Prosecco Superiore (best grapes picked that year) with 28 gm sugar/L. Then from the Cartizze region of Valdobbiadene, they make a "Cartizze Superiore" that is their premium wine with 26 gm sugar/L. From the winery we stumbled into the van and headed to lunch at alla Cima.  Mom had grilled pork ribs and sausage; I had grilled lamb chops. For wine we enjoyed a tasty local Cabernet Franc. On the way back to the hotel for a well deserved nap, we stopped at the 12th century Follina Abbey (once intended for our daughter Stephanie, but she had other ideas). We had our farewell dinner at Locanda da Lino as we depart for the real world in the morning.  Mom had pasta with meat sauce and a insalata mista, I had pasta with clams, scallops, and mussels followed by veal liver and onions. We splurged tonight and got a 2009 Amarone di Valpolicella which was out of this world! I did have dessert this evening; green apple sorbet in green apple grappa…mmm…mmm…mmm…!
And so another wonderful wine excursion comes to an end.  Fifty different wines over six days. Not bad. Headed to Milano then home. Thanks again to Marcello and Raffa as well as our new friend, Tara! Ciao!
Please check out the other pictures from our trip in the photo album below.  Either click on the "slideshow" or arrow down to page through the pictures one at a time.  Enjoy!  Don't forget to sign in on our Guest Page!