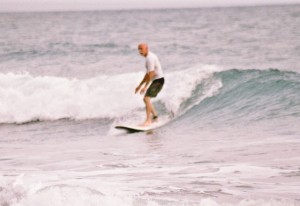 My surf buddies and I decided we'd check out the breaks in the southern most peninsula of Costa Rica, the Osa Peninsula.  Osa is probably the most remote of the Costa Rican regions, with many gravel highways and some areas dependent on electrical generators for power.  While Costa Rica contains 5% of the world's biodiversity, tiny little Osa contains about 3% of the world's biodiversity…oh yea, and some GREAT surf.  Getting to the Osa isn't too tough.  You fly to San Jose and then take a puddle jumper to either Puerto Jimenez or Carate.  From there however, you better rent a dependable 4-wheel drive vehicle because many of the major roads are not yet paved and a little rocky.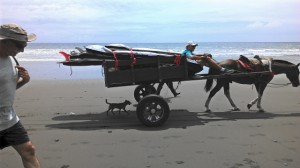 Our first break was in Manzanillo where we stayed at the Encanta La Vida bed and breakfast.  Great food, nice accommodations, unfortunately nearly flat conditions. We tried afew other nearby breaks (e.g., Germany) to no avail.  From there we moved to the La Leona Lodge in La Leona.  This bed and breakfast requires a 2.5 mile hike from the closest roads (see the picture above.  That's right we needed a horse-drawn carriage to bring the boards!), has no cell service, no internet connections, luxury tents as bungalows powered by a generator, great food, and thank goodness…spectacular chest-to-head high glassy breaks!  After three days, those waves turned flat so we headed to Dominical, Dominicalito, and Playa Hermosa (not the one near Jaco, but in Osa).  We stayed at the Baru Eco Reserve and surfed great head high waves at Guapil.  When those waves started to close out, we beat it to Esterillios and La Serena Hotel.  Nice head-high, long board waves!
Here are a few more pictures and stories.  You'll notice that there are only surfing pictures in small surf.  We were too busy surfing in the bigger surf!
Either click on the "slideshow" or arrow down to page through the pictures one at a time.  Enjoy!  Don't forget to sign in on our Guest Page!