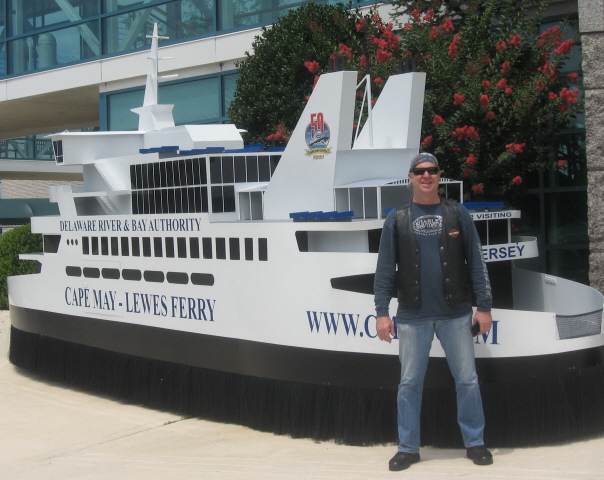 Mr. Smith and I have decided that we need to visit all 50 of these United States of America (and the District of Columbia) on our bikes!  Having about 18 states already in the bag, we're going to try to add another dozen or so with a ride up the east coast.  We loaded the bikes onto Amtrak at Sanford, Florida so we could sleep through the most boring part of the ride.  On Day 1, we then off-loaded the bikes in Lorton, Virginia and headed northeast to Cape May, New Jersey and are spending the night outside of Freehold, NJ.  So far, we've put about 500 miles on our bikes on this trip.  The plan is to continue through New Jersey, Connecticutt, Rhode Island, New Hampshire, then make a U-turn in Maine, and head home.  We figure it will take 10 – 14 days and about 3300 miles.  Should be a lot of fun!  Stay tuned!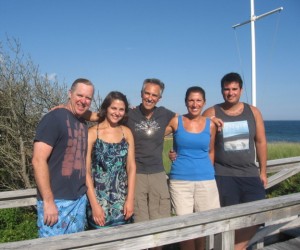 Day 2 was a beautiful, sunny day in New Jersey.  After a light breakfast, we headed up the Garden State Parkway to Rt 80 east almost to the George Washington Bridge, but jumped onto the Pallisades Parkway north just before the bridge.  This was a bit of a harrowing ride, but we were able to avoid a lot of the normal NYC congestion that occurs in New Jersey near NYC on most weekdays.  The Pallisades Parkway is a forgotten road in desperate need of repairs, but a pretty ride none the less. Once we crossed over to New York, we hopped on the NYS throughway (87/287) and took it over the Tappan Zee bridge over the Hudson river (a beautiful crossing by the way!) and then caught the Hutchenson River Parkway and Merritt Parkways through to the Yale Campus in New Haven.  The roads through the Yale Campus are a mess and by random luck we ended up on Connecticut State Route 80 (yes kids, another of Dad's famous adventures) which turned out to be a great quiet ride through much of Connecticut.  SR 80 brought us onto I95 which we took for a short ride to Route 234 and Westerly, Rhode Island and the beach house of our good friends pictured above (Sorry, no names).  All-in-all, a great day of riding with another 260 miles under our belts and our belts slightly extended after a dinner of linguini with white (freshly harvested) clams sauce, sauteed mushrooms, blueberry pie, and roasted smores on the beach.  Oh yeah, we drank a little wine too.  Question: "What's better than a beach house on the shores of Rhode Island?"  Answer: "Friends with a beach house on the shores of Rhode Island!"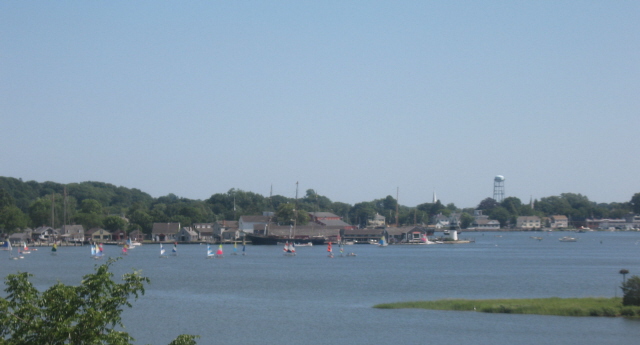 On Day 3, we thanked our great friends for their generous hospitality and headed on the rode to Maine.  It was another beautiful day and we had some serious miles to travel, so after a side trip to Newport, Rhode Island, we took I495 around Boston to avoid that traffic mess, then alternated taking US1 north and I 95 north through New Hampshire and into Portland, Maine.  First a quick word about Newport.  EASILY ONE OF THE MOST BEAUTIFUL CITIES IN THESE UNITED STATES!  I could spend pages describing the beautiful mansions that make South Hampton look cheap or the awesome shoreline, but it's quicker if you just go and see it yourself.  We also took US 1 through some of the famous beach towns like Kennebunkport, Maine which were crazy busy.  Speaking of Miane, you'd think you were in Santa Cruz, California instead of the southern Maine shoreline with all of the cars carrying surfboards.  That is some cold water!  Anyway, another 320 miles to our total brings us to 1080 miles and a half dozen states to our total.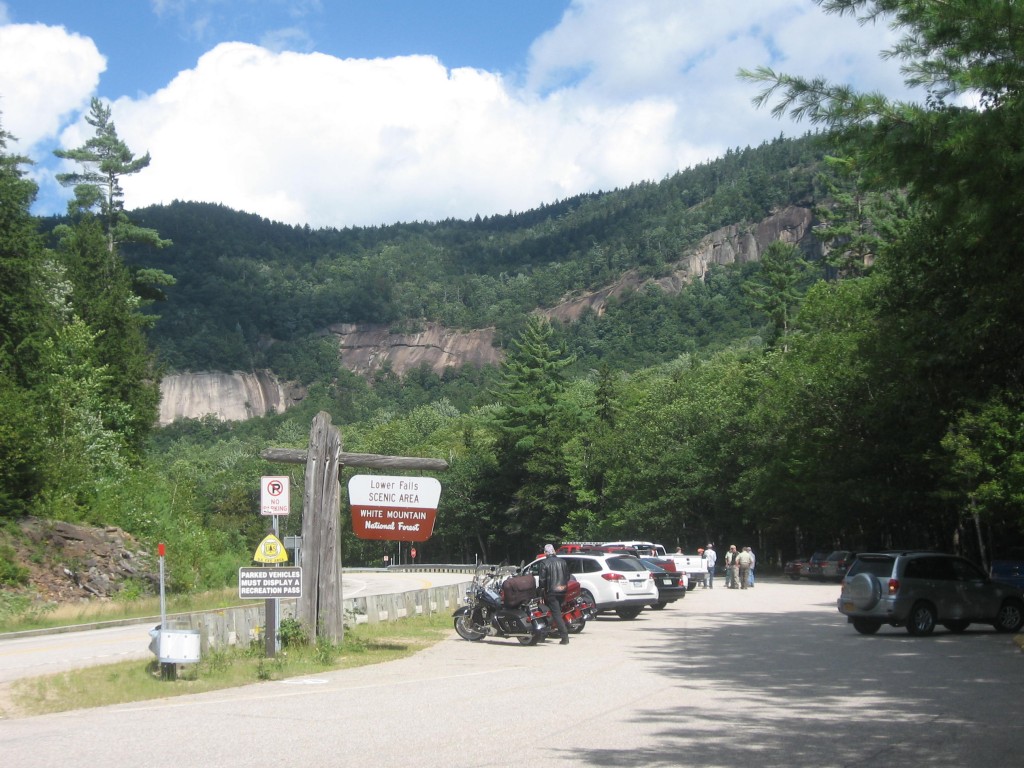 Day 4 started out bright, sunny, and cool as we left Portland, Maine headed to Burlington, Vermont and the home of friends of "Mr. Smith".  We took a great scenic route west, starting with ME 112/114 which took us into New Hampshire where we jumped onto NE 25 west over the White Mountains (sorry dudes, we've ridden along the Pacific Northwest, now, those are mountains!).  NE 25 is great with some great turns, hills, lakes, and rivers.  Unfortunately, as we headed up a slight incline I attempted to downshift, but couldn't find my toe shifter!  It turns out that the shifter loosened and slipped down.  We were able to re-tighten it and got back on the road.  As we got closer to Vermont, we took NE 302 which is another great ride, but noticed rain clouds gathering and got a little wet once we got close to Burlington on I89.  We finally arrived at the beautiful white pine home (built from a kit!) of our friends, a little wet, and 220 miles later.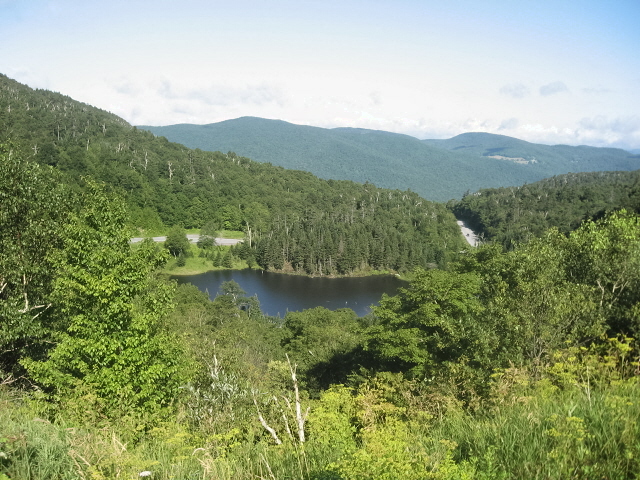 Day 5 was chilly, but pretty as we prepared to leave the beautiful Vermont log home of our hosts.  Mr. Smith had to play one hole of golf at the house (yes, they created an 18 hole golf course on their property) and then we were off.  We jumped onto Vermont Route 17 south through the Appalachian Gap which had great curves and hills, but was in need of repair, and then headed for Route 100 south all the way down to the Vermont/New York border.  Route 100 is a beautiful, tree-lined road with some great curves that took us through some famous ski resorts like Killington (pictured above). From Rt 100 we took 9 west into New York and jumped on 22 south (another great scenic road) to 32 west which brought us across the Rip Van Winkle Bridge to the New York State Thruway (I87).  We are staying in Kingston,New York just outside of the famous Catskill Mountains (really large hills) of New York after a pleasant day of 280 miles.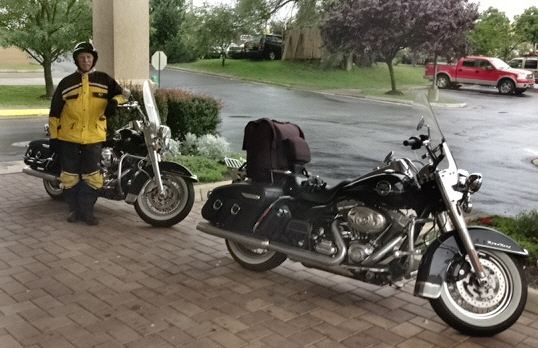 Yep…Day 6 was rainy and chilly.  We jumped onto Route 209 south through the Delaware Water Gap, the Poconos, and great little towns.  The ride would have been real fun with nice curves and hills, if not for the rain.  Route 209 brought us to I 87 west that in one hour took us across Pennsylvania, Maryland, West Virginia, and Virginia.  After 345 wet miles, we were glad to put out feet up in Winchester, Virginia.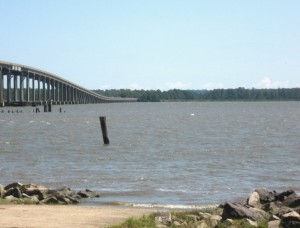 …Nothing but blue skies do I see..Day 7 is a glorious, crisp, sunny day with barely a cloud in the sky.  We spent the day on Route 17 south which took us all the way from Winchester, Virginia 357 miles to Williamston, North Carolina.  Route 17 was a great ride with a speed limit of 45 to 70 miles/hour full of gentle curves, tree studded meadows and hills, interspersed with canopy covered stretches through Virginia.  We rode through vineyards and cities like Fredericksburg and Tappahannock (Tappahannock river is pictured above).  The road got a little congested as we approached Newport News and Cheasapeak, but opened up into a four-lane, 70 mile/hr highway when we got into North Carolina.  About 2300 miles down, and about 1000 left!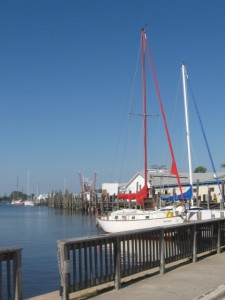 Day 8 is another glorious day as we leave Williamston, NC headed for South Carolina, but boy did it heat up as we got closer to Charleston!  We continued on Route 17 south after a short divergence on Route 55 to Oriental, North Carolina (pictured above).  Oriental is the sailing capital of North Carolina and is so small, we actually rode right passed it!  We got back to Route 17 south which continues to be a wide open highway where we can stay at 45 to 70 mile/hour.  The road got fairly congested as we approached Myrtle Beach and then again as we got close to Charleston.  After 385 miles in mostly 85 degree weather, we were glad to pull into our hotel in Charleston, South Carolina.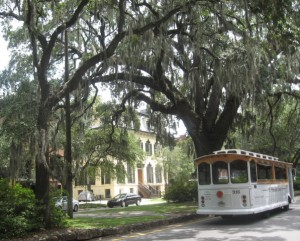 Day 9 is a hot and muggy one.  We started out on Route 17 south again (our favorite north/south route) into Hilton Head, South Carolina and then took 315 and a couple of other back roads to Savanah where we had pizza at the Mellow Mushroom for lunch.  Savanah is a prototypical southern city with grand homes and spanish moss-laden oak trees (see above).  From Savanah, we continued south on 17 to Amelia Islanda where we had cocktails at our favorite watering hole, the Palace Saloon, and dinner at Ciao Bella owned by a family from Brooklyn (oh!).  Tomorrow is our last day on the trip, which will add 350 miles to the 310 miles today which will bring out total mileage for the  trip to just about 3300 miles.  All in all another great, memorable trip with 17 more states and the District of Columbia added to our state total which is now standing at 32 states riden through.
Here are a few more pictures and stories.  Either click on the "slideshow" or arrow down to page through the pictures one at a time.  Enjoy!  Don't forget to sign in on our Guest Page!