Our favorite Italian food and wine tour company, Bluone recently opened a tour of the wine and food of Puglia so of course, Mom and Dad had to try it.  The tour itself is 7 days, but we decided to add two days up front to visit cousins in Milano. 
Our favorite meal in Milano was at what in the states we would call a pizzeria, but was more like an unassuming five star trattoria which happened to also make pizza.  The name is Pupirichello Trattoria and Pizzeria, named after the owner and chef from Sorrento.  As soon as we walked in, we could tell that this was no ordinary pizza joint and that their specialty was fish.  What pizza parlor has a huge fish on ice display?  We started with mini zeppoli with seaweed and a couple of slices of aromatic pizza.  We then graduated to what I can only describe as a huge pot pie of crustaceans and large ziti in a delicious tomato sauce.  That was followed by a fish filet that tasted like tuna in an artichoke sauce.  We also tasted their hamburger special of the day; fried egg and white truffle over a chopped Tuscan beef patty, surrounded by homemade potato chips (No wonder McDonalds his having trouble!).  We had no room left for desert, but we all tasted the chef's homemade wild fennel liquor.  Made the same way as limonciello, but with wild fennel instead of lemon.  DELICIOUS!!!!!
Milano is another of the great cities of Italy.  While most popular for its fashion industry, Milano is also the home of many important renaissance personalities, like Leonardo Da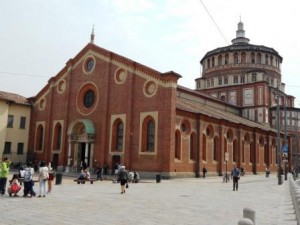 Vinci.  While in Milano we visited the Cathedral of St. Mary of the Graces which houses Da Vinci's Last Supper fresco.  Unfortunately, pictures of the fresco are not allowed.  However, this is the painting that everyone has seen reproduced somewhere in various forms.  It took Lenny 4 years to complete this fresco.  Fresco is actually a misnomer for this work.  Frescos are created by painting on plaster while the plaster is still wet, forcing the artist to work quickly and therefore cannot play with lighting and shades.  True fresco painting last decades.  Leonardo decided to experiment with dry fresco painting so he could "play" with the faces and the lighting.  While the original painting was truly a work of genius, the fresco starting falling apart within 10 years of completion and has since been retouched many, many times.
We also toured the famous Duomo di Milano which is the 4th largest cathedral in Europe.  The cathedral is indeed immense.  It is amazing that this tremendous work of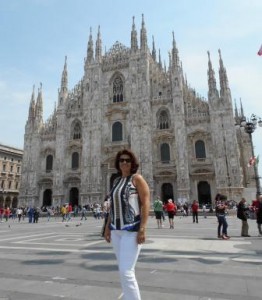 architecture and art was constructed in an era well before mechanized cranes and electricity.  Probably why the full construction took decades and thousands of artisans to complete.  The interior is as large as any indoor sports arena, but probably twice as tall!  The columns are as big as redwood trees and the aisles go on to infinity.  Like much of the historic sites in Italy, il Duomo is undergoing significant reconstruction and renovation.  Much of which is funded by the major fashion houses of Milano!  Who says the pretty people are shallow!
On Day 3 we actually started our tour of Puglia.  From Milano we flew to Bari, where we met the host of our tour, our good friend Marcello, and the other two members of the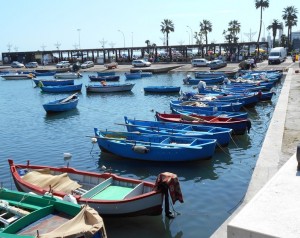 tour, Janet and David.  Bari is a seaside town known for many things, especially its seafood and seafood market.  We happened to arrive during the festival of the city's patron saint, St. Nicholas so we had the opportunity to experience the city at its festival best, complete with carnival and fireworks.  Most impressive was the Cathedral of St. Nicholas of Bari.  Not only for its splendor and history, but because the church holds services for the Orthodox Catholics on its lower floor and Roman Catholics on its upper floor.  Often simultaneously!  I think this is the only place that this occurs!  We of course sampled the a couple of typical Barese dishes; oreccietti with broccoli rapi heads and a casserole of mussels, rice, and potatoes. I'm becoming a big fan of Primitivo and Negroamaro wine.
From Bari, we headed to an interesting town call Trulli.  Trulli is named after the homes that are shaped like a cone or "Trullo".  It seems that centuries ago, the workers for the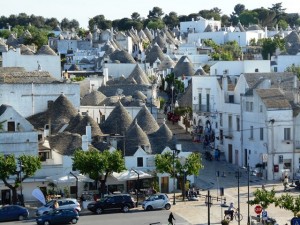 magistrates built these stone homes without the use of mortar for two reasons.  First of all, the area is arid so there was not much water to use for mortar and secondly, the home owners built the homes so that they could be torn down quickly if the "taxman" was coming and then easily rebuilt (What people won't do to avoid paying taxes)! Trulli has become such a tourist destination that the citizens have moved across the main road to the town called Alberobello.  They still own shops and homes for display in Trulli, but the area becomes so congested, that they cannot live there.
Our next town on the tour was the Baroque styled town of Martina Franca.  This little hamlet was founded in the 1600's by fishermen who gave up the sea to become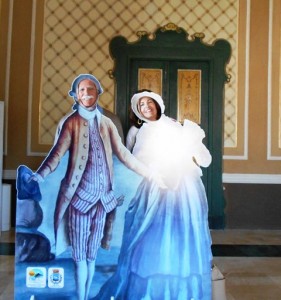 farmers.  It was a very commercially successful city and therefore attracted much aristocracy.  While in Martina Franca we visited an olive oil company specializing in 100% extra virgin olive oil.  We learned that if you are buying extra virgin olive oil for less than about $40 per gallon, you're not getting real extra virgin olive oil!  We then took some back roads to the ranch where the owner specializes in raising cattle, pigs, and Dad's favorite, wild boar for making sausage, salami, and cheeses.  We really enjoyed a simple lunch of cheese, cappicolo, salami, and pepperoni with a little (ok, maybe a lot) of Mr. Smith's favorite, vino della casa.
We had dinner at the Rosticceria L'Borgo in a little town called Locorotondo (Round place, not crazy round person) which overlooks the valley between Locorotondo and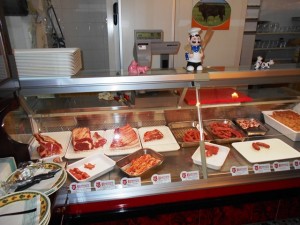 Martina Franca.  This restaurant is a cross between a meat market and a restaurant.  To order, you select your meats from the display case and then tell them to what level doneness you want your meat.  The selection is everything from sausages of different varieties, rollitini, veal, pork, lamb, and even donkey steaks (which were delicious)!  The meats came with salad and roasted potatoes and of course, vino della casa.  The town itself is gorgeous, with winding narrow streets along apartment buildings that date back to the 1600's.  The streets often lead to a dead end or cloister where several apartments meet in what used to be called Jewish ghettos.  In many places, the buildings are connected by arches that not only act as pathways, but also serve to hold the two buildings up.
Day 4 started with a wine tour and tasting at the Pulvanera winery.  This is a family owned operation making 15 different wines, from sparkling rose to 17% alcohol primitive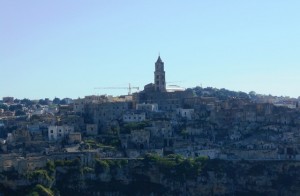 (absolutely delicious and definitely "sneaks up on you!").  The family ferments and ages its wine in stainless steel.  No wood aging for them.  You might think that their reds would be fruity, but no, far from it.  From the winery we headed to Matera which is a city whose first inhabitants lived in caves dug out of limestone with doors.  After World War II, the government started building conventional housing above the cave city and the citizens started moving into the newer homes.  The last cave dwellers lived in their caves until 1958.  Dinner was at CavaOso where we started with appetizers of meats, cheeses, and frittata, followed by thick, narrow, fettuccini-like pasta in artichoke and tomato sauce.  We accompanied our meal with a couple of bottles of Primitivo.
Day 5 started with a visit to a local cheese maker, Nuovo Muretto, where we watched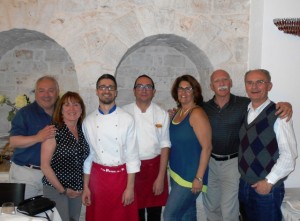 the proprietor make mozzarella and other cheeses of the area.  From there we headed back to our hotel (Abate Masseria Resort) for a cooking lesson at Il Briale Restaurant.  There we helped prepare our midday meal.  The first course was a focaccia made with potato, flour, and semolina, followed by baked stuffed eggplant (eggplant, parmigiano, basil, bread), and then orrechetti in tomato sauce.  We enjoyed a delicious nero di troia with our meal.  Dessert was a meringue-like cookie with chopped almonds and espresso.  After a brief rest, we headed to a tour of a pretty seaside town called Monopoli.  Yep, sounds like the board game, but much prettier.  The town actually made a life-size version of the game in the town square one year.  Those crazy Monopolians!  Dinner was at a gorgeous seafood restaurant in Monopoli.  We had appetizers of pickled eggplant, tuna carpaccio, meats, fried anchovies, and octopus salad accompanied by a crisp Rose.  Mom had a pasta with shrimp and zucchini flowers, I had grilled fresh fish.  Oh yea, and a couple of bottles of local white wine.
Day 6 was mostly a travel day.  Our trusty driver, Don Frederico, drove us to the pretty, hillside town of Ostuni for a caffe' and a leisurely stroll.  Ostuni is an ancient city that sits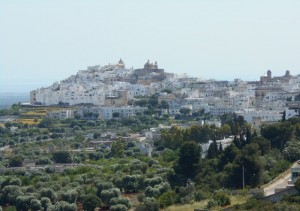 high atop a hill, overlooking the Adriatic Sea.  The city is crisscrossed with winding stone streets lined with cute shops and restaurants.  From Ostuni, we then drove to the Altemura Winery for a tour, wine tasting, and lunch.  Altemura was originally a olive and cattle farm, essentially abandoned by the original owner.  The farm was purchased by the Zonin family and converted into the winery.  The Zonin family owns around five different wineries in the major Italian wine regions and the Barboursville Winery in Charlottesville, Virginia (we actually toured that vineyard several years ago with our friends Deb, Ken, Mark, and Gayle). This is a major winery of the region making several reds including a Primitivo, two whites, a rose' and a sparkling rose'.  Lunch started with appetizers of cheeses and meats, followed by a dish of orecchietti in tomato sauce, and then fried zucchini.  Our wines included their rose which was very light and crisp, followed by their white wine (also light and crisp), and two reds, including their most popular Primitivo.  Interestingly, this winery ages their red wines in oak prior to bottling.
The last day of our tour was spent in the lovely city of Lecce.  Lecce is a quaint and historic city that dates back to the Roman times.  It was an important port city since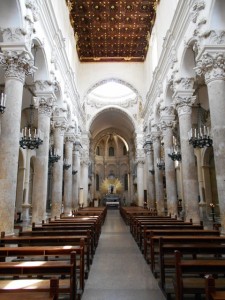 those times and therefore contains many noblemen's palaces.  Many of the palaces have been converted into homes and businesses.  Several Roman ruins have been unearthed during construction of municipal buildings and are visible 70 to 100 meters below what is currently street level.  There are several cathedrals in downtown Lecce, the most important being the Lecce Duomo.  It was built in the 1500's over what was once a Norman temple.  The city of Lecce has done and continues to do a wonderful job of renovating its historic sites.  What a beautiful city!  Oh yea, was also managed to squeeze in a little shopping as well!  Tonight we have our cooking lesson and dinner at Il Gusto del Tacco (The flavor of the heal, Puglia makes up the heel of Italy).  Tomorrow we head back to Milano and then home.  What a lovely vacation.  Thanks to our friend and guide, Marcello, and to our new foodie friends, Janet and David.
Check out the other pictures from our trip in the photo album below.  Either click on the "slideshow" or arrow down to page through the pictures one at a time.  Enjoy!  Don't forget to sign in on our Guest Page!