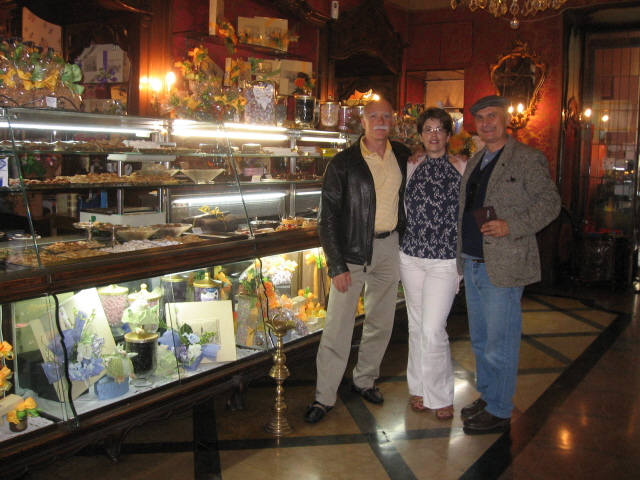 Father's Day, 2010 was Mom and Dad's first day on our food and wine tour of Italy's Piedmont region.  We met our old friend and tour guide, Marcello from Bluone Tours (www.Bluone.com) in Turin.  This was supposed to be a college graduation gift to Tony, but Good News, Tony was promoted to manager and Bad News Tony couldn't get the time off.  Poor Tony… Not to worry.  Mom and Dad decided to celebrate anyway.  After registration in the Victoria Hotel and a stroll around the city.  Mom, Marcello, and I had dinner at the Taverna dell'Oca (Duck Tavern).  We enjoyed a light Proseco, followed by appetizers of fois gras, and what I would call beef sashimi.  Apparently Piedmont is known for this appetizer of finely shaved raw beef.  It was pretty tasty.  We shared a bottle of Verduna Pelaverga 2009 with the appetizers.  This is a very light red wine which went very well with our lightly flavored appetizers.  For our first course, Mom had homemade pasta and asparagus in butter sauce and Marcello and I had vegetable agnielotti in a vegetable sauce.  Mom had roasted quail wrapped in very thin dough as her second course, and Marcello and I had beef braised in dulcetto wine and steamed asparagus with a parmigiano cream sauce (running a special on asparagus I guess).  We shared a 2005 Barolo with the second course.  Dessert was a sampling of coffee pannacotta (coffee flavored flan), chocolate and pear cake, and a pear tart.  Dinner started a 8 PM and we didn't roll out of the restaurant until 11 PM.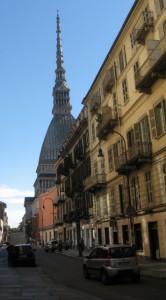 Day 2 started with a walking tour of Turin with our lovely tour guide, Laura.  It is a shame that in the US, the only Italian history that we learn deals primarily with Rome and Florence.  Turin has much more to offer than the "Shroud" (which was not on display during our visit).  The city indeed has a very rich and interesting past.  The original inhabitants of the area called themselves the Torini which in their dialect means "hill people"  during the Roman occupation, the Romans mistakenly thought the inhabitants called themselves the Taurini as in Taurus the bull, so the Romans associated the town with the bull which became its mascot.  After the fall of Rome, Turin and the Piedmont area were taken over by the French Savoy family and turned Turin into a major commercial force in Europe in the 18th century.  The Savoys were very liberal and progressive politically.  Cavour, political master of the unification of Italy and Garabaldi, military master of the unification were contemporaries of that political era.  Turin became so commercially and politically successful that Turin was actually the first capital city of Italy after the unification.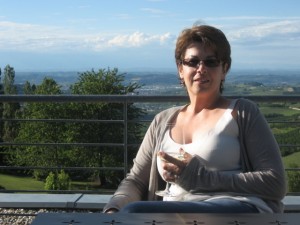 From Turin we drove south to Dogliani, in the Barolo wine region.  What a beautiful area!  The Poderi (estates) Luigi Einaudi (originally owed by Italy's first president before he became president) will be our home base for the rest of the trip.  Marcello could not have picked a better place.  The villas of the estate overlook the hills of the Barolo and Dulcetto region and the Alps in the distance.  This is a working winery of 120 hectares of vineyards (what the heck is a hectare?) making Barolo and Dulcetto wines.  I'm thinking that we'll get a chance to taste some pretty interesting wines here.  We had dinner at the Ca' Del Lupo Restaurant on top of another hill in Albese.  Mom does the cooking and son Salvatore is the host.  For an aperitivo we shared a bottle of sparkling Arnaise wine and chicken pate.  Appetizers consisted of  proscuitto with one of the sweetest melons we have ever tasted (Mom) and roasted peppers with basil pesto (Dad).  Mom had tiny ravioli stuffed with radicio and walnuts and I had little gnocchi in a light tomato and basil sauce as our pasta course.  Mom and I both had the restaurant's signature dish as our main course; roast rabbit with a side of roast potato and zucchini.  Our wine was a 2006 Barbera di Alba wine.  This was a very full-bodied red with low tannins and a color so rich that it appeared to be velvet.  Dessert was a pastry of vanilla cake with light crème.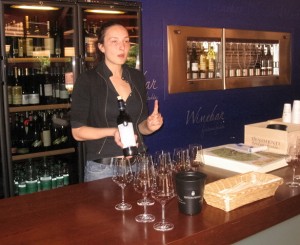 Day 3 OH MIEN GUT!!!!!! Today we started the eating extravaganza in earnest!  The day started with a tour of the Fontanafredda Winery.  This winery was started in the 1850's and makes about 12 regional varieties of wine including reds, whites, and sparkling reds and whites.  The lovely Serena gave us a great educational tour of the winery.  (Tony, she's 25, beautiful, incredibly knowledgeable about wine and best of all…Italian!).  From the winery, we traveled to the town of Sinio (population 500) where we learned about making honey from the town's mayor who is a prize winning beekeeper and tasted his delicious homemade Dulcetto wine.  We had a "light" lunch and a bottle of dulcetto at a small restaurant in downtown Sinio owned by the lovely Zina who is Romanian by the way!  We started with prosciutto and melon, followed by boiled veal slices, and then a pasta dish of meat ravioli in sage and butter sauce, which lead to the main course of sliced roasted pork loin in cream sauce.  For dessert we enjoyed chocolate Bunet which is close to flourless chocolate cake infused with rum.  All homemade by Zina!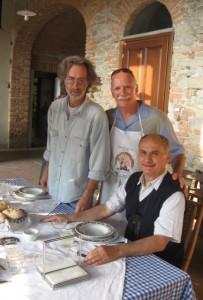 After a 15 minute nap, we headed to the agriturismo "La Pieve" run by Antonia and Giovani Peyro for a cooking lesson and dinner.  La Pieve is a renovated villa with church attached that dates back to the 7th century AD.  Our cooking class and dinner included appetizers of lard and prosciutto, followed by two anchovy appetizers, and the tuna mousse that we made in the class with which we drank a sweet and dry sparkling wine of the region.  The first course was Tarjin langaroli in ragu.  Tarjin is a pasta dish which is made with a lot of egg yoke to the point that the dough is very firm.  The second course was braised sliced pork loin sprinkled with grated hazelnuts and roast potatoes on the side.  We drank a bottle or two of dulcetto with these dishes.  For dessert, we made another chocolate Bunet and drank a glass or two of grappa and nochino.  All homemade!  Needless to say, we rolled into bed again tonight.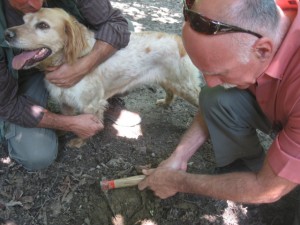 Day 4 RUB MY BELLYYYYY!  This was the second day of "light eating".  I guess Marcello decided that we needed to work off a couple of pounds from the last 3 days of eating so he arranged for a 5 mile truffle hunt with Giovanni Manchiero from the "University of Truffle hunting dogs".  After a warm stroll through the hills of Roddi and catching about a dozen illusive black truffles, we headed back to Giovanni's house where his Mom had another "light" lunch and a bottle of their dulcetto waiting for us.  Here we enjoyed both hot and sweet pepperoni, celery and tuna salad with pickled squash, frittata roll of vegetables, roasted peppers, and sausage, as well as the famous cheese from the area called Tuma infused with truffle, and local bread.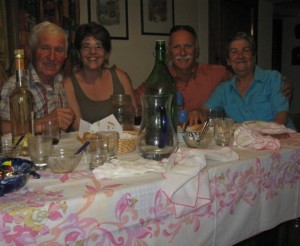 After a two hour nap, we then headed to the lovely farm owned and operated by Gisela (age 71) and Giovanni (age 72 tomorrow!) Gato for a dinner of typical regional food and some of their homemade dulcetto and barbera wines.  After a brief tour of the farm animals and the couple's tuma cheese laboratory.  We sat down to start dinner.  Appetizers included salami from home-raised pigs, tomato slices with parsley and garlic pesto, tuma cheese, octopus salad, and homemade bread.  The first course was braised pork shins and the second course was braised lamb and olives.  After three days it struck me that the locals always include tuna, anchovies, and/or octopus with their meals…but we are in the hills!  It turns out that the "salt road" runs straight through the region from Leguri (which is a seaside town).  Apparently there is a rich tradition of the locals trading their cheeses and wines for seafood for hundreds of years, and thus seafood has become a staple of the diet in the hills.  For dessert, we enjoyed homemade canned peaches and ice cream.  I need to hit the gym the moment I get home!!!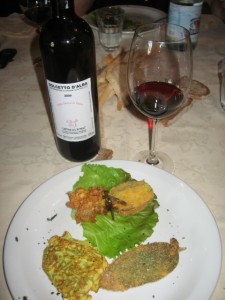 Day 5 We concentrated on the wines of the region today.  We started with a tour of the Luigi Einaudi Vineyard which is a small vintner (150,000 bottles/year) that makes Barolos, Dulcettos, and some Cabernets, Chardonnays, and blends.  We then traveled to Barbaresco and had lunch at a great Osteria called Cantina del Romeo where we tasted the proprietor's Dulcetto and Barbera.  Lunch started with an appetizer of stuffed zucchini leaves, vegetable frittata, and fried sage leaf.  That was followed by thinly sliced roast beef (medium rare) and a small salad.  For dessert we shared a strawberry jello mold that was much tastier than it sounds.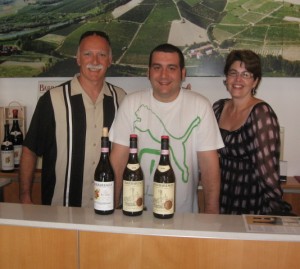 After lunch we headed to a Barbaresco cooperative for a wine tasting.  The Cooperative was started by a priest about 100 years ago to help local growers earn more money for their grape crop by sharing the expense and profit among over 100 growers so that the growers were not at the mercy of the major wine makers.  We then headed to Rivetto family winery in the Serralunga d' Alba region and tasted their Barolo, Barbera, and Moscato sparkling wines.  What a great family!  We met Enrico and his father who invited us into their home to watch the second half of the Italy vs Slovakia World Cup game. (U…S….A!   U….S….A!).  We had dinner at Osteria dei Catari in Monforte.  We were pretty stuffed so we only had two courses, a 2005 Barbera, and dessert (a light dinner compared to the other evenings!)  Mom's first course was little ravioli looking stuffed pasta called plini in butter and sage, and I had a very light eggplant dish stuffed with goat cheese.  Mom's second course was a bread crumb coated fried veal dish and I had rabbit cacciatore.  For dessert we shared a molten chocolate cake with raspberry sauce.  Somehow we managed to pickup 14 bottles of wine today!
Day 6 was our last full day in the Piedmont region.  We spent the morning window shopping in the city of Barolo and then headed to the Marchiese di Barolo for a tour and wine tasting.  The delightful Evana, took us through the ancient winery that now is responsible for more than one million bottles of Barolo, Barbaresco, Barbera, and Dulcetto sold throughout the world per year.  The winery has its origins in the early 1800's when the Marchesa Giulia Corbert originally from the Bordeaux area of France decided to help the local nebbiolo wine makers perfect their local wine with the help of her friend Count Camillo di Cavour who convinced the great French wine maker Count Louis Oudart to lend a hand.  Together the three turned the nebbiolo wine into the famous Barolo wine that is enjoyed the world over.  The Marchesa was a great philanthropist who dedicated a percentage of the wineries profits to the poor and the winery still holds to that tradition which is indicated by the tagline "Gia Opera Pia Barolo"  Here we tasted their best Dulcetto, Barbaresco, and Barolo.  We had a quick lunch of gnocci in ragu (Mom) and tagliateli in ragu (Dad) with the proprietor's own Dulcetto followed by Bunet for dessert.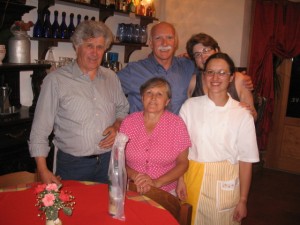 After a nice nap, we headed to our cooking lesson in the hills of Sinio with the talented young Antonella.  Antonella studies cooking in France and has cooked in restaurants in Spain and Croatia.  She lives with her parents on their hillside estate and vineyard which has been in their family since 1886.  The estate includes a restaurant built by her parents as a gift in 2003.  Tony and Stephanie, don't get any ideas.  The three of them run the restaurant, plant and harvest the fields, and of course tend to their excellent vineyard of Dulcetto and Nebbiolo grapes.  Oh, in their spare time they also hunt for black and white truffles; the father is one of the more well known truffle hunters of the area.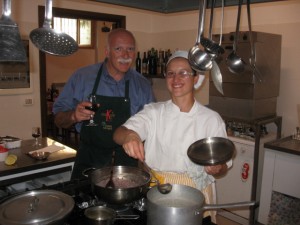 Dinner started with a light and refreshing salad of finely sliced porcini mushrooms (picked from their cellar 5 minutes prior) with olive oil, lemon juice, and salad.  We next graduated to a different version of "carne bastolata" which is raw, minced, veal, with olive oil, lemon juice, and salt.  As our pasta dish we enjoyed a Dulcetto wine risotto.  The main course was thinly sliced veal scaloppini with black truffle all sautéed in butter and olive oil.  Antonella told us that black truffle should be added to food as it cooks in order for it to release its best flavor, while white truffle need not.  We enjoyed three wines from the family vineyard with our meal.  We started with their 2009 Dulcetto, and then graduated to their 2005 Dulcetto.  Their Dulcetto grapes are lucky enough to be situated on a hill with just the right blend of soil conditions and sun exposure to give the grapes sufficient body to age many years in the bottle.  They have a 1948 vintage that is still very drinkable.  Our last wine of the evening was their 2006 Nebbiolo which tasted like a Barolo, but cannot be named Barolo because their grapes are outside the Barolo region.  For dessert we enjoyed a chocolate and hazelnut salami which was very easy to make and will definitely become a holiday staple in our family.  After several hours of cooking, talking, eating, and drinking with a great and hospitable family, we shuffled to our car for the short ride to our villa and our last evening in Piemonte.  What a great trip!  Thanks Marcello and Rafaela for a great "gastronomic" tour!
Here are a few more pictures and stories.  Either click on the "slideshow" or arrow down to page through the pictures one at a time.  Enjoy!  Our trip to Milano for Laura's Wedding directly follows.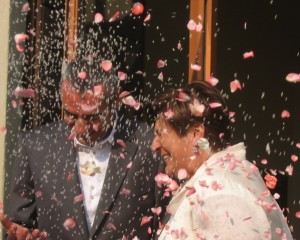 We left the Luigi Einaudi estates on Day 7 for Milano where we had lunch and did a little shopping before heading to my cousin Gege's daughter's wedding.  Laura married a wonderfully funny and energetic man named Federico in the little town of Oggiono.  It was a lovely wedding and the reception took place on the lawn of an old farmhouse overlooking a little lake with the Alps in the distance.  We enjoyed seeing Gege and his wife Danila, as well as their son Paulo and his finance' Paola.  My father's cousin's family from Saronno were there as well.  It was great to plug in back to my roots.
Here are a few more pictures and stories.  Either click on the "slideshow" or arrow down to page through the pictures one at a time.  Enjoy!