This summer's motorcycle trip will take Mr. Smith, our riding buddy, Kev, and I back across the Smokey Mountains in hopes of adding another five states to our list of eventually 50 U.S. States.  The round trip will likely take about 12 days.  Of course we'll be blogging our adventure daily.  Day 1 was pretty boring.  We rode for 10 hours, traveled 330 miles and WERE STILL IN FLORIDA!!!.  This includes a 1 hour rain delay to allow a thunder and lightning storm to pass us by.  We're spending the night in Gainesville, planning to make it to Georgia by mid morning.  The plan is to head north to catch some of that fun mountain riding and then head west to the Mississippi.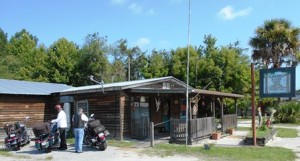 DAY 2 We left Gainesville, Florida under beautiful skies and headed north on Route 441 towards Georgia.  Route 441 north from the University of Florida is a pleasant, tree-lined hilly and curved road, that is a joy to be on.  We stopped for breakfast in Fargo, Ga, just north of the Georgia-Florida boarder at a locals place where we had scrambled eggs, bacon, toast, grits, and coffee for $7.00!!!.  Too bad it's so far away from home. We followed Route 441 for 360 miles to Athens, Ga and the University of Georgia.  This trip seems to be turning into the "College Tour" ride. Dinner was in downtown Athens, at a top rated restaurant called "the Last Resort Restaurant".  Great food!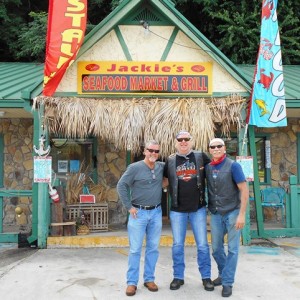 DAY 3 Partly cloudy this morning when we left Athens and jumped back on 441 North through the Smoky Mountain foothills.  We stopped for breakfast in Clayton, Georgia with Kev's sister- and brother-in-law.  From Clayton, Ga, we continued on 441 into Tennessee and over the Smoky Mountains.   Out of Seveir, we jumped onto 411 north to 25E into Middlesboro, Kentucky.  It was a short day of only 287 miles, but lots of fun curves and hills we were able to enjoy at a nice clip.  Unfortunately, we're spending the night in a dry county 🙁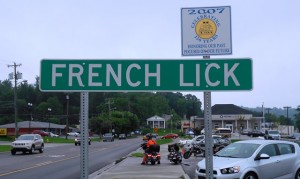 DAY 4 We were met by partly cloudy skies when we left Middlesboro, Kentucky and jumped onto Route 66 North towards Ohio.  The ride on Route 66 was EXCELLENT!  This is not the "famous" Route 66, but Kentucky 66.  Plenty of twisties, and curves along this country road that parallels the Kentucky River and the Coal Rail.  So what if we caught a little rain around midday.  That's what rain gear is for.  We road through some great small country towns; part of what made America great.  From Route 66, we cut over to Route 11 which took us into Ohio and then followed Route 52, followed by Route 50 along the Ohio River to Lawrenceburg, Indiana.  Some great riding at a nice clip with little to no traffic.  A total of 300 miles today.  Tomorrow we head west towards Missouri.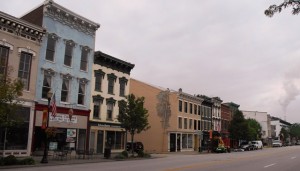 DAY 5 It sure was cloudy when we left Lawrenceburg, Indiana.  We headed west on 56 through Aurora, Indiana (cute little town by the way) and stopped in Madison, Indiana for a cup of Jo.  No sooner did we suit up, then it started to rain and continued to do so for much of the day.  We however continued undaunted, jumping onto route 50 through much of Indiana and Illinois.  We passed through the home of Larry Bird…NBA star of the Celtics…you'll have to look in the photo album for the name of the town.  It's a winner!  From Route 50 in Illinois, we jumped onto route 150 which took us into Missouri and a slight diversion on interstate 64 to visit Mr. Smith's Mom.  She's looking as spry and she is as witty as ever!  After 400 miles of mostly rain, but some good riding, we called it a night in St. Louis, Missouri.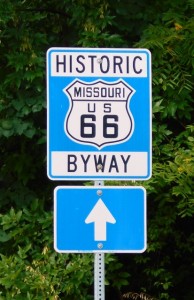 DAY 6 300 miles of great riding!  Finally, the sun greeted us as we left St. Louis on Route 70, which took us to Route 270 and eventually Interstate 44 west to Route 66 west (this is the famous Route 66) and finally Route 19 south towards Arkansas in Cuba, Missouri.  Route 19 is a do-over from last year's Route 66 trip.  We loved it so much that we had to bring Kev for a taste.  This time we did 150 miles of Route 19 and you could have seen our smiles from outer space!  This is easily one of my favorite rides.  Full of curves, twisties, and hills.  Not for the faint hearted, since most of the speed limits are around 50 MPH regardless of the curves!  But the fun stuff wasn't over when we left 19.  We then turned onto 62 which took us to 9 south which was just as much fun as Route 19!  We'll definitely be coming back to this again.  We're spending the night in Mountain Home, Arkansas.  Tomorrow we continue south in Arkansas.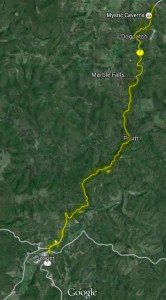 DAY 7 Another great, sunny morning as "Reed Mapwell" led us from Mountain Home, Arkansas, west along Route 412 to Route 7 south over 300 miles through the Ozark Mountains (they're actually a plateau!)to Eldorado Arkansas near the border to Louisiana.  What a great ride!  We started out gentle with the fog lifting over the Arkansas River and then quickly headed into curves, twisties, and hills through trees and small towns of 1000 – 2000 people.  This snip is just about 20 miles of the 300 miles we rode today on Route 7.  It was hot!  Just under 100 degrees most of the day; plenty of hydration and sun screen.  We're spending the night in Eldorado and heading into Louisiana tomorrow.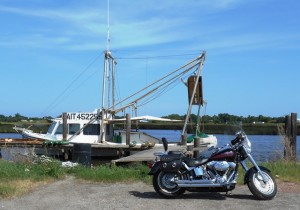 DAY 8 There wasn't a cloud in the sky when we left Eldorado this morning, but boy was it a hot one!  Today is essentially a transition day so we can get to the Gulf coast and ride along the Gulf for a few days.  We jumped onto Route 167 south to Route 9 at Junction City, Louisiana, followed by Route 79 south which led us onto Interstate 20 west and then Route 27 south which took us all the way to the Gulf coast of Louisiana.  We clocked over 330 miles today, most of it at 70ish miles/hr.  Not the most exciting biker's day, but the rest of the trip should be very scenic.  No more twisties.  We're spoiled I guess.  We're spending the night in Sulfur, Louisiana.  Good news, it doesn't smell anything like sulfur here.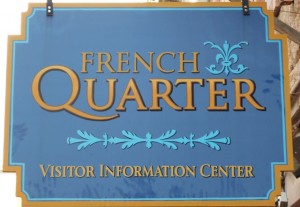 DAY 9 A little cloudy as we left Sulfur, Louisiana towards New Orleans and we caught a little spotty rain here and there.  We started out on Route 27 south towards the gulf, jumped onto a ferry and followed the Gulf coast east towards New Orleans.  Route 27 was fun, but once we got onto Interstate 90 the ride was boring  We white knuckled it about 200 miles of the 300 mile trip to New Orleans on Interstate 90.  Once we got to New Orleans, it was all good.  We had some roasted oysters at ACME Oysters and then had a great dinner at Mr. B's Bistro.  Lot's of fun as well.  There's only one New Orleans!  Tomorrow we head to Biloxi, Mississippi.
DAY 10 Whew, it was a hot one!  We left New Orleans bright and early in the morning and took Interstate 10 for an exit or two to get to Route 90 south again which eventually got us to Route 23 south along the west bank of the river that leads to the south most point of the delta.  We rode though little towns like Bohemia and Port Sulfur all the way down to the Delta National Wildlife Refuge.  Unfortunately, the damage from hurricane Katrina is still evident as several homes were missing walls.  To get back, we took a ferry across the river to get onto Route 39 North which actually turned out to be a fun ride.  Route 39 north eventually brought us back to Route 90 east along the Gulf Coast passed Gulf Port and Biloxi to Ocean City, Mississippi (no room at the inn at any of the hotels in Biloxi!).  All-in-all 260 miles today. Tomorrow we head to Apalachicola, Florida.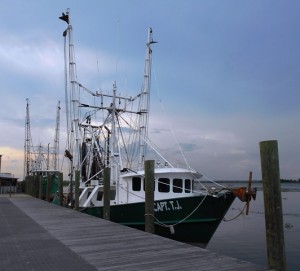 DAY 11 We were back onto Route 90 east as the day started off hot and only got hotter.  We learned last time it is best to avoid Mobile, Alabama on Route 90 because it backs up to a crawl.  Therefore we shot over to Interstate 10 east until we were close to Destin, Florida.  BIG MISTAKE!!!!  Traffic on Route 98 through Destin crawled for what seemed like an eternity in the 100+ degree temperature.  God was looking down on us though and created a nice sized downpour which cooled us and our bikes off.  The sun came up again just before Apalachicola to dry us off.  Essentially a transit day of about 290 miles as we rolled into the Coombs Bed and Breakfast in Apalachicola, Florida.  We had dinner at Boss Oysters on the water.  Tomorrow we continue south towards Tampa.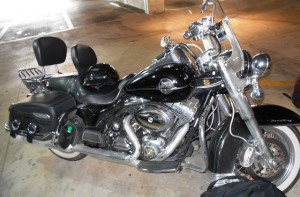 DAY 12 Finally partly cloudy skies as we left Apalachicola on Route 98 south towards Tampa Airport.  It was a pleasant, gentle ride most of the way until Mr. Smith pointed out that I lost one of the windshield bolts on my bike.  Good news! There was a Harley Davidson Shop in Crystal River who hooked us up in no time.  Why are there so many Harley Shops across the US?  So that you can keep riding when parts fall off your bike, of course!.  Anyway, 290ish miles into Ybor City (just outside of Tampa) where we stopped for the night before we head home in the morning.  Great dinner at La Terrazza and a night cap at Bad Monkey and into bed.  We'll put another 300 miles on the way home tomorrow for a total of about 4000 mile for this 13 day trip.  Great friends, great time, great ride, great food.  God Bless until next time.  We love you Dave Mosier!  RIP Gone to early.  Until we meet again…
Check out the other pictures from our trip in the photo album below.  Either click on the "slideshow" or arrow down to page through the pictures one at a time.  Enjoy!  Don't forget to sign in on our Guest Page!