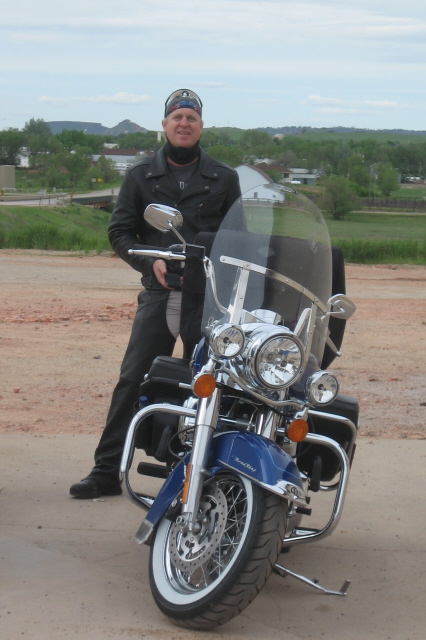 Our neighbor Mike (newly retired "Federale") and I flew to Rapid City South Dakota for a 10-day ride through South Dakota, North Dakota, Montana, Idaho (or you da ho?), and Wyoming.  We have been anticipating this ride for more than one year!  Who would think that we would encounter sleet, snow, hail, not to mention rain and craaaazy crosswinds in June?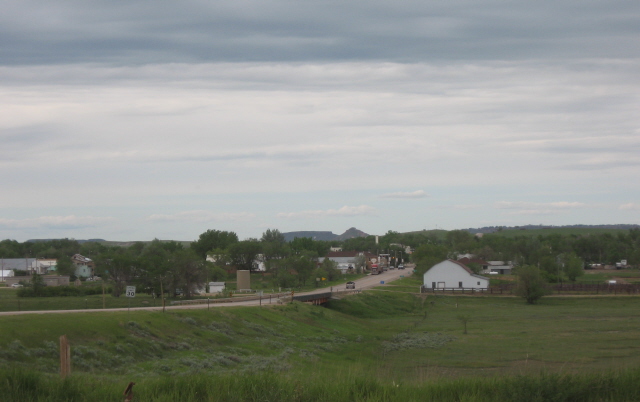 We landed in Rapid City after a long, but uneventful flight (hopefully American Airlines flight attendants stall their strike until we return home!) and picked our bikes up at Black Hills Harley Davidson (www.bhharleydavidson.com/rentals.php).  We had to don our rain gear and "hightail it" out of South Dakota as a storm was headed east towards us.  We decided to take Interstate 90 to US 85 north into Bowman North Dakota, a 175 mile ride.  Boy there is nothing but green hills, cows, and sheep between Sturgis, South Dakota and Bowman, North Dakota, but what a great ride!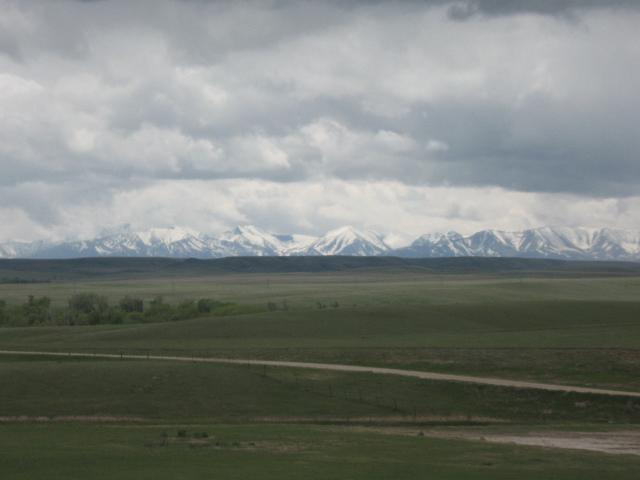 DAY 2 We left the beautiful Bowman Super 8 Motel at 7AM and headed towards Great Falls, MT.  Lots of open road through rolling prairie hills and our first glimpse of the Rockies.  We skirted most of the rain through the 496 miles today.  Better weather forecasted for tomorrow's trip through Glacier National Park.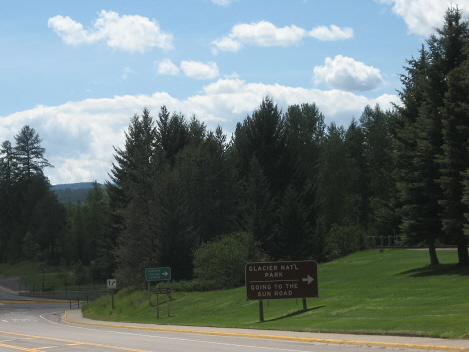 DAY 3 We left Great Falls on US 89 to US 2 over the Continental Divide and into Eastern Glacier National Park through some great twisty roads.  The entrance from the eastern part of the park into the St. Mary entrance onto "Going to the Sun Road" is definitely the more awesome view of the mountain range and glacier.  We also took US 2 west to the western entrance which is much more green.  It is obvious why the Black Foot Indians consider this place so spiritual.  After 353 miles of pretty technical riding, we were ready for a couple of rib eyes and beers at the Winchester Steak Restaurant in Kalispell, MT.  Headed into Idaho tomorrow.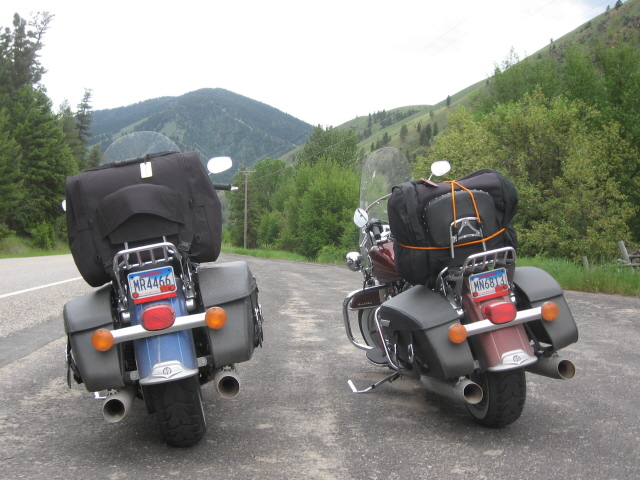 DAY 4 brought a weather system from the northwest so we headed south on US 93.  We started with rain showers out of Kalispell until about Missoula and then hit about 20 miles of torn up road, but at least it wasn't raining.  We rode over the 45th Parallel and then over the Bitterroot Range into Idaho.  Riding through the Bitterroot Range was incredible, technical riding.  US 93 south on the west side of the mountain was awesome; reminiscent of the Ponderosa, with the mountains on our left and the raging Salmon River to our right.  After 323 miles, we were glad to find the Village Inn in Challis, Idaho.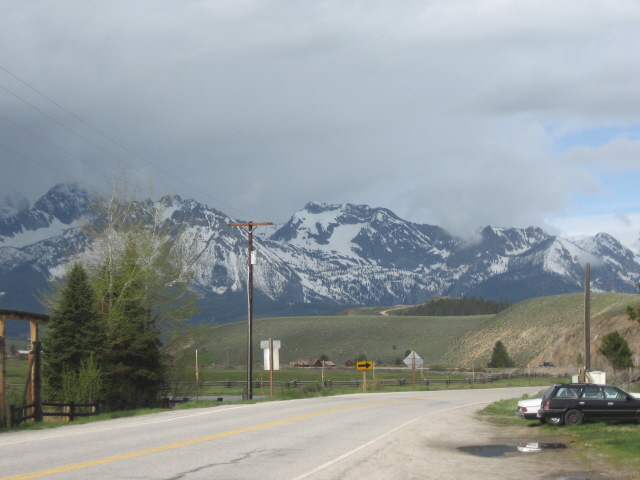 DAY 5 well… who would have expected sleet, snow, and hail in the middle of June?  When we left Challis the air temperature was in the low 40s.  There were a few showers on SR75 as we continued to follow the Salmon River.  The showers followed us into a little town called Stanley which is the door into the Sawtooth Mountain range.  As we headed into the mountains, the temperature dropped as we gained elevation and we crawled over the peaks through an unexpected snow storm.  The snow disappeared as we got over the eastern side of the mountains and headed into the plains of Idaho.  It is wild to see so much grassland with tall buttes randomly scattered along the horizon.  Only 298 miles today, but it felt like more!  Wyoming and Yellowstone National Park tomorrow.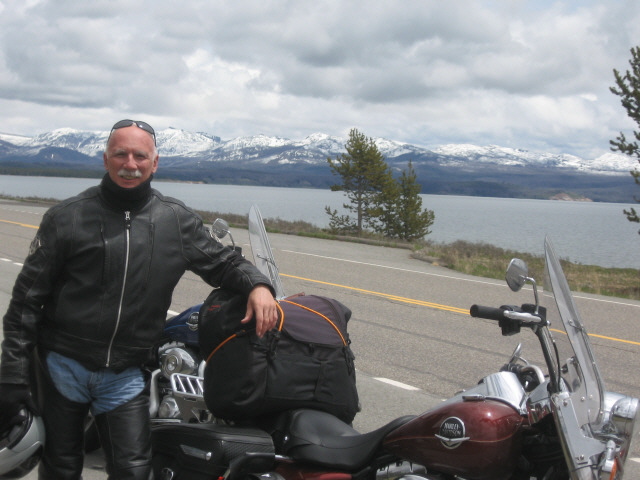 DAY 6 Our elusive friend, the sun, checked in with us from time to time throughout the day as we rode on Route 20 north and east from Idaho Falls into and around Yellowstone National Park in Wyoming.  Yellowstone is not the most beautiful park we have been to, but it has the most interesting animals.  We saw deer, elk, buffalo, a bald eagle, and a beaver.  The west and north sides of the park are still affected by the 1988 fire that torched over 800,000 acres.  The east side is definitely the most picturesque, as it overlooks Jackson Lake and the Rockies.  Old Faithful is still as faithful as ever.  After Yellowstone we proceeded south through Teton National Park on Route 89 into Jackson Hole, Wyoming.  311 miles of relaxing riding with no precipitation!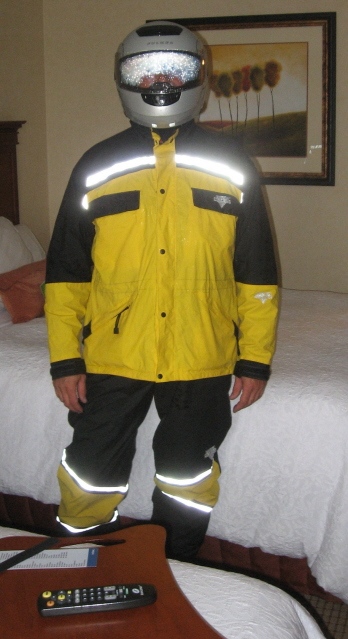 DAY 7 Last night, the saleswoman at the local HD Dealer (a buxom, Asian babe…must be the influence des Grande Tetons) told us to avoid the Wind River Pass due to heavy potholes throughout.  Instead we started out of Jackson Hole on US 189 with wet roads and rain gear (thank  God) with the intent to cross the Rockies a little south.  We stopped at Daniel, WY for a coffee and to warm up where a couple of oldtimers warned us of the snow in the southern Rockies pass into Casper (WHAT!!!! snow AGAIN!!!!).  So, we decided to continue south on US 191 towards Rock Springs WY and avoid that mess.  It drizzled through Boulder and then got a bit sketchy.  The next 90 miles or so into Rock Springs were filled with driving rain and 40+ mph  cross winds.  We had enough when we stopped for lunch at Rock Springs, WY and called it a day after only 180 miles.  Hopefully tomorrow will bring a favorable change in the weather.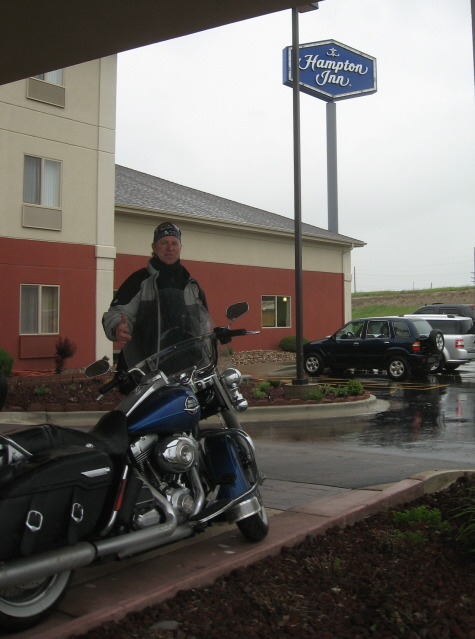 DAY 8 RAIN, RAIN, GO AWAY ALL READY!  We left Rock Springs just after the rain and got onto Interstate 80 east.  The rain started once we got to US 287 north and stayed with us all the way north to Casper.  In fact, we met an all out downpour during the last 10 minutes into Casper on SR 50.  Plenty of wide open straightaways which really would have been fun if it weren't raining so much.  We doubled yesterday's mileage at 360 miles today despite the weather.  No pictures today either, but at least the Celtics are ahead 3 – 2 in the finals!!  Back into South Dakota tomorrow for the Black Hills.  Forecast is sunny and 70 degrees.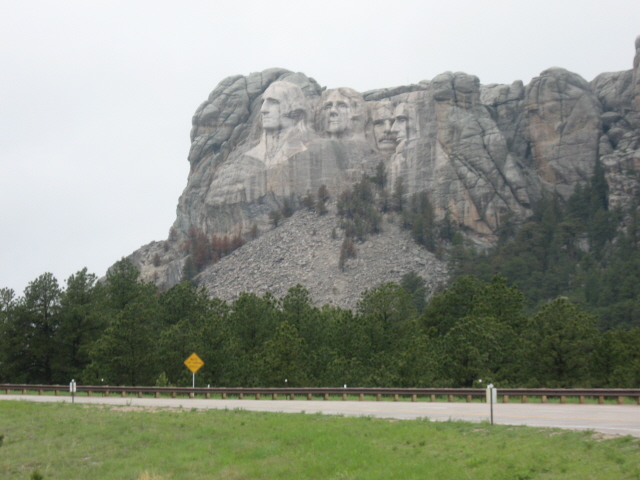 DAY 9 So much for forecasts. That's right, rain again.  We left Gillette on Interstate 90 east under threatening skies and then headed north on US 14 to Devil's tower where it started to drizzle.  We tried to avoid most of the rain by heading south to New Castle and Custer, but no such luck.  Thankfully, the rain stopped in time for us to head to the Black Hills and Mount Rushmore on the Iron Mountain Highway.  What a great ride full of highly technical twisties, corkscrew turns and hairpin turns.  We ended the day at Deadwood, South Dakota after 280 miles just as it started to really come down again.  Deadwood is a great little town made famous by its two famous residents; Calamity Jane and Wild Bill Hickcock.  You might remember that Wild Bill was murdered while playing poker at the No. 10 Saloon.  He was holding a pair of 8s and a pair of aces; forevermore to be called "the Deadmans's Hand".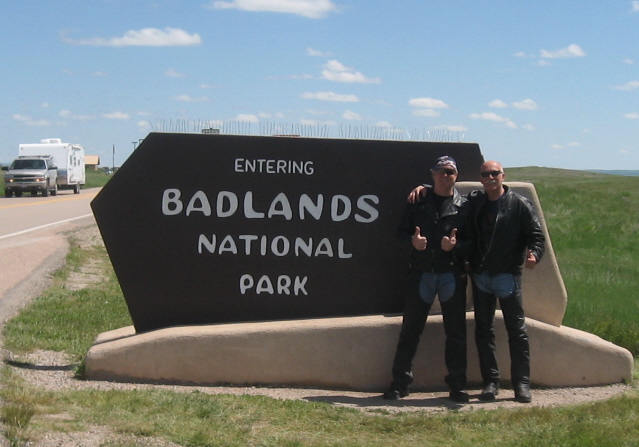 DAY 10 HOORAY THE SUN HAS FINALLY COME OUT!!!! We left Deadwood for a ride through Spearfish Canyon on route 14a east with the sun brightly shining and temps in the high 40s.  The Canyon is a great gentle ride through the Black Hills which gets you to SR 44 east which takes you into the Badlands.  The Badlands look like a dried up sea bed with high sedimentary rock cliffs and lots of sand.  Where the heck did all of that water come from and where did it go?  Once through the Badlands we jumped onto Interstate 90 east back into Rapid City for the last night of our trip after just over 300 miles.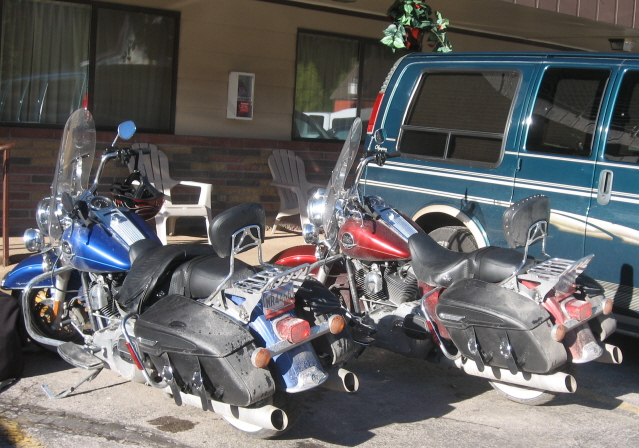 Day 11 What a great bike trip!  These bikes were all shiny and practically new (less than 500 miles on them) when we got them.  Boy are we glad we don't have to wash 3100 miles of wind, rain, sleet, hail, snow, and road dust from them.  This was a great way for two close friends to spend a couple of days riding and seeing the sights.  We live in a beautiful country!!!! God Bless the USA!!!!!
Here are a few more pictures and stories.  Either click on the "slideshow" or arrow down to page through the pictures one at a time.  Enjoy and don't forget to leave a comment in the Guestbook!