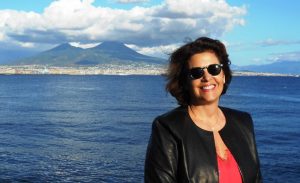 We're back in Italy this time on a food and wine tour of the Amalfi Coast with Cellar Tours.  That's mom with Mount Vesuvius in the background. Isn't she pretty!. After a 9 and a half hour flight to Roma and a puddle jumper to Naples, it was the afternoon by the time we finally arrived at the Hotel Vesuvio overlooking the Naples Marina and Mount Vesuvius.  We took a leisurely a stroll along the seaside and then through the old town where we had a cocktail at Naples' oldest bar "Gambtinus" and then headed to dinner at a wonderful seafood restaurant "Da Dora".  Our tour starts in earnest tomorrow morning with a guided walking tour of Napoli.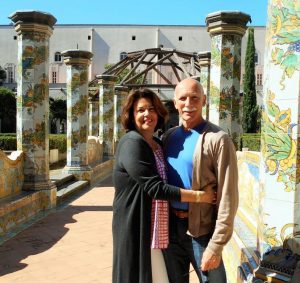 Day 2 – We departed the Hotel Vesuvio on our way to the historic center of Naples for a walking tour of a couple of the 350 churches in Naples.  Two of our favorites were the Cloister of Santa Chiara and the Cathedral of Saint Genaro. The cloister is a convent for the nuns of the Jesuit Order, the gardens of which (pictured here) were shared by the Jesuit monks.  Inside the Cathedral to Saint Chiara, is a tribute to Saint Giuseppe Moscati, MD.  The tribute includes at least 100 plaques donated by followers who have had their maladies miraculously cured through the intersession of the Saint.  Of course every Italian-American knows of the famous "Feast of San' Genaro" that takes place in NYC every September.  Well Saint Genaro is the Patron Saint of Naples and was beheaded in 305 AD during the Christian persecutions.  The blood that was collected in a glass ampule following his beheading is brought to the alter on his feast day which is September 19 and often becomes liquefied during the mass.  Tonight we'll be enjoying dinner at our new hotel, Relais Blu just outside of Sorrento and heading for a walking tour of Sorrento in the morning.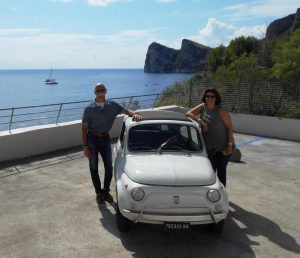 Day 3 – It was a rainy morning, but we persevered. What was supposed to be a Vespa tour of Sorrento was converted into a walking and Fiat 500 tour of Sorrento center and the old town.  Our trusty guide, Renato, lead us on a quick jaunt through the shopping area and then drove us through the quaint alleys of the old town in his 1973 Fiat 500.  A little tight, but you can't get any more authentic Italian culture than touring in a Fiat 500.  Renato took us to his favorite seafood restaurant on the seaside for a quick snack and then to Pub Eughene for a local specialty, pasta with zucchini. For dinner we headed back to the Sorrento seaside to Trattoria da Emilia for some gnocchi, fried calamari, and grilled bronzino.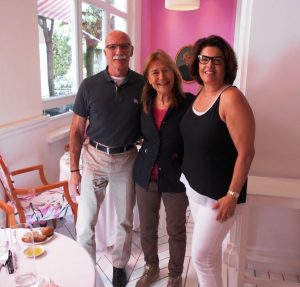 Day 4 – What a beautiful morning, made better by the fact that we didn't have anything planned until Noon! Our driver, Lelo, picked us up at our hotel for a ride to our gourmet lunch at Don Alfonso's Restaurant, just outside of Sorrento.  Don Alfonso's Restaurant was rated two stars by Michelin.  This was a doosie of a lunch! Counting the pre-appetizers and pre- and post desserts, we had something like 10 courses, each paired with a wine.  You betcha HOLY CRAP is right!  Pictured here with us is Donna Olivia, the wife of the chef, Don Alfonso.  We also met their son, Ernesto, who is also a chef there. You'll have to go to the photo album below to see pictures of each course.  After lunch (if you can call a 3 hour eating extravaganza "lunch"), Lelo drove us along the Amalfi coast for some pictures (and a nap). We ate so much for lunch, we only shared prosciutto and melon for dinner.  We head to Positano in the morning.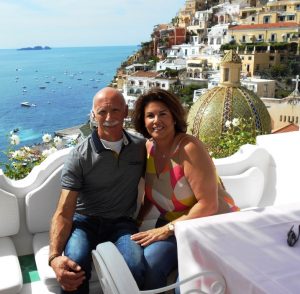 Day 5 – Our driver, Redyc, picked us up at the Relais Blu hotel and drove us to our next vacation stay on the coast, Palazzo Murat, in Positano. The drive was unbelievable and intense.  The scenery was amazing, but the drive is not for the feeble hearted.  The road to Positano has many switch backs and hair pin turns which wouldn't be so bad if the road were not so narrow.  In fact, at one point our driver smacked side view mirrors with an on comer.  Mom and I were shocked. The drivers, on the other hand, only stopped long enough to readjust their mirrors and then continued on "their merry ways". Once safely at the hotel, we met our lovely and informative guide, Gabriella, who took us on a urban and off-road walking excursion through Positano complete with a hill-side picnic snack of cheeses, fruits, and wine followed by a delicious lunch at her favorite restaurant, Il Ritrovo. We had dinner at a great restaurant in Positano real close to our hotel called Restaurant Max.  Mom had oso bucco and I had rigatoni in tomato sauce with sausage and meatballs… and a bottle of 2008 Brunello.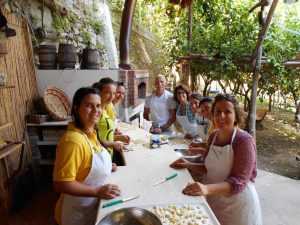 Day 6 – Lelo picked us up at the Palazzo Morat and drove us to the lemon orchards of La Valle dei Mulini owed by the 6th generation of the Aceto family.  Salvatore, the father and proprietor of the orchards gave us a tour of the lemon orchards, their museum, and their lemoncello factory.  Salvatore and his family are very proud of their product and their family heritage.  The family has been sustainably farming the lemons since the 1400's.  They are famous for their Sfusato Amalfitano lemons which are not only made into lemoncello, but are incorporated into many recipes including pasta, pasta sauces, and desserts. These lemons are large, sweet, and completely edible (skin and all!).  After the tour, Mom and I stayed on for a cooking lesson with Romona and Salvatore's wife, Giovanna. We started with eggplant rollatini, followed eggplant croquette, and then by lemon pasta, orecchiete, and finally lemon flavored tiramisu. The entire family and staff joined in on the pasta making and ensuing delicious lunch.  All and all a wonderful tour, cooking lesson, and lunch with a very special family.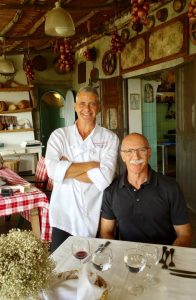 Day 7 – Another beautiful morning and "exhilarating" drive from Palazzo Morat along the coast, to Ravello this time for a lovely cooking lesson from Chef Vincenzo at the Villa Maria.  What a ball we had! The lesson started with making fresh mozzarella while potatoes boiled. We then worked on preparations for our lunch which consisted of squid salad, corn tagliatelle with peppers and sausage, and lemon chicken.  We also had Chef Vincenzo's almond tort which was absolutely delicious.  Chef Vincenzo is passionate about cooking and approaches is lesson in the same way.  He also was able to make us laugh straight through the lesson. Click on this link to see a short YouTube video of Mom under the tutelage of Chef Vincenzo. Mom and Chef Vincenzo Cooking. Ravello is easily my favorite of the beautiful cities along the Amalfi coast.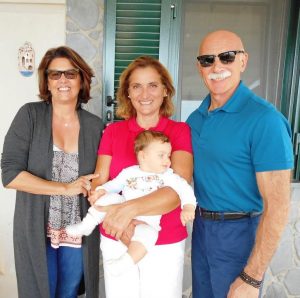 Day 8 – Our trusty driver Lelo picked us up as we checked out of Palazzo Murat and headed to our tour of the Vigne di Raito, which is in the ancient village of Vietri sul Mare. The owner, Patrizia Malanga, pictured here with her granddaughter, is a woman of great vision. She spent a couple of years convincing her husband of the value of purchasing a dilapidated  2-hectare winery and then spent several years renovating and planting even BEFORE the vineyard was able to produce wine, not to mention then wait a couple of years before she could taste the "fruits" of her labors.  In 2007 they were able to produce their first red, Ragis, which is a blend of Aglianico and Piederosso grapes. The vineyard overlooks the gloriously beautiful gulf of Salerno and is 100% organic with no added sulfites.  We enjoyed a bottle of their 2011 and 2012 vintages which were delicious with a delicious 5 course lunch, the main course of which is a big favorite of mine, veal pizziaola. This evening we head to Milano and then Rome where we head back home.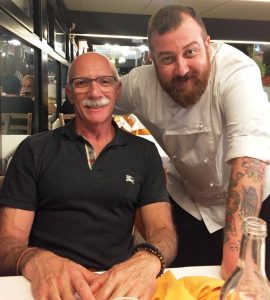 Day 9 – Well our trip is coming to an end. We made a detour to Milano for Mom to visit one of her favorite leather bag makers Fontana, Milano.  We also made sure that we were also able to have another dinner at our favorite Restaurant in Milano, Pupiricchiello (that's the Chef "Tiny"). We stayed at the "hipster" hotel, Palazzo Segreti. In Rome, we spent the night at Hotel Rafael and managed to enjoy a 12 flight wine tasting at Rimessa Roscioli. Another wonderful wine and food vacation!
Please check out the other pictures from our trip in the photo album below.  Either click on the "slideshow" or arrow down to page through the pictures one at a time.  Enjoy!  Don't forget to sign in on our Guest Page!