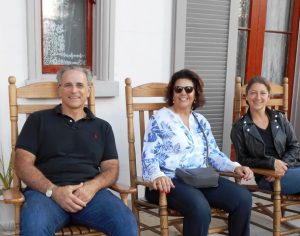 Mom and I are meeting James and Patty in Nashville and driving to Lexington Kentucky to spend a couple of days together sipping some fine spirits.  Yep! Some of Kentucky's finest bourbons and then maybe take in the music scene in Nashville and visit Belle Meade Plantation, the Johnny Cash Museum, the Ryman Auditorium, and explore the surrounding neighborhoods.  So much to see and do, so little time.  But we'll do our best!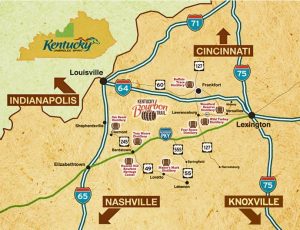 Bourbon is whiskey (or whisky if you're Scottish) that is distilled and bottled in Bourbon County, Kentucky. The distilleries congregated there because the area sits on a limestone shelf filtering the aquaphor there giving the ground water the minerality required for good bourbon without any traces of iron.  The limestone water is also great for fortifying bones in young horses which is why so many thorobred horse farms are located in the Kentucky bourbon  area.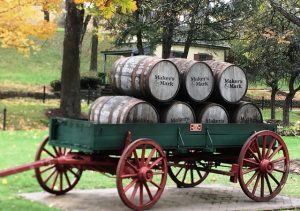 Day 1 We met our bourbon buddies, Patty and James at the Nashville Airport and headed to Loretta, Kentucky; the home of Makers Mark Bourbon.  Makers Mark is the longest running family distillery in the US.  We tasted five of their products: their sour mash (distilled, but not aged in barrels), their regular bourbon, their "46" bourbon (added French oak slats after aging to impart a caramel essence), and two of their cask bourbons which are undiluted (> 100 proof). Pretty tasty!  We headed to our B&B, Lyndon House, in Lexington and had dinner at Tony's of Lexington which is a steak and seafood restaurant.  Mom had short ribs and I had a fat old pork chop.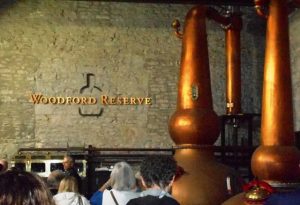 Day 2 – After breakfast prepared by our innkeeper, Anton, we headed to Buffalo Trace which is the oldest running distillery in the US, with roots back to 1796.  Buffalo Trace Distillery is filled with history and even continued running through the Prohibition Era to provide whiskey for "medicinal purposes only".  They had a really smooth vodka called Wheatly as well as a tasty Straight Bourbon. We then headed to the Woodford Reserve distillery for lunch at their cafe and a tour of their distillery.  This is an old distillery as well, with cask storage buildings built in the mid to late 1800's.  We tasted their Reserve and Double Barrel bourbons. The four of us gave the Double Barrel double thumbs up.  Mom even drank all of her tasting!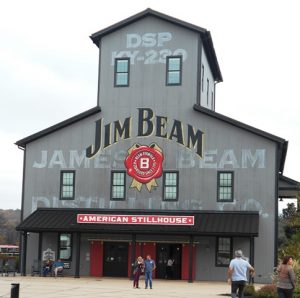 Day 3 This is the last day of our bourbon tasting so we made the best of it. We headed back to Loretta, Kentucky and hit the Willet Distillery, the 1792 Barton Distillery, had lunch at Jim Beam, and ended the day at Heaven Hill Distillery. In all we tasted easily more than a dozen bourbons! Kids, you'd be so proud of Mom. Mom kept up with us through each of the tastings (shingles and all… long story), and nearly all of the bourbons were 100 proof or better! We head to Nashville in the morning, with a great appreciation for bourbon and what they call "the Kentucky hug" (the inner warmth created by sipping bourbon 50 – 60% alcohol).
Day 4 On the way to Nashville, we stopped at the Belle Meade Plantation. The Belle Meade Plantation is a fully restored antebellum plantation that started as a highly regarded thoroughbred horse farm and after about 5 different owners is now an historical landmark. At one time, the Belle Meade was managed by over 100 slaves. The family must have been well liked by their workers as many of them stayed on as paid employees after the 13th amendment abolished slavery.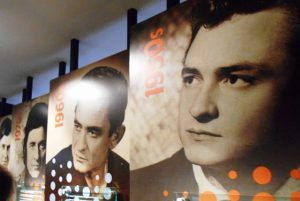 Day 5 No, that's not Luke's High School graduation picture. That's the young Johnny Cash! The Johnny Cash Museum is a wonderful tribute to an incredible entertainer. He not only was a great song writer and singer, but also starred in movies, made many TV appearances, and even had a long running musical variety show. Born "JR" Cash, he didn't take on the name "Johnny" until forced to choose a complete first name when he enlisted into the Air Force.  Johnny Cash had a tough life, going through drug addiction, divorce from his first wife not to mention working very hard. Amazing what hard work and God-given talent can overcome.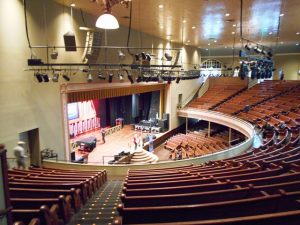 Day 6 No visit to Nashville would be complete without a visit to the Ryman Auditorium. The Ryman Auditorium is the original home of the Grand Ole Opry. Built in the late 1800's by Thomas Ryman as a revival tabernacle called the Union Gospel Tabernacle for Reverend Sam Jones, it started booking entertainment to help defray its building costs and up keep.  The tireless efforts of Lula Naff who was the Ryman Manager for nearly 50 years is mostly responsible for the success of the Ryman Auditorium as an entertainment center.  The near perfect acoustics of the auditorium attracted the Grand Ole Opry to this venue from the early 1900's through the 1970's at which time the Grand Ole Opry was moved to Opryland.
Nashville is clearly a gem in the making.  Traveling around Nashville and its suburbs, it is clear that the city and surrounding neighborhoods are in the middle of gentrification. In addition to the entertainment in downtown, the outskirts are populated with renovated homes, little shops, and interesting restaurants.  Patty and James, thanks for a great getaway!
Please check out the other pictures from our trip in the photo album below.  Either click on the "slideshow" or arrow down to page through the pictures one at a time.  Enjoy!  Don't forget to sign in on our Guest Page!