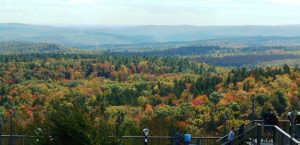 Mr. Smith and I met Pedro , Kev, and two new buddies, Billy and Doug, in Rhode Island for a little ride through New England to see the fall foliage. We headed west and north through Massachusetts, north into New Hampshire, and then west into Vermont. Day 1 was beautiful, sunny, with a little chill (actually really chilly) as we left Rhode Island and made it north into Vermont.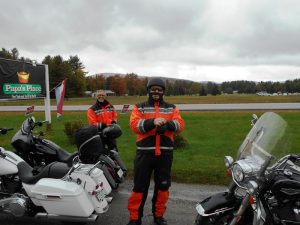 Day 2 was spent primarily in Vermont with cold temps (high 40s to low 50s) cloudy skies and drizzle throughout the morning.  The riding was great as Vermont route 100 took us on fun curves and hills past well known Ski Resorts like Mt. Snow, Killington, and Stow. We made it all the way north to Darby, Vermont (just 5 miles south of Canada) and headed back south into Conway, New Hampshire for the night.  So far we've clocked around 500 miles.
Please check out the other pictures from our trip in the photo album below.  Either click on the "slideshow" or arrow down to page through the pictures one at a time.  Enjoy!  Don't forget to sign in on our Guest Page!