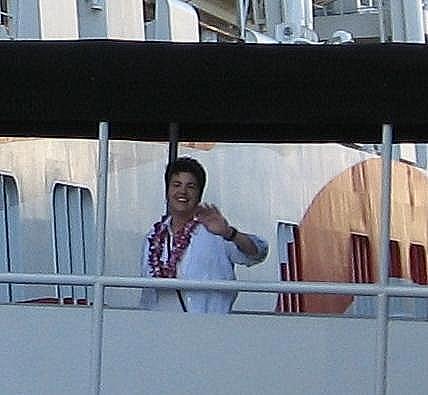 Last January, Joan and I bid on a 7-day, Norwegian Cruise Line (www.ncl.com) trip to Hawaii aboard the "Pride of America".  And guess what, we won.  We figured we overbid, but it was part of an auction to help support the Miami Museum of Science so we figured "What the heck".  Well after around 12 hours of flying from Ft. Lauderdale through Atlanta, we finally arrived in Honolulu, tired from the long trip.  We headed over to register and were greeted with "Congratulations, you have been upgraded to a "Presidential Suite"!  Yep, that's right; bedroom, living room, dining room, masterbath, walk-in closet, patio, (with whirpool), butler, THE WORKS!  I guess clean living pays off.  Anyway days 1 and 2 were cruise days from Honolulu to Maui so not much to talk about other than great food and drinks.  Steph demanded that we take lots of pictures so we did.  They are at the end of the page and start with pictures of our cabin.  Enjoy!
Day 3 – Surfing and a Luau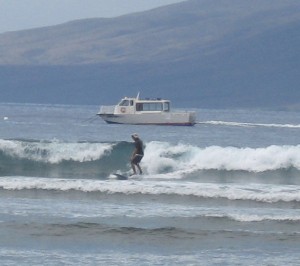 Surfing at Lahaini.  Waist to chest high waves on a 9 foot foam board.  Definitely a different break than in Florida.  The waves gently build and the face is much less oblique than in Florida or even Costa Rica, Long Island, Puerto Rico or So Cal.  Plenty of rock and coral, so I did my best not to wipe out.
Pacific Paradise Luau in Kahului.   Lots of good food ("eat till your tired"), local dancing and music.  Nice wahini too.  The sunset they ordered for us was unbelievable!
Day 4 – Zipline Adventure in Haleakala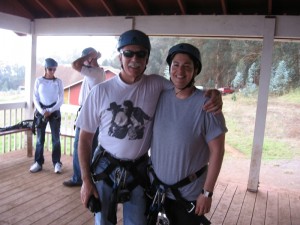 Believe it or not, Mom did it.  She went through an increasing series of challenging zips and "flew" through 750 yards like a trooper!  This was lots of fun.  We were strapped in using rock climbing harnesses and the zip lines were airline grade cable.   All of the equipment was tested not to fail under 1000's of pounds.  So as long as we didn't flip ourselves upside down (causing us to fall out of our harnesses) it was pretty safe.  Definitely a rush.  Notice the helmets.  Don't we look good?  Steph, you know you want one.
Day 5 – Hike to Kapoloa Falls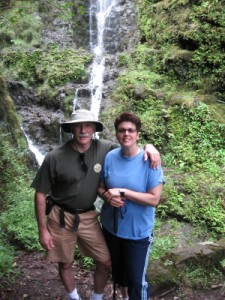 On Day 5 we arrived at Kona on the island of Hawai'i (the "Big Island") and we hiked 1.5 miles through the valley just outside Kona to the Pololu Falls.  The island offers nearly every ecosystem in a 45 minute drive.  We drove from deserts to rain forests on the way to our trail head.  An aquaduct actually follows along the valley that we hiked.  In the late 1800's, sugar plantations were in their hayday, but sugar cultivation required extreme amounts of water.  So it was decided that it would be a great idea to build aquaducts from the rainy side of the island to the drier side of the island where the sugar plantations were.  We hiked along an aquaduct past 4 waterfalls to get to Pololu Falls.  Pololu means something like long darn way down in Hawaiin.  This falls plunges 500 feet into a gorge below us.  On the way we not only saw incredible waterfalls, but lush vegetation, gorgeous flowers, and ate wild guava and a tasty cherry looking berry.  I got the names of some out of the way surf spots for a future trip from the guide as well.
Day 6 – Kilauea Lava Viewing Adventure Tour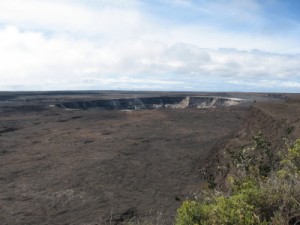 We were still at the Island of Hawai'i on Day 6, but this time went on a 4 mile hike around the Kilauea Caldera and Crater.  A caldera is a crater that is at least 1 mile in diameter.  We were only able to view the Caldera from its rim because the floor of the crater was dangerous.  We spent most of our time hiking down to the 400 ft crater and then across it.  The crater was also the site of a 1800 ft high lava fountain that lasted 5 weeks when the crater erupted in 1959 (September 17, no doubt). The best way to describe the hike down to and across the crater is that it reminded me of the "adventure" to Modor in "Lord of the Rings".  The crater bottom is just under 1 mile in diameter and is desolate, black lava, with steam spewing from random holes.  To make the experience even more ominous, a dense drizzle soaked us throughout our hike.  (Mom loved it)  The lava had several forms, such as smooth plates, rubble, and sometimes reminded me of huge cow patties (remember those horse trips in Colorado?).  Definitely not something we get to see every day.
Day 7 – Horseback Riding at Kauai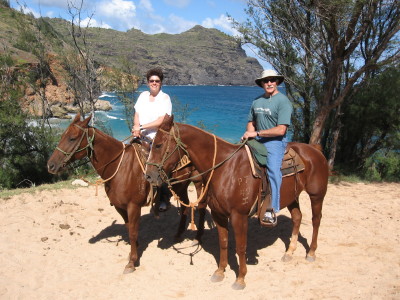 On Day 7 we had sailed to Kuaui also known as Nawiliwili (good move in changing the name!) to go horseback riding.  Kuaui is definitely the more natural of the islands that we went to.  We hitched a ride on a tourist van and went to the CJM Ranch which lies on the southern coast nestled between mountains and the ocean.  Mom astride 711 and me astride Mota, we ambled through a trail that went up hills, across streams, and along side the ocean.  Beautiful scenery.
Here are a few more pictures and stories from the cruise.  Either click on the "slideshow" or arrow down to page through the pictures one at a time.  Enjoy and don't forget to drop us a line in the Guestbook!  You don't want to miss the pictures from our tour of the USS Arizona Memorial that directly follow this photo album.

Day 8 – Pearl Harbor
"December 7, 1941 a day that will live in infamy".  Turns out that Pearl Harbor is only a small section of a large military compound opposite to where the battle ships were actually moored.  In the picture, the ships were moored on the left side of the large center island and Pearl Harbor is across the waterway from the island.  Like most historical events, the success of the Japanese was attributed to U.S. blunders as much as Japan's cunning strategy and years of preparation.  For instance, the U.S. ships were moored two abreast, with the battleships "protected" by the island on one side and a supply or repair ship on the other making it nearly impossible to move them out even if they had the opportunity.  Also, the General was concerned that the air force would be suceptable to sabotage.  He therefore commanded that the airplanes be parked in neat rows from wingtip to wingtip to make them easier to patrol.  This also made it easy for the Japanese bombers to efficiently destroy the U.S. planes.  Most agonizing was the fact that the radarmen had spotted the attack about 1 hour away, but the officer in charge that beautiful Sunday morning thought that the incoming planes were U.S. bombers that were due later that day so he told them "Don't worry about it"!  The most devastating hit in lives lost occurred within minutes of the attack when a high altitude bomber dropped a single armor piercing bomb in the foredeck of the USS Arizona.  The bomb went through several armoured decks and managed to explode adjacent to the ships ammunitions storage.  The bomb set off several thousand tons of explosives that practically incinerated and otherwise disintegrated over 1000 sailors.  The USS Arizona Memorial sits perpendicular, midship to the Arizona which still lies just under the water in the berth that it was assigned over 60 years ago.
All in all a beautiful state that everyone should see at least once, but a long way to travel.
Here are a few more pictures and stories from Pearl Harbor.  Either click on the "slideshow" or arrow down to page through the pictures one at a time.  Enjoy and don't forget to drop us a line in the Guestbook!