Mom and I decided to learn a little about Spanish wines, so we signed up with www.CellarTours.com for a tour of the wine regions of northern Spain.  After a brief delay on our departure, we arrived in Madrid to kick off our trip.
Day 1 – We started the day with a walking tour of Madrid with the lovely Cristina.  Madrid is the capital of Spain and smack-dab in the center of Spain.  The city was actually established by the Moors as a garrison where several rivers meet. The name Madrid comes from the Arab word for "many streams".  The Romans extended the garrison walls when they conquered Madrid.  The foundations to the ancient garrison walls have been unearthed during the creation of the subways around the city.  Here we are pictured in front of the gates to Madrid's Royal Palace.  Spain still has a monarchy, but the King and Queen don't live in the Royal Palace.  Can't afford the utilities I think.
Day 2 – Our driver, Jose Maria drove us north 2 hours to the wine area known as Ribera del Duero, which translated means the sides of the Duero river.  This is the wine area in Spain renown for its Tempranillo grapes (also known as Tinto Fino and Tinto di Torro).  It makes a dry red wine with lots of berry notes.  Here we visited two wineries, Emilio Moro Winery and the Abadia Retuerta Winery and Hotel.  The Abadia Retuerta Winery is a renovated Abbey turned winery and hotel which just opened in March after 6 years of renovations.  We had lunch at the Fuente la Acena which is an old mill converted into a hotel and restaurant where we had our first blood sausage, camouflaged as "black lasagna".  Not bad actually.  Too bad Steph has gone vegan.  I'm sure she'd have loved some!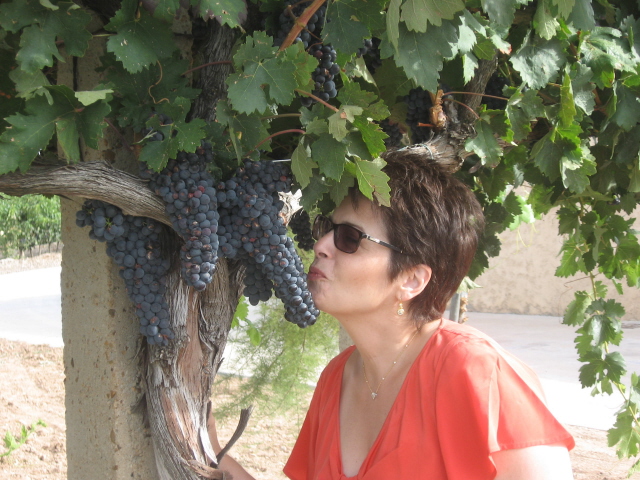 Day 3 – OMG, the best day so far!  After a great breakfast in the dining room of the abbey, we started out to the Lopez Cristobal wine estate in Ribera del Duero to start what became a day's worth of graduate study in "vinification".  At Lopez Cristobal, Gallo one of the Lopez Cristobal family members took us on a tour of the winery and gave us a private lesson on many important details in making delicious tempranillo wine (or any red wine for that matter) like alcohol fermentation versus malolactic fermentation, and the importance of harvesting the grapes before the tannins are over developed.  After spending the morning with him (boy does time fly when you are learning about wine and tasting), we headed to La Vieja Bodega in La Rioja for an incredible 3 hour lunch.  After a cup of coffee to wake us up, we headed to the Castillo Cuzcurrita Winery where Marcos continued our private wine class and wine tasting, discussing the importance of properly matching the toasting of the barrels with the intrinsic tannin content of the grapes and comparing the different wine processes used for the tempranillo wines in the region.  We ended the day at our new hotel, Los Parajes in La Guardia, Rioja (no not the airport in New York).  All in all, we started wine tasting at 10:30 AM and ended at 8:30 PM after tasting nine different and delicious wines.  We may need to stop off at the Betty Ford Clinic on the way home.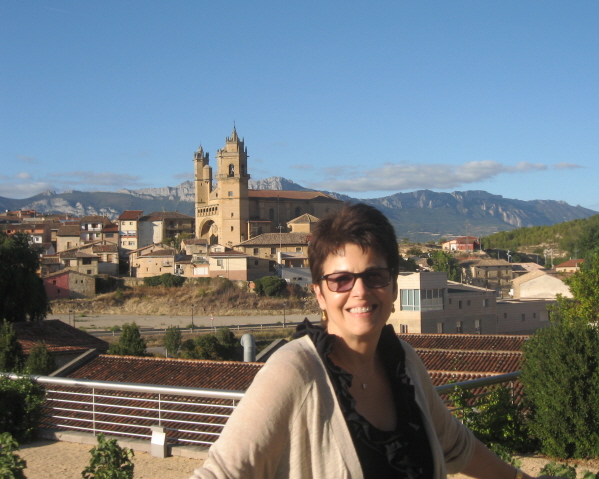 Day 4 – The wine lessons (read tasting) continues.  We headed to another family winery called the Valenciso Winery in La Rioja for our next wine tasting.  This family makes a white wine and a 100% Tempranillo Reserve.  Unlike the other wineries we visited, they do not crush the grapes before maceration.  They also ferment (alcohol fermentation and malolactic fermentation) in epoxy lined concrete tanks, which was also different than the other wineries.  Their wines age in oak barrels and bottles for at least 5 years before being released.  These wines were also keepers.  From there, we headed to a major winery in Rioja called Roda for a tour and tasting.  This winery makes over 1 million bottles a year.  By the time we finished that tour and tasting it was time for lunch, so we headed to a great restaurant called Las Duelas for another 3 hour lunch.  This was followed by a tour at the Wine Museum (Museo de la Cultura del Vino) in Elciegon.  As the day turned into a lovely, sunny and breezy afternoon and we hadn't had any wine for over an hour, we stopped at the Marques de Riscal Estate for a glass of their Rioja Reserve which we enjoyed on the patio overlooking the Cathedral of Elciegon (pictured above).  We were back at our hotel in Laguardia by 8:00 PM, just as the sun was setting and the clock on the plaza was chiming with its characters entertaining the small crowd that gathered.
Day 5 – Another beautiful day in northern Spain.  Today we checked out of Los Parajes Hotel and headed to our last winery in Rioja, the Hermanos Pecina Winery.  This is another family winery with a very different vinification than the other wineries we visited.  Miguel (pictured with me here) explained that Hermanos Pecina uses an "Old World" style of wine making and produces two white wines, three classical Riojas, and two "New World" Riojas.  Best of all, their Old World Riojas are available in the US.  Definitely worth getting!  After several hours and wine discussion, tasting and delicious brunch of charcuterie, frittata, and roast peppers, we headed to San Sebastian and the Villa Soro Hotel.  The ride along the northern coast along the Atlantic is beautiful and passes through several "beach towns" with surfing!  Be sure to check out the pictures of the area in the photo album below.  Yes Tony, we finally found a place in Europe where you and I can enjoy our favorite three pastimes together, eating, drinking wine, and surfing while Mom and Steph shop!!!  Now you just have to arrange some vacation time.  We had dinner at the Alkelarre Restaurant which is an excellent Michelin rated 3 star avant-garde restaurant which turned out to be more of an eating adventure than just a meal.  Definitely check out the pictures from this dinner in the photo album below.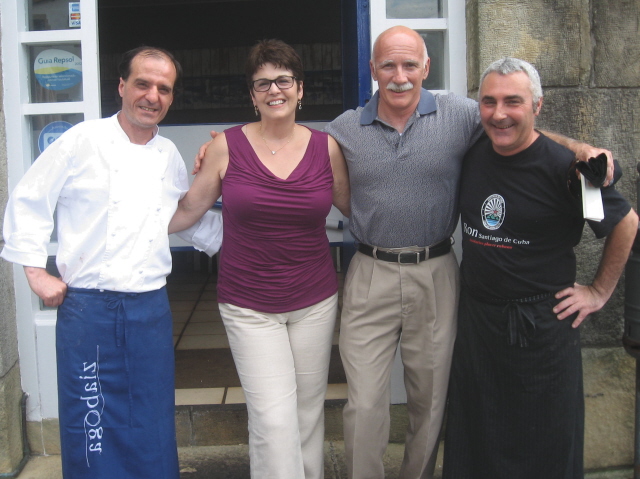 Day 6 – The food extravaganza continues as we drive to an area in Basque country called "Los Pasajes" or the passages for a Basque cooking lesson at the Ziadoga ("theadoga") Restaurant in San Pedro accompanied by our lovely translator and foodie, Eli.  The area is called Los Pasajes because of the waterway that serves as an entrance to the bay of San Sebastian and separates the towns of San Juan and San Pedro.  Jon Warren (pictured above on our left) is our chef and instructor today as we prepared and enjoyed typical Basque dishes of peppers, squid, clams, and lamb.  After lunch, we headed across the border to Biarritz, France which is still part of the Basque region.  This is a very hip little seaside town where folks come to enjoy great food, play in the casino, or just shop in its many boutiques.  After that long lunch and a nap during the drive, we were ready for a nice stroll and a espresso.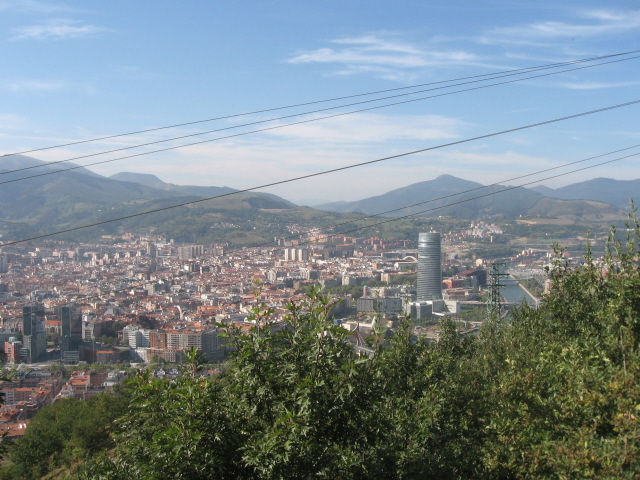 Day 7 – Another beautiful day for a drive.  Our trusty driver Jose Maria drove us to Bilboa to spend the morning visiting the Guggenheim Museum.  Bilboa is considered the industrial "ugly sister" to San Sebastian, but that isn't fair.  Yes, Bilbao was a bustling iron ore processing city at one time, but that industry has moved out of the city and it has been cleaned up to the point that Bilboa is a gentrified cosmopolitan city packed with great places to eat as well as old and new architecture.  The Guggenheim is without a doubt, the artistic and architectual gem of this 700 year old city.  Designed by Frank Gehry, it is a space-age looking, piece of art that inspired many avant-garde artists to contribute.  After a coupled of hours touring the museum, we enjoyed typical Bilboa dishes of lamb stew and hake for lunch, with a bottle of Muga 2005 Reserve.  Unfortunately, we had to leave our friend, Jose Maria, at the Bilboa Airport and fly to Barcelona ("Barthelona") for the remainder of our trip.  Pepe, you are welcome to come visit us any time!!!!  Once in Barcelona, we checked into the Casa Fuster Hotel on fashionable Passeig De Gracia.  It didn't hurt to get upgraded to a suite either.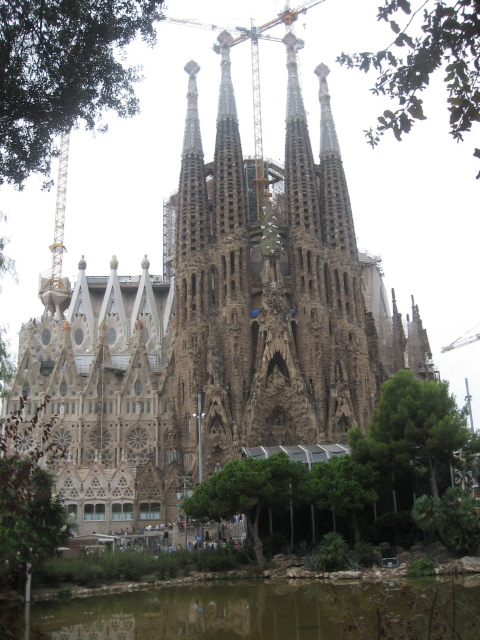 Day 8 – Monica, our incredibly knowledgeable and passionate art enthusiast guide met us this morning for a tour of a little of Barcelona.  We started at the Basilica de la Segrada Familia.  This Basilica was initially designed by Francisco de Paulo del Villar and construction started in 1882 based on his design.  However in about 1884, Antoni Gaudi who was a genius architect and engineer was asked to takeover the design and spent nearly 40 years on the design.  As you can see, construction continues, but is slated for completion in 2026.  The building has taken a long time to be built for many reasons, but primarily because it is being built primarily from private funds.  Also, very little was done on the building during the Franco years and in fact, many of Gaudi's plaster models and blue prints were destroyed by the government.  The construction continued only after the plaster models were pieced together after Franco.  We continued our tour through Barcelona visiting the Picasso Museum (a prodigeous painter even at his late teens), Cathedral of Barcelona, La Pedrera (apartment complex designed by Gaudi) and the Arch du Triumph.  Barcelona is an incredible historic city that requires a month of touring to properly appreciate.  Lunch was simple tapas (zucchini flowers, squid ink croquettes, and grilled shrimp) with vino tinto.  Dinner tonight was at Las Set Portes Restaurant.  It is a restaurant that started in the late 1800's and is still going strong.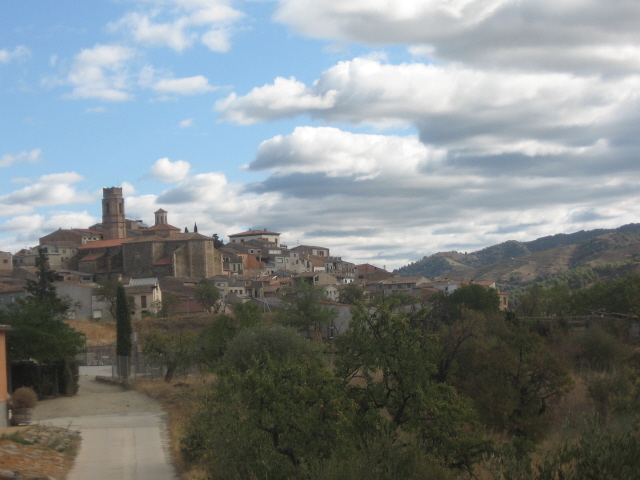 Day 9 – This morning we headed to the Priorat wine region.  A 2 hour ride from Barcelona, it is an area of wine growing that was revived in the 1980's by a couple of families from the region and has become one of the important wines of Spain.  In particular, we toured and tasted the wines of the Clos de L'Obac winery in the Costers del Siurana Estate.  This region is known for its very rocky soil (more rocks than soil actually) and therefore only certain grapes will grow here.  Clos de L'Obac grows Tempranillo, Cabernet Soveignon, Merlot, Cabernet franc, and Garanache which they blend to make their red  wines.  These wines undergo only one fermentation (they produce no malic acid) and are aged for 12 to 18 months in only new French barrels.  The owner of the winery, Carles Pastrana says that their philosophy is to use the same blends, in the same ratios, processed in the same way, so that "only the hand of God" is the difference in vintages.  These are very special wines that comand high prices in US restaurants that carry them.  Don't worry Tony and Stephanie, there is a case headed home.  By the way, they also make a white wine and a freshing "sweet" red wine that are delicious as well.  Well, this is the last day of this glorious trip.  Mom and I return with a much greater appreciation for the wines, food, and culture of Northern Spain.
Here are a few more pictures and stories.  Either click on the "slideshow" or arrow down to page through the pictures one at a time.  Enjoy and don't forget to leave a comment in our Guestbook!