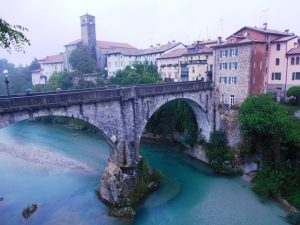 Mom and I are headed to the Friuli Region of Italy for a little food and wine with our great friends, Raffa and Marcelo, from Bluone Tours (www.Bluone.com). Technically known as Friuli Venezia Giulia, it is the northeastern most region of Italy, bordered by Austria, Slovenia, the Veneto region within Italy, and the Adriatic sea.  Historically, it is the crossroad of many cultures, a disputed border land, the site of several wars and a gateway to Eastern Europe. Friuli is an area of enchanting lifting landscapes, sandy coastal beaches, with lagoons to the south, lakes and the Dolomites in the north, and rocky hills in the east. More than thirty different wine varieties are grown here with ten DOC and four DOCG designated areas. Some of the famous white grapes from Friuli include: Tocai Friulano, Pinot Bianco, Pinot Grigio, Sauvignon, Vitovska, Verduzzo Friulano, Malvasia, Picolit and Ribolla Gialla. Important red grapes from Friuli include: Schioppettino, Refosco, Pinot Nero, Cabernet Sauvignon, Merlot, Tazzelenghe, and Terrano.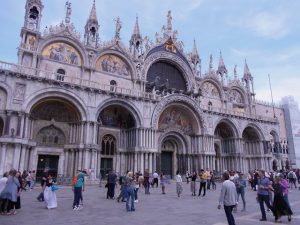 Day 1 Mostly a travel day as we arrived in Venezia Airport and then took a motoscafo along Venetian canals to our hotel for the evening, Londra Hotel, just outside the Piazza San Marco. After a little shopping, we headed to dinner at the Oliva Nera Restaurant for dinner.  After an appetizer of fettuccine in rabbit sauce, Mom had roasted rack of venison and I had roast duck breast. Our wine was a delicious 2014 Valpolicella. For desert Mom had Chocolate Lava Cake and I had fresh berries.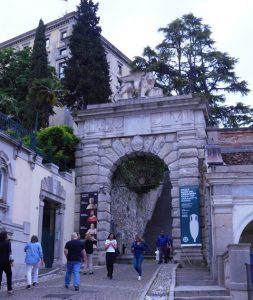 Day 2 A beautiful day as we headed to the Venice train station after breakfast for our trip to Udine. After registering at Astoria Hotel for our stay, we enjoyed a quick lunch (pizza and veal Milanese, vino rosso della casa) at the Gelso Restaurant just around the corner from our hotel. To our surprise when we returned to the hotel, we found Raffa and Marcello as well as Janet and David from our 2015 Puglia trip a couple of years ago, as well as our new friends and Bluone Tour veterans Reata (pronounced Rita), Linda, and Tony. After hugs and kisses, our tour guide Simone, took us on a late afternoon short sightseeing walking tour of charming Udine. Following the tour, we enjoyed dinner at the Giacciaia Osteria for some traditional Udine food and local vino della casa, followed by a couple of Storica Grappa (so… smooooooth!)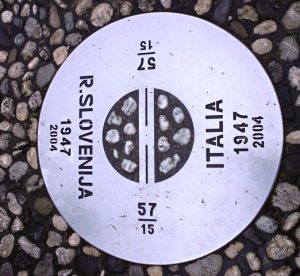 Day 3 Here comes the rain! Undaunted, we took a short drive to the city of Cividale close to the border of Slovenia. Cividale was founded by Julius Cesar during the Roman period, but then occupied by the Huns, Lombards, and Austrians. It's been an UNESCO site since 2011. History makes us thirsty, so we then headed to the Collio region for our first wine tasting at Le Vigne di Zamo for their tasty red and white wines. After stopping in Cormons for an espresso, we headed to Gorizia for a guided visit of the pretty town, that was added to Italy after  WWII as part of the restructuring of Slovenia, Croatia, and Serbia into "Yugoslavia". After the fall of the Soviet Union, the "Iron Curtain" between Slovenia and Italy that cut across Gorzia was torn down allowing free access between the two countries. On the way back to Udine, we stopped for a wine tasting at the Picech family winery to taste their small production (30,000 bottles/year!) red and white wines. Back at Udine, we enjoyed a lovely dinner at I Fratelli Trattoria.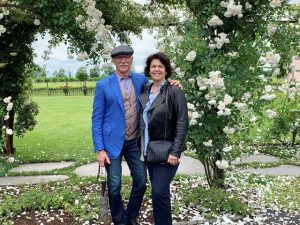 Day 4 Still rainy, but that didn't stop us. After a late breakfast we headed to the Grave wine region of Friuli and the Pitars Winery. Our host, Valentino, led us on a tour of the winery and a tasting of their sparkling wines, ribolla gialla white wine, and their best reds. The rocky terroir of the region results in a wine with much more character than those of the Collio region from yesterday. Following the wine tour we headed to a lovely old castle where we had a calligraphy lesson and learned to make parchment out of rags. We next traveled to the village of Gemone which was the epicenter of a 1976 devastating earthquake. Here we learned about the courageous town's reconstruction. Dinner was at the Il Locando al Municipio in Venzone which was highlighted by a random ukulele Italian folk song sing-along.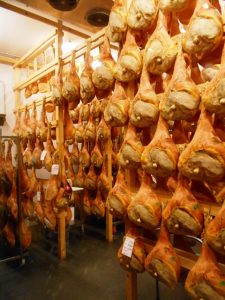 Day 5 Our trusty driver Maurizio drove us to San Danielle under threatening skies for a tour of the La Glacere Prosciutto factory where we learned how prosciutto is cured in this area. Lunch was at a local deli where we enjoyed the local meats and wines of the the region. After lunch we drove to Spilimbergo and the home of a very famous and prestigious mosaics school. From there, we headed to the Hotel Patriarca for a hands on cooking lesson from Chef Christina. There we learned how to make gnocchi, potato ravioli stuffed with ham, tortelli stuffed with sausage, tagliatelle, and the famous Frica (fried hash browns with loads of melted cheese). The highlight for Dad was tasting 3 year, 7 year, and 12 year grappa! Oh baby, baby…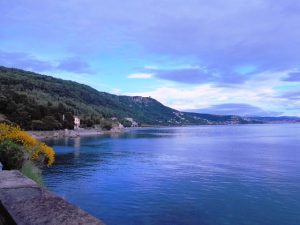 Day 6 Still a little cloudy as we headed to Trieste, the capital of the Friuli Venezia Giulia region. Trieste is also the Italian coffee capital, due to the fact that it was historic port for the arrival of colonial goods including coffee.  We of course had to stop at a antique and fascinating cafe/bar for an espresso (un nero per piacere!) and a quick lesson on making a good espresso. After coffee we hiked  a couple of miles along the seaside cliffs for a view of the Adriatic Sea.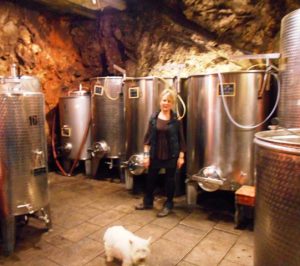 Thirsty as we were after the hike we then stopped at the Colja Jozko Winery in the Carso (that means rocky) wine region which is a narrow strip of land between the hills of Trieste and the sea. The soil here is very rocky and full of minerals so, together with its special micro climate, result in wines an interesting personality. There the lovely Noris gave us a tour of her winery, followed by an incredible wine tasting and lunch consisting of her homemade charcuterie, sausage, and pork chops. After the a wine tasting, we napped on the bus as Maurizio drove us to Castello di Miramare, a wonderful white castle, built in 1860, that stands on the peak of the rocky promontory in the Gulf of Trieste. We had dinner back in Udine where Mom had sliced Hereford steak and I had roasted octopus followed by tuna steak.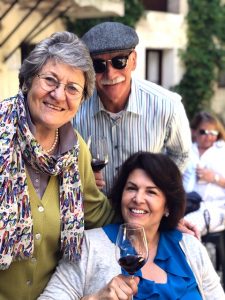 Day 7 Great weather as we leave for our wine tasting at Foffani Winery after a leisurely breakfast. This family winery has been operational since the 1500's with much of the old buildings still in tact. Elizabeth, the matriarch of the winery, hosts many cultural events there as well. Over some delicious meats and cheeses, we tasted a couple of the white and red wines. I particularly enjoyed their Merlot Bianco which, unlike White Merlot, is not sweet but very savory. From the winery we headed to Palmanova. Palmanova is a Renaissance city designed in the shape of a nine-pointed star, built as a fortress for the Venetians against the Ottoman Empire. There is an huge square in the center of the city where civic events are held and of course, surrounded with shops and restaurants where we had lunch of sweet and savory dishes.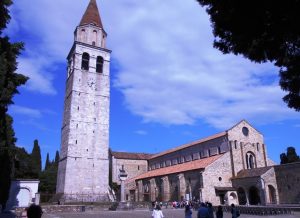 After lunch we drove to Aquileia  which is another UNESCO site, to visit its magnificent 4th-Century Basilica with original mosaics. After a very educational tour of the well preserved ancient mosaics, we proceeded to Grado, a little town on the Adriatic sea, surrounded by beautiful extended lagoon for a boat tour. Following the tour, we had our farewell dinner with our old friends (Raffa, Marcello, Janet, David) and our new friends (Rita, Linda, and Tony) at a local seafood restaurant.
Please check out the other pictures from our trip in the photo album below.  Either click on the "slideshow" or arrow down to page through the pictures one at a time.  Enjoy!  Don't forget to sign in on our Guest Page!