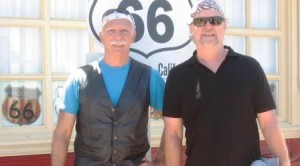 Mr. Smith and I are in Los Angeles, California and headed to Chicago along Route 66.  Mr. Smith is riding a 2014 Streetglide and I'm on a 2014 Heritage Softtail.  Here we are in front of the sign at the beginning of Route 66 in Santa Monica, California.  Born in 1926, US 66 was pieced together from a network of existing roads and connects Santa Monica, California to Chicago, Illinois through about 2500 miles of roads.  On day 1, we were only able to get through 72 miles of torture trying to get through traffic from LA through Santa Monica to our resting spot in Clairemont, California.  Tomorrow we try to cross the Mojave Dessert.  Forecast is for sunny skys and temperatures between 100 and 110 degrees.  But it's a dry heat!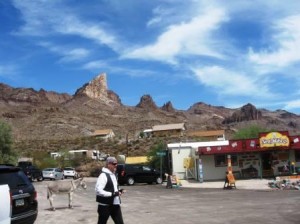 Day 2 Now that's the kind of riding that I was expecting!  We left Clairmont bright and early (6:30 AM) while the temperature was still a cool 70 degrees and headed east along Route 66 headed to Kingman, Arizona.  Unfortunately, you need to ride through the Mojave (pronounced MO HAVE by Californians) Desert to get there.  Also, one-third of Route 66 is really rough road (rattle your fillings rough).  But we persevered the 115 degree temps and rough roads to make it 338 miles to Kingman.  The best part of the ride was our serendipitous stop at Oatman, Arizona (see the picture).  Oatman reminds me of Carson City in the Poconos where bank robberies and shootouts are staged twice a day.  Donkeys stroll through town unimpeded and it is a sweetheart of a town with quite a cast of characters.  Even better, the road out of Oatman took us 18 miles through some great twisties and hairpin turns across the Black Mountains.  By the way if you're ever in California, remember to push the gas nozzle ALL THE WAY into the gas tank before you make a scene at the gas station.  Sorry Yasser! Tomorrow we're headed to the Grand Canyon!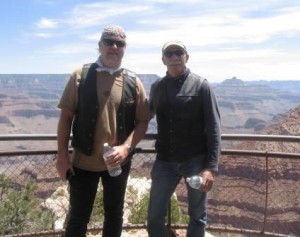 Day 3 We left Kingman and detoured north on Route 64 to the Grand Canyon through the Kaibab National Forest.  On the way, we stopped for breakfast at the famous "Roadkill Café" in Seligman, Arizona.  Easy guys, there really was no roadkill, they just named the items after roadkill.  Very appetizing.  The road to the south rim of the Grand Canyon is fun with gorgeous painted rock canyons, but nothing like the vista when you get there.  The Canyon is dated to 7 million years ago; is 1 mile deep and 10 miles at the widest.  Last time I visited the north rim, so now I've seen it all.  From the Grand Canyon we continued north across another desert (100 degrees in the shade) to Lake Powell and are staying in Page, Arizona, just outside of the lake, for a total of 325 miles today.  Tomorrow, back east to Monument Valley and Mexican Hat.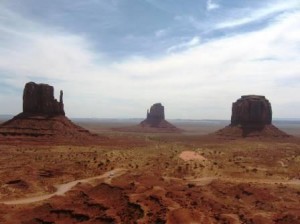 Day 4 We headed out of Page towards Monument Valley on Route 163.  Temperatures were a cool 79 degrees at 7:30 am and traffic was light so we had quite an enjoyable ride to the valley.  We approached from the south so as we got close to the Park, we could start to see these enormous monoliths that beg the question "How the heck did this get here?"  Once in the Park itself, the scene is just jaw dropping.  We then headed across the Navajo country to Mexican hat.  You definitely need to check this picture out in the photo album below.  How does that rock sit there all the way up there and not fall over?  From Mexican Hat we headed east to Four Corners which is where the corners of Arizona, Colorado, New Mexico, and Utah meet.  Been there, done that, got back on the road and ended the day at Farmington, Colorado after a long, beautiful day of riding 368 miles.  Back to Route 66 tomorrow.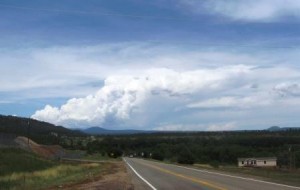 Day 5 Headed to Route 66 through Albuquerque, "but clouds got in our way."  A storm snuck up on us while we were asleep last night.  Mr. Smith used his navigational skills and trusty IPhone to guide us north of the storm along Route 64 which was a great ride, but chilly (like 50 degrees!).  Route 64 took us north and east across Apache country all the way to Taos, New Mexico where we had tasty catfish po'boys at the Taos Ale House and coffee at World Cup.  From there, we headed south and east through the Carson National Forest and finally back onto old Route 66 and our spot for the night in Santa Rosa, New Mexico after another 358 miles.  All in all, the best day of riding yet despite the chilly temps!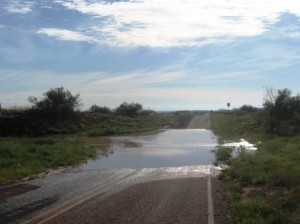 Day 6 Sometimes "Historic" just means "old and poorly maintained".  Today we again managed to beat the rain that came through Santa Rosa overnight and headed out onto "Historic" Route 66.  Unfortunately, our first attempt was thwarted by a huge lake that formed at the bottom of a dip in the road not 15 minutes into the ride and then had to turn back again when the Route 66 abruptly ended in the middle of nowhere.  We finally got going on the road again only to pull up to fire engines that had closed the road ahead because of a fire that engulfed the top floor and roof of the local Hampton Inn.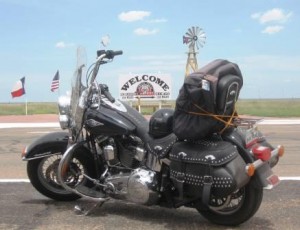 However we persevered, and Mr. Smith was able to navigate us to Adrian, Texas and the Midpoint Diner which is the midpoint of Route 66 where we had lunch and Dad finally got some pie. From the Midpoint Diner, we continued east across the Texas panhandle along Route 40/Route 66 to our final resting place in Shamrock, Texas.  Catchy name, no Irish Pubs though.  Not the most exciting day of riding (except for the flood, fire, and dead end), but we were able to clock another 309 miles for the day (including double backs).  Tomorrow Oklahoma!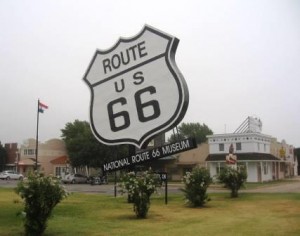 Day 7 Well the rain has finally caught up to us today.  We did our best to find and follow the elusive Route 66 through the fog and rain all day.  Once on Route 66 the road was pretty fun despite the conditions.  The highlight of the day was the National Route 66 Museum in Elk City, Texas.  Definitely a gem of nostalgic Americana.   Everything from farm and blacksmith relics to classic cars and western memorabilia.  We spent a few hours roaming through the museum and thoroughly enjoyed it.  Be sure to look at the pictures from the museum in the photo album. The rest of the day we chased Route 66 across Cherokee and Cheyenne country and did our best to stay warm and dry until we finally pulled into Tulsa, Oklahoma for the night after 304 miles.  Tomorrow we cross into Kansas and Missouri.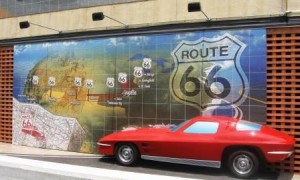 Day 8 No rain this morning, just clouds and chilly.  We continued to chase Route 66 out of Tulsa, Oklahoma into Kansas and then Missouri. The roads were good, but a little boring so we decided to take a detour into Arkansas to try out some of the riding there and add another state to our collection.  Funny story.  So there we were, sitting at a light on Route 62 when a good-ol boy in a sleeveless t-shirt, driving a brand new Jaguar rolls down his window and says "You boys must be new in town.  You gotto head to Eureka Springs and have a beer with your brother bikers" (I may have ad libbed a little).  As we were roaming mindlessly anyway, we did as suggested and boy was that a good idea!  Not only is the ride on Route 62 to Eureka Springs phenomenal, but the little town is a gem in the Ozarks.  What a great time we had!  Clocked another 305 miles today.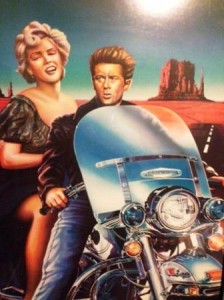 Day 9 The sun is out and all is right with the world!  We started the morning out back on Route 62 headed east with a little chill in the air and patchy fog.  Route 62 continued to impress us with its beautiful, banked sweeping curves through green meadows.  On a lark, we jumped on Route 19 north and wow what a ride!  The nearest I can compare it to is a roller coaster ride at the speed limit (or some multiple there of) on smooth roads for what had to be at least 150 miles.  We took that to the end and jumped on Route 68 west which also had great sweeping curves bringing us back onto Route 66 leading us to our resting spot for the night in Cuba, Missouri.  Three hundred miles of the best riding so far.  In fact, definitely on our list of repeat rides.  By the way, sorry there are no pictures for today.  We were having soooo much fun riding we only stopped to gas up or eat.  Tomorrow we head to St. Louis and parts north.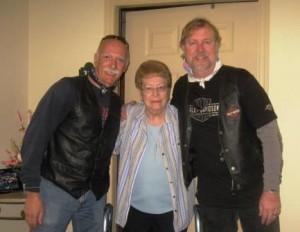 Day 10 Another sunny morning as we headed out of Cuba, Missouri on Route 66 to St. Louis and the best part of this whole ride, a visit to Momma "Smith".  Yep, Mr. Smith's Mom lives just off of Route 66 in St. Louis.  Mom looks great and a real delight to talk to.  I got to see pictures of the family and hear some great stories.  From St. Louis, we stayed on Route 66 into Illinois where we switched to Route 67 and headed to the Illinois river road, Route 96.  Talk about "amber waves of grain", I've never seen so much corn and soybeans!  Route 96 is a nice road through miles and miles of farmland that crosses over the Illinois River and then follows the Mississippi River.  A pleasant day indeed of 248 miles, but glad to relax and spend the night in Quincy, Illinois.  Tomorrow we continue north along the river towards Milwaukee.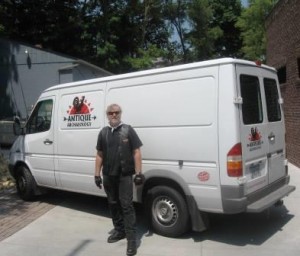 Day 11 The weather is beautiful as we head out of Quincy on Route 67. We are a little ahead of schedule so Mr. Reed Mapwell Smith, as he has come to be known, led us north along the Mississippi River and through miles and miles of corn country along the Great River Road and then east into our target city for the day, LeClaire, Iowa.  Why LeClaire you say?  Well, its the home of the TV show "American Pickers", don't cha know!  Yep, two dudes with 25 years of garbage picking experience (actually "antique archeologists", excuse me) became reality TV sensations by televising their escapades of picking through other folks garbage and now have a tourist attraction as well as a famous TV show.  The store front is actually pretty cool as some of their prize possessions are displayed as if they are sculptures; mostly vintage motorcycles and motorcycle parts.  After lunch in LeClaire (which is a cute little town, by the way) we continued north on Route 52 again along the river into Dubuque, Iowa.  Due to construction, we actually had to continue north a few miles into Wisconsin in order to make a U-turn to get to our hotel, so we actually are able to add two states to our list of states we've ridden through.  Another 260 miles today.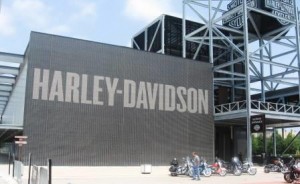 Day 12 Partly cloudy, but warm as we left the hotel in Dubuque, Iowa.  We jumped onto Route 151 east and over to Route 18 all the way up to Milwaukie, Wisconsin and our target for the day, the Harley Davidson Museum.  The museum is a pretty large facility complete with a bar and restaurant.  Inside you can look at every model of Harley Davidson ever made as well as examples of the Harley Davidson marketing memorabilia ever since the early days of 1903.  Definitely look at the photo album below to see some of the great Harleys, like what has been identified as the first Harley Davidson to come off the production line, motorcycle number 1.  We had lunch there and spent a couple hours looking through the museum so we only rode 190 miles today.  Our ride is coming to a close as we will head to Chicago tomorrow.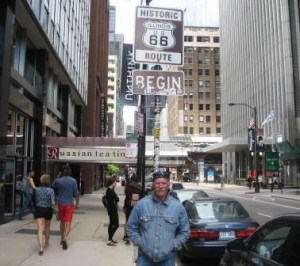 Day 13 Sunny, chilly day in Milwaukie.  Temperature this morning was 65 as we headed out on Route 32 South back towards Chicago, Illinois.  We definitely felt the Lake Michigan effect as we follow Route 32 around the lake.  Breezy and chilly!  Route 32 got us into Illinois and back onto Route 66 in Chicago where we stopped for a picture of the other end of Route 66 (the sign says "Begin", but that's relative) and caught some lunch.  Only 110 miles today, but a relaxing ride all the same.  Well, this is the end of our trip as we turn in our bikes tomorrow and fly home.  All in all, 3510 miles in 13 days including the side trips.  Lot's of fun and great memories.  I've said it before and I'll say it again, best way to see the U.S.A. And Mr. Reed Mapwell Smith, always a pleasure to share the road with you!
Check out the other pictures from our trip in the photo album below.  Either click on the "slideshow" or arrow down to page through the pictures one at a time.  Enjoy!  Don't forget to sign in on our Guest Page!