Day 1 Mom, Dad, and their good friends, "Rosa and Pietro" met in Zurich and flew on to Florence, Italy for our first day of our 10-day food and wine tour of Florence and Bologna. After a quick nap and shower, we were off for a walk around the historic parts of Florence. No visit to Florence is complete without a walk along the Arno River and stroll across the Ponta Vecchia, window shopping at the cute shops that line the bridge. Dinner was a three course doosy at the da Il Latini Restaurant in the old city. This restaurant has been in operation since 1911.  We started with an antipasto of prosciutto, bufala mozzarella and tomatoes, beef liver on crostini, cantaloupe, and mortadella. The first course was a tasting of gnocchi and rabbit, ziti Bolognese, and ricotta and spinach ravioli. "Il secondo" was a mixed plate of roasted meats which included chicken, beef, pork, and veal. With dinner we shared a liter of the house wine (sangiovese). For dessert we shared chocolate custard pie, raspberry pie, anise and currant pie, and custard pie. We were also served a small glass of dessert wine with almond biscotti for soaking to cleanse our palates. We then rolled out of the restaurant and waddled to a local bar and choked down a shot of Farnet-Branca to help digest.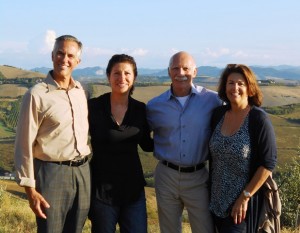 Day 2 We took the train from Florence to Bologna, where Marcello and Raffa (Bluone.com) picked us up and drove us to our "hip" hotel in Bologna, il Cappello Rosso Hotel.  This is the same hotel we stayed at on our last visit to Bologna, but has been renovated into a artistic and cultural oasis you'd expect to find in Williamsburg, Brooklyn.  After unpacking, we went for a stroll to the central plaza where a bicycle exhibition was ongoing.  There were all kinds of state of the art bikes and bike paraphernalia, but the crowd favorite was the exhibit of early 1900 bicycles used by tradesmen to service the community.  Some of the tradesman's bicycles on exhibit were a barber's bicycle and an electrician's bicycle.  There are a couple of photos in the album below.  Pretty wild.  We had dinner at our favorite restaurant in just outside of Bologna in Dozza, il Cane' Restaurant, which has been in operation since 1926.  We started with an appetizer of fried mushrooms, eggplant, potatoes, and fried olives stuffed with beef (delicious, but not recommended in a martini).  The first course was angel hair pasta in mushroom and butter sauce.  Mom had thin-sliced rare roasted beef and I had roasted sheep ribs.  We had a couple of bottles of local Sangiovese wine with our meal.  For dessert, Mom had vanilla ice cream with drizzled 59 year-old balsamic vinegar and I had lemon sorbet drizzled with vodka (no…it wasn't Tito's).  We learned our lesson from last night, so we didn't stuff ourselves as much this time.  Good thing, since we were three across in the back seat of Marcello's car on the way home!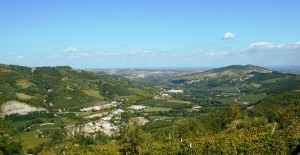 Day 3 We spent the morning driving through the hills of Romagna, which borders Tuscany on our way to the herb garden of Antonetta. There we toured her garden of 40 different herbs and enjoyed an early lunch of frittatas, meats, and local wine. We then traveled to a winery attached to the University of Bologna and watched a shipment of grapes go through the de-stemming and crushing steps of wine making. After the wine class we headed to Nicola's restaurant for a cooking class where we watched Nicola prepare bruschetta pizziaola, risotto with mushrooms, roasted steak with oil and aromatic herbs, and enjoyed local sangiovesse wine. For dessert we had a choice of ice cream, Italian flan, and semi freddo.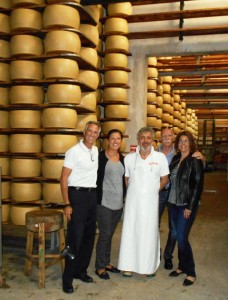 Day 4 This was a long day.  We started early morning with an hour's drive to a Parmigiano cheese factory where we watched milk become processed into Parmigiano Reggiano cheese. Fausto was a passionate and lovable cheese maker who takes a lot of pride in his cheeses. Smelly work and long days, so I guess loving your work is important. After the cheese factory, we headed to Villa San Donnino which is a beautiful estate not only known for its delicious traditional balsamic vinegar of Modena, but was also used in the movie Nine Hundred, starring Robert De Niro, and several other well-known American actors. Lunch was at a great little restaurant in Modena where Luigi (a Calabrese paisano) prepared appetizers and risotto with balsamic vinegar. We enjoyed a delicious sparkling albano to start, followed by a Lambrusco. Dinner was back in Bologna at Marcello and Raffa's favorite pizza restaurant.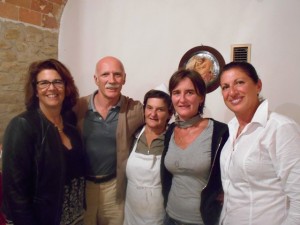 Day 5 We started with a lovely drive through the hills of Emilia Romagna to Ravenna for a tour of the old city's famous churches of San Vitale and Galla Placida to view their beautiful mosaics. The mosaics date from around the year 500 AD! Interestingly, malaria was responsible for the nearly perfect condition of the mosaics to this day. Back around 1000 AD, Ravenna was surrounded by marshes. These marshes eventually bred malaria which started killing the citizens of Ravenna, forcing families to move. Therefore the city and building were left abandoned for hundreds of years. It wasn't until the 19th century that archeologists and historians rediscovered the town and its mosaic treasures. After a lunch of pedinia and cheeses at a local Osteria (ce di Vin) we headed to the Podere La Berta winery for a tour and tasting. After tasting a delicious white albano and several reds, we headed to the home of Elena, our 71 year old cooking friend from our last Emilia Romagna trip to make lasagna Bolognese, chicken cacciatorre, and roasted tomatoes. Yum, yum!!! It was a long day, but quite an enjoyable one.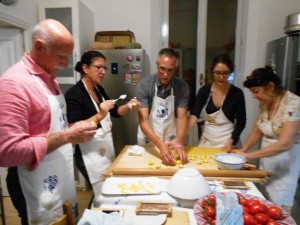 Day 6 After a great night's sleep, we were able to have a leisurely brunch with our good friends Pietro and Rosa, as the day was a bit rainy and chilly until about noon. Eventually the rain stopped and we strolled through the alleys of Bologna looking at all the cute little meat markets, fresh produce stands, and seafood shops. Later that afternoon, we headed to the home of Raffa and Marcello for a cooking lesson with their adorable daughter, Francesca (Frenchy). There, we made several pastas including tortelloni, gnocchi, and bowtie pasta. We made fried zucchini flowers and roasted tomatoes. We also made sausage ragu Bolognese, and for dessert we made chocolate salami (chocolate, almonds, and "nila wafers", rolled into a salami). Dinner was delicious and the wine was superb! Even better, was the opportunity to once again share a dinner with our good friends, Rosa, Pietro, Raffa, Marcello and their kids, Frenchy and Manuele.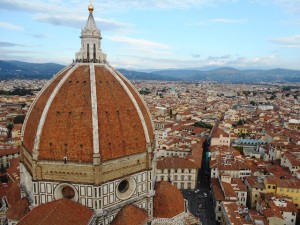 Day 7 Today we bid farewell to our friends and guides, the Torres' and head back to Florence. After a stroll through the city we headed back to "da il Lattini" restaurant for dinner. It turns out that Anthony Bourdain made the restaurant famous by shooting one of his episodes there. Funny enough, we got to the restaurant about a half hour early and in no time there was a tremendous crowd of mostly Americans, drooling for the opportunity to eat there. We learned our lesson from the last time that we ate there and only ordered an appetizer and entrée. The waiter recommended a great inexpensive super Tuscan that added to the special meal.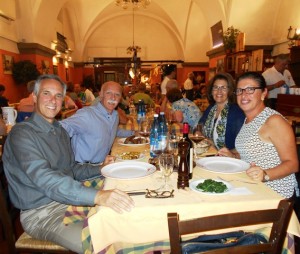 Day 8 The last day of our trip. We walked over to the Pitti Palace for a tour of their Silver Museum and Boboli Garden. The Pitti Palace is a tremendous palace and gardens that were the Di Medici's home. There are several museums and gardens there. In a day, we only had enough time to stroll the exhibits in the Silver Museum and Boboli Garden. The Silver Museum included artifacts of the wealthy from the 1200's onward. The Boboli Gardens were amazing. There must have been a legion of gardeners employed by the Di Medici family to tend them. For dinner we headed to il Toto', which is a great steak restaurant in the old city where we celebrated Rosa and Pietro's 33rd wedding anniversary. Il Toto' has been in business since 1968 through three generations of the same family. Rosa and Pietro first had dinner at this restaurant on their honeymoon, then again when they returned with their kids for their 25th wedding anniversary. What a lovely tradition! Well tomorrow we fly back home with fond memories and a couple of extra pounds. What a great trip and great traveling partners!
Check out the other pictures from our trip in the photo album below.  Either click on the "slideshow" or arrow down to page through the pictures one at a time.  Enjoy!  Don't forget to sign in on our Guest Page!