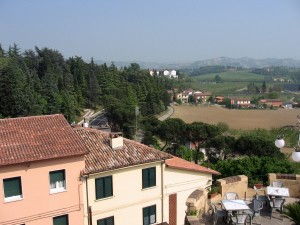 In April 2007 Mom and I, along with two of our favorite friends, let's call them "Mr. and Mrs. Smith" ;-), went on a food and wine tour with our wonderful tour guide Marcello from Bluone Tours (www.Bluone.com) of the Emilia Romagna region of Italy.  Emilia Romagna is actually made up of two regions, Emilia and Romagna, the capital of which is Bologna.  This region is best known for its pastas, sauces ("Bolognese"), balsamic vinegar, prosciutto, and Sangiovese wines.
Sunday, we arrived at our hotel (Golf Hotel delle Terme) in Riolo Terme where we enjoyed a delicious lunch of ravioli stuffed with porcini mushrooms in a Bolognese sauce, followed by sliced chicken breast stuffed with prosciutto stuffing and grilled eggplant on the side.  As this was lunch on a beautiful spring day, we drank a delicious local Sangiovese wine (2005).  Sangiovese wines are an interesting red wine which when young are very light, but not too fruity and get more full bodied as they age tasting close to a Shiraz or Pinot Noir.  For dessert, we had a fruit medley of strawberries, sliced blood oranges, and kiwi with whipped cream.
Later that afternoon we toured Dozza which is in the hills in the middle of the Emilia Romagna region.  Dozza is a very old (12 – 13th Century), quaint village which in April hosts a contest among fresco artists.  The frescos line the narrow roads that wind through the town.  There is also a great enoteca (wine shop) down in the castle that features wines, preserves, and vinegar from somewhere close to 50 local cantinas.  We had dinner at the most famous restaurant in the region, "Cane' Restaurant" which was established in 1928.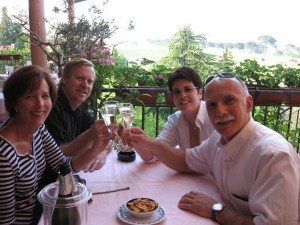 After an aperitif of delicious local sparkling white wine (imagine a chilled, sparkling, light pinot grigio) Marcello, ordered a two-hour feast for us consisting of:1. An appetizer of fried potatoes, zucchini, eggplant and crema frita (a paste of egg yolk, sugar, and flour, fried golden brown)2. Meat filled tortellini soup. 3. Prosciutto on bread. 4. Tagliaone (looks like thin fettuccini)  with porcini mushrooms in butter sauce 5. Sticchetti(bow ties) with parsley,tomato sauce, and dried ricotta (the parsley in the sauce turns the pasta black) 6. Garganelli (small dough squares rolled into tubes one-by-one) with prosciutto 7. Fresh tossed salad in salted virgin oil 8. Chicken Diavolo which is the signature dish of this restaurant (wood-roasted chicken rubbed with a blend of light local seasonings) and 9. Wood-roasted lamb chops
We drank a couple of bottles of great 2003 "Noi" Sangiovese red wine and after dinner enjoyed nocino and limonciello.  Sorry, but we wimped out when it came to dessert.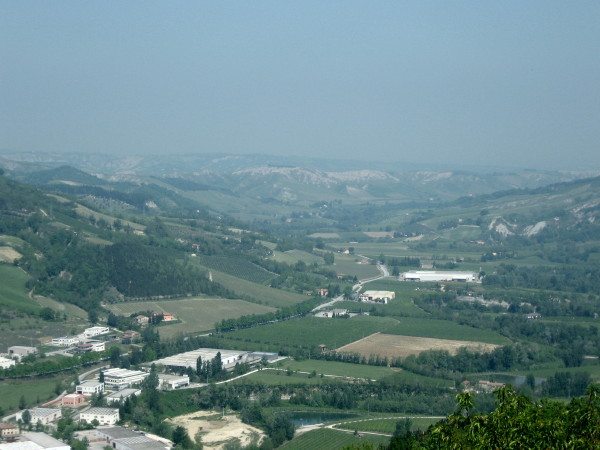 On Monday after cappuccinos and espressos in a café in Modigliana we visited an herb farm just outside of town named "Il Giardino Aromatico".  This was a garden about one acre of more spices than I have ever heard of and several types of fruit trees.  Antonietta also made lunch for us.  Lunch consisted of a frittata (omelet) of potato and chives, a frittata of spinach and herbs, artichoke torta, and a half dozen homemade cheeses that were served with homemade marmalades made from watermelon, cherry, apricot, pear, and different spices like lavender and cocoa.  We drank a homemade Lambrusco.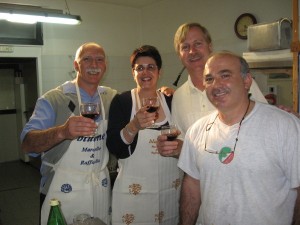 Monday evening, we enjoyed a tremendous dinner at "Villa Golini" just outside of Riolo Terme owned by Nicola, the chef.  We joined him in the kitchen and drank Sangiovese wine and ate appetizers of bread and pizziola sauce, eggs in purgatory, sage dipped in egg batter and fried, all while we watched Nicola and his family start preparations for our dinner.  Dinner consisted of an appetizer of mushroom salad (the mushrooms came from his own cultivation), followed by risotto with nettles (Italians can even make weeds taste delicious!), then garganella pasta (tubes) in prosciutto sauce, and then two meat courses: 1. veal scaloppini in butter sauce with potatoes roasted with sage and rosemary and oven roasted tomatoes, 2. sliced steak oven roasted with rosemary and sage.  We tasted several Sangiovese wines with dinner.  Dinner was topped off with a great dessert of "Semi Freddo" which was chilled strawberry and blueberry ice cream-like layers.  This dessert had a consistency similar to ice cream, but was different than ice cream as it did not contain eggs and only required refrigeration instead of freezing.  After dessert we tried a delicious nocino.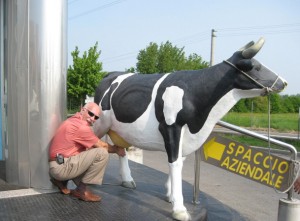 Tuesday was a long day that started at 7 am with a trip to a cheese factory where we watched the manufacture of Parmigiano Reggiano.  This is a very interesting process (WARNING: skip to the next paragraph if you ever want to eat cheese again!).  Essentially, the process consists of curdling 100 liters of cow milk with a teaspoonful of dried pig stomach powder, boiling it, and then allowing the curds to collect on the bottom.  One hundred liters of milk creates about 200 lbs of curds.  The curds are then collected and placed in a round form to create the famous cheese wheels we all know.  The cheese wheels are then allowed to dry over night and then stored in salt brine for about 10 days, dried again and then allowed to age for up to 3 years.  The cheese wheels are then inspected by an inspector from the Parmigiano Reggiano cooperative.  Only perfect cheese wheels get the famous Parmigiano Reggiano emblem burnt into them.  A great tour as long as you don't mind the smell of sour milk.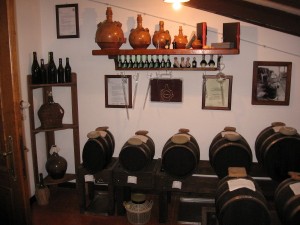 From the cheese factory, we drove to Modena (the city famous for balsamic vinegar) to the home of the Muratori family.  Balsamic vinegar is traditionally made in the homes of citizens of Modena.  The process starts with crushing Lambrusco grapes with two other types of red grapes and then boiling down the mush ("mosta") to 50%.  The mosta is then stored in a barrel in the family attic.  Each year, 50% of the fermented juice is poured into a smaller barrel until the volume of about 2 liters is obtained.  This fermenting process is somewhat complicated as the fermented product is distributed among barrels of at least five different kinds of wood and then blended at the final stage by a taste expert.  The vinegar must be aged for at least 5 years before it can be used. The best vinegars are fermented for 12 and 25 years (the longer the fermentation, the smoother the vinegar).  In order to be labeled "Balsamic Vinegar of Modena", the vinegar must be scored greater than 250 points by certified tasters.  The 5 year vinegar would be used in salad, while the older vinegars would be poured over dishes like risotto, the oldest being used over desserts.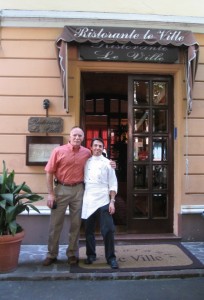 We had lunch at "La Villa Restaurant" in Modena owned by the chef Luigi.  Each course had balsamic vinegar drizzled over it.  Sounds gross I know, but actually was delicious!  We started out in the kitchen with a delicious Prosecco (white wine) while Luigi and his brother prepared a salad of prosciutto covered with mixed greens and Parmigiana Reggiano.  We also watched them turn grated cheese into bowls that later held our risotto.  At the table, we then switched to a Lambrusco wine and started on our salads.  In the meantime, Luigi and company started working on our risotto al dente with balsamic vinegar.  For dessert we had homemade ice cream and with balsamic vinegar drizzled over it.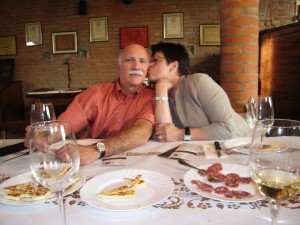 After a rejuvenating nap, we headed back to Dozza for a wine tasting at the Branchini Winery.  The proprietor Marco, explained how he makes his red and white wines.  In an old stone building that used to be the family winery, we tasted his Pignoletto (very light, red wine), Sangiovese, Sangiovese Reserve, and a delicious white dessert wine while munching on homemade prosciutto, salami, and of course Parmigiano Reggiano.  We took a light dinner in a little family restaurant in Riolo Terme consisting of various pastas and wine.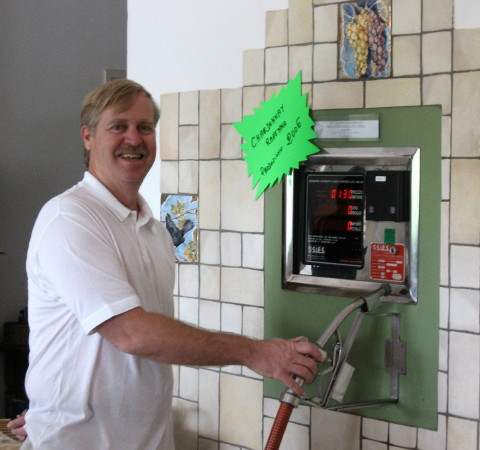 Wednesday was a lazy day that started at 11am with a trip into Tuscany to the village of Brisighelli where we stopped at a shop that sold products from the area.  There we tasted gourmet olive oils of the region.  These are not your salad dressing oils, but instead oils you might drizzle over soups, fish, and meat just prior to eating.  We had one of our best lunches at a restaurant called "La Columbaia" where we drank a couple of bottles of Sangiovese wine and ate an antipasto of meats and pickled artichoke followed by a course of pasta or rabbit all under a tree over looking the village below us in the valley.  For dessert we enjoyed casata and panna cotta while drinking dessert wine, espresso, and cappuccino.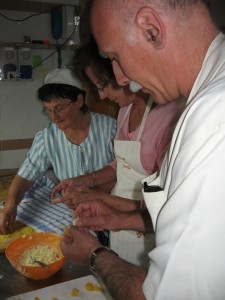 For dinner we drove into the hills near Riolo Terme for a cooking lesson from a lovely lady named Elena at her 150 year old Agricoturismo.  There we prepared and ate capellini in brodo, passata (bread crumbs, lemon, and egg whites) in brodo, tagliatelli Bolognese, spinach lasagna made with béchamel sauce, and a delicious chilled cream dessert.  With dinner we drank Elena's homemade white and red wines.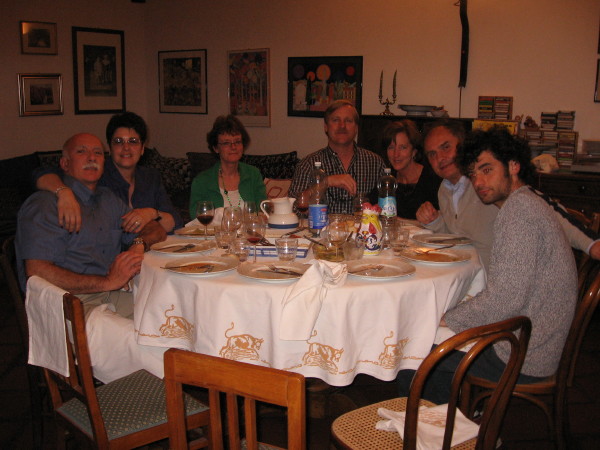 Thursday was spent in the city of Bologna where we toured Marcello's favorite, open air fresh vegetable, meat, and fish markets.  The ladies did a little shopping in the swanky shops while Mr. Smith and I checked out the local Harley-Davidson shop only a "20-Marcello minute walk" away.  Lunch was at Marcello's favorite pizza restaurant where we ate thin crusted pizzas of various "gusti" and drank a delicious Italian beer.  We cooked at the home of Marcello and Rafaella where Rafaella taught us how to make fried zucchini flowers, piadini (pita looking bread), chicken and pork rolletini, gnocchi, strutsapreti, artichokes and peas, and zuppa inglese (dessert).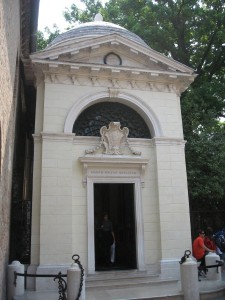 On Friday, we drove into Ravenna and visited the tomb of Dante and toured the Basilica of San Vitale whose interior is covered in detailed mosaics.  The ladies spent a few hours shopping while the "Barbarians" sat at a cafe and drank German beer and single malt scotch.  We lunched at an Osteria where we enjoyed an antipasto followed by pasta and drank a bottle of Sangiovese wine.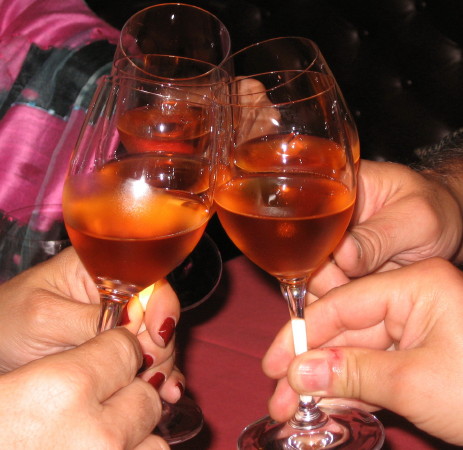 For dinner, Marcello took us to a very fancy restaurant "San Domenico".  We enjoyed antipasti in the restaurants extensive and beautiful wine cellar.  Their cellar contained several tens of thousands of wines (some as old as the 1940s) and hundreds of bottles of Scotch.  After the appetizers, we climbed the stairs to the restaurant and enjoyed several courses of gourmet foods and delicious white and red wines.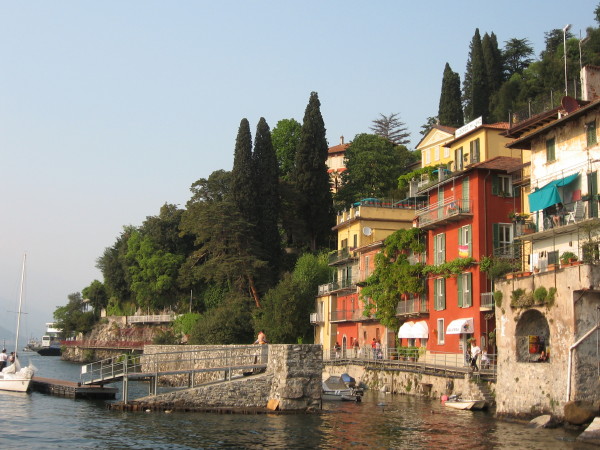 On Saturday, we bid "arrivaderci" to our hosts Rafaella, Marcello, and Francesca and took the train to Varenna in the center of the lakes that make up Lake Como.  We spent Saturday through Monday touring the cities of Bellagio (shops and restaurants), Menaggio (shops and restaurants), and Varenna (restaurants and the Vezio Castle).
Here are a few more pictures and stories.  Either click on the "slideshow" or arrow down to page through the pictures one at a time.  Enjoy and don't forget to drop us a line in the Guestbook!