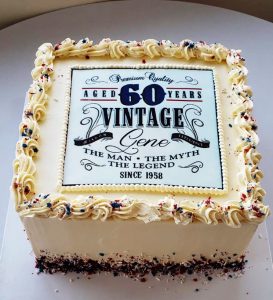 "So…" Mom says, "hey how about celebrating your 60th birthday drinking wine and touring through Napa with the kids?" "Why sure honey", I reply, "sounds like a great idea". So I'm all set and really looking forward to having Tony and Stephanie with us as we spend a little time together doing one of our favorite family pastimes, drinking great wine in beautiful California. Mom's made flight reservations, gotten us rooms in a quaint bed and breakfast, she's even put together a map of Napa complete with color-coded vineyards to visit. Oh, and since we'll be arriving in San Francisco, I arrange to have lunch with surf buds, Connie and Suzanne, when we arrive. So I can't wait for this trip.  I get to drink great wine, spend time with my wife and kids, and see two of my favorite surf buddies that I haven't seen in a couple of years.  But before we leave town for Napa, Mom says, we're meeting a couple of friends for dinner at a local restaurant…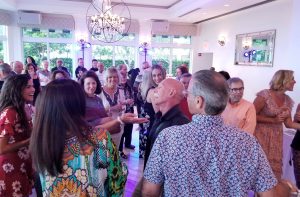 We get to the restaurant, I duck into the bathroom (I am 60 you know), and when I come out, surprise!!!! Mom got everyone together for the biggest surprise of my life.  Yes, the Napa trip was a clever ruse by my marvelous (and somewhat diabolical) spouse (detailed map of Napa covered with hand written, color-coded notes!, not to mention getting all our friends to contribute to the fabrication in many different ways…Really? What great lengths you all went through to perpetrate the perfect surprise party!!!).  Any way, it was a great night, with great friends and family, from the love of my life. Darling I love you so much!
For a look at the birthday video (about 5 and a half minutes) click on the link below:
https://www.youtube.com/watch?v=vBzaJQ8zRs4&feature=youtu.be
Here's a clip of our rendition of Happy Birthday (not expecting any Grammies)
Here's my favorite clip to the best brother in the world!
https://www.youtube.com/edit?o=U&video_id=Wj_jCUcctz4
Enjoy the photo album below from this great party.  Either click on the "slideshow" or arrow down to page through the pictures one at a time.  Don't forget to drop us a line in the Guestbook!