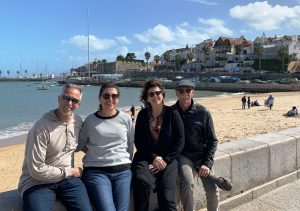 Mom and I and our trusty travel companions, "Rosa" and Pedro are traveling to Portugal for a tour of the country's capital, Lisbon, the Douro Valley, and the seaside city of Porto. We'd never been to Portugal, we're unfamiliar with Portuguese cuisine and the only Portuguese wines we are familiar with are Port (remember how Mom cleaned out the Port wine during our train tour of the Canadian Rockies?), Mateus rose', and Lancers rose' (bad headaches come to mind), so we're looking forward to this little adventure with our travel buddies.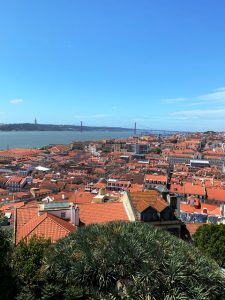 Day 1 After arriving at our hotel, Pousada de Lisboa, a good night's sleep and a filling breakfast, we toured Lisboa (Lisbon) with our trusty guide, Jorge, in scattered rain showers. Lisbon is Portugal's capital, colonized by the Phoenicians, Greeks, Carthaginians, Romans, Moors over many centuries and finally the Portuguese after 1147. We visited the Castle of Saint Jorge and the surrounding area of Alfama, Lisbon's oldest quarter.  Alfama is home of the Portuguese maritime exploration in the 15th and 16th centuries known as the Age of Discoveries and the Golden Era of Portugal, transforming Lisbon into the opulent center of a vast Portuguese empire. Part of the wealth from these expeditions was used to build magnificent monuments in the extravagant Manueline style. Some of these monuments can still be seen, especially in the area of Belem. We also briefly visited Baixa and Chiado.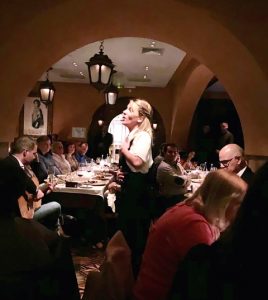 For dinner, we went to O Faia restaurant which was founded in 1947 and remains a hot spot of Lisbon nightlife.  It is the center stage of traditional Fado music. Fado is the melancholic song of Portugal, usually performed in a dark tavern by a singer and a small band of guitars, violas and basses. Tonight we enjoyed a wonderful 4-course meal where each course was followed by a moving and captivating Fado performance by a different Fado star, culminating in the master performer and restaurant founder, Lucilia do Carmo.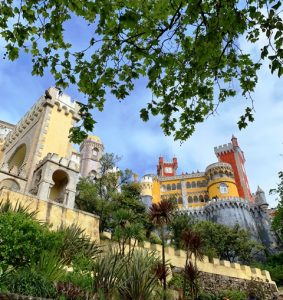 Day 2 Still a little rainy and blustery, Jorge lead us on a journey to explore Portugal's traditional towns of Sintra, Cascais, and Estoril. Sintra has hundreds of years of history and culture. The city center is surrounded by old houses now converted into quaint handicraft shops and traditional pastry shops. Driving around the Sintra hills, we passed amazing chalets and aristocratic residences on our way to the 19th-century Pena Palace, which is an incredible combination of architectural styles, colors and shapes.  Known as the Palacio da Pena, located in the Sintra hills, it is the greatest expression of 19th-century romanticism in Portugal. The palace was built to be visible from any point in the park, which consists of a forest and luxurious gardens with over 500 different species of trees coming from the four corners of the earth.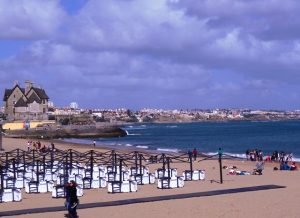 Cascais is a coastal town, once a small fishing village, that became popular with artists and writers thanks to its idyllic scenery. Many wealthy Portuguese have "beach homes" in Cascais.  The town of Estoril is a preserved coastal town with expansive beaches and sparse beach cottages. Here we enjoyed a delicious grouper Portuguese style for lunch (Mom had beef tenderloin) at a great restaurant.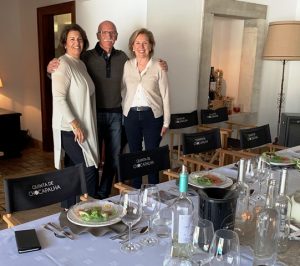 Day 3 Finally a beautiful sunny and brisk day as our driver Jose' drove us to Quinta de Chocapalha located in Aldeia Galega in the sunny hills of Alenquer, a region north west of Lisbon. Its vineyards have been there since the 16th century and once belonged to Diogo Duff, a brave Scottish man who received the 'Tower and Sword' insignia, given by King João VI. Alice and Paulo ("the Commander") Tavares da Silva bought the estate in the 1980s and introduced new cultivation methods thus enriching the quality and reputation of their wines. Their daughter is Sandra Tavares da Silva, a well-known oenologist and in charge of their oenology department. We really enjoyed their family atmosphere, dedication and passion for viniculture and wine making in the beautiful landscape of this Lisbon wine region. We learned a lot of the family's history over a delightful lunch and wine tasting hosted by Alice and the Commander.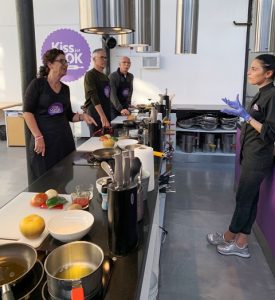 After lunch we headed to the LX Factory for a cooking lesson where we prepared a traditional Portuguese meal at "Kiss the Cook". "Kiss the Cook" is a small cooking school located in an old textile warehouse transformed into a bustling hub for local artisans, chefs and designers to share their work. Our chef, the lovely Miranda walked us through making chicken sausage meatballs over apple pure' and traditional fish soup with onions, peppers, garlic, olive oil, cod fish and monk fish.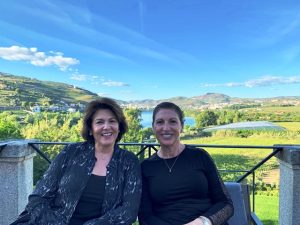 Day 4 we checked out of Pousada de Lisboa and Jose' took us on a scenic ride from Lisbon to the Douro Valley to the Six Senses Hotel in the heart of the Douro wine region of Portugal. On the way, Jose' took us to a wonderful "locals" restaurant called "Churrasqueira Rocha" to enjoy roast piglet.  Yes so cute, but so very tasty!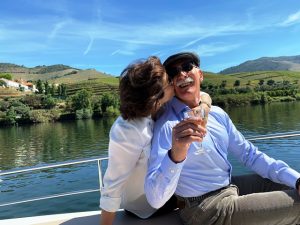 Day 5 we met our driver Joachin under beautiful sunny skies and brisk temperatures who drove us to the docks on the Douro River for our private Douro River boat ride and lunch. The peaceful Douro River is surrounded by terraced hills dotted with famous Port wineries like Grahams and Sandeman as well as less well-known quintas.  After a much needed nap and shower, we enjoyed dinner at the Six Senses Hotel restaurant and a bottle of port under the stars on the hotel patio.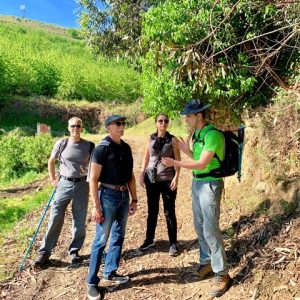 Day 6 we met Johan Carlos for a morning hike along a hiking trail into the Alto Douro Wine Region, a UNESCO world heritage site and the oldest regulated wine-growing region in the world. The hiking trail is 7km (4.35 miles) long and flanked by the famous vineyards of the Alto Douro Wine Region next to the magnificent Douro River. The hike led us to the Quinta Pacheca where we enjoyed a tour, tasting, and delicious picnic. That evening we had a delicious veal chop dinner with a bottle of Cedro do Noval 2013 at Taberna Jerere.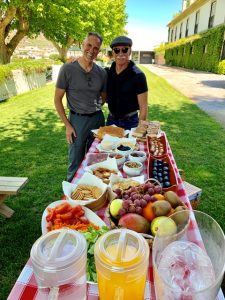 Day 7 Joachin drove us to Quinta do Crasto which is a Portuguese family owned winery producing red and white wines and as well as Ruby and Tawny Ports and olive oil.  The winery is located in Gouvinhas, in the Douro Valley and covers 135 hectares, 75 of them occupied with vineyards. After a very educational tour, we enjoyed a relaxing lunch and wine tasting under their portico. From Quinta do Crasto, we headed through winding hills and valleys to the seaside city of Porto where we checked into the posh five star Yeatman Hotel.  Ana from Quinto do Crasta recommended that we have dinner in her favorite family restaurant, O' Cum Caneco in the heart of Porto where we enjoyed several sausage appetizers, chicken, pork and beef entrees, inexpensive local wine and beer as well as lovely hospitality. Definitely a hidden jewel.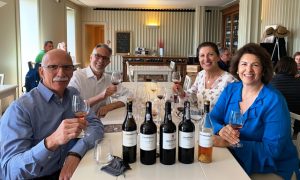 Day 8 After a lovely breakfast we headed to Churchill's winery,founded by John Graham in 1981. After the family winery was sold to Private equity, he set up Churchill's (his wife's maiden name) to produce his own, individual style of port wine. All of their ports are produced in their own vineyards on the south bank of the River Douro, in the prestigious Cima Corgo sub-region. These ports are different than all the others that we tasted in that they used a lower strength "brandy" (alcohol produced like brandy, but not aged in oak) to fortify their port which results in a more dry ruby and tawny port.  Definitely Dad's favorite!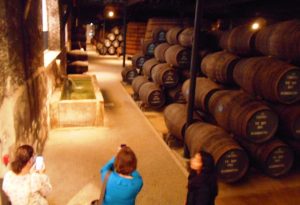 From the Churchill winery, we headed to the historic Graham's winery,built in 1890 on a hilltop in Vila Nova de Gaia. The winery's strategic location between river, ocean and lush green hills ensures that temperatures never reach extreme highs or lows resulting in a continuous, balanced maturation of their wines. After another very informative tour and tasting of Graham's wines we had a quick light lunch and headed back to the Yeatman for a well-deserved nap. That evening we met the lovely Madalena, who would be our hostess for the remainder of the Porto tour.  Madalena took us to her favorite family restaurant for dinner, Mau Travessa, where we enjoyed several seafood appetizers (clams, shrimp wrapped in potato, octopus, wild mushrooms), and beef, pork, and fish entrees.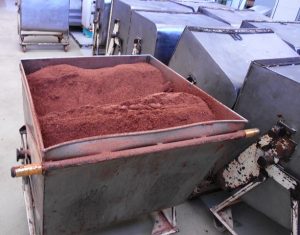 Day 9 Madalena took us to the Imperial Chocolate factory for a tour led by the company's plant manager, Pietro. This was a very informative tour in one of Europe's largest chocolate companies with over 50 different chocolate types sold in countries all over the world. Following the tour, Madalena and Joachin took us along the Porto seaside and then to a great family seafood restaurant, Armazem do Peixe, for lunch which included codfish fritters and salad, roasted squid, and a seafood rice stew followed by homemade crème brulee.  After a quick stop at the Porto Harley Davidson shop, we headed to the hotel for a nap. For dinner, Madalena met us at another of her faves, Cafeina, in a Porto suburb close to the ocean. I had a mixed salad and great braised veal, Mom had sautéed duck breast with vegetables. Tomorrow we say goodbye to Joachim and Madelena to head back home.