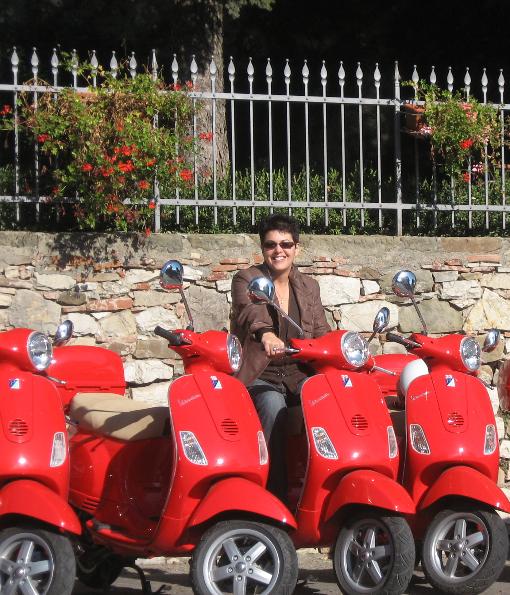 Now that Mom is a certified Vespa rider, we decided to take a little ride through Tuscany on Vespas through the tour group "Italy by Vespa" (ItalybyVespa.com).  We flew into Florence and spent an evening right in the Piazza della Signoria at the Residenza d'Epoca.  The next morning, our driver, Diano, picked us up and drove us to Radda which is in the middle of the Chianti region.  We dropped our luggage off at the hotel (Relais Vignale Hotel)  and headed out on our Vespa adventure.  Mom really impressed me.  She rode her own Vespa and traveled through some fun twisties and hairpin turns, without even as much as a yelp.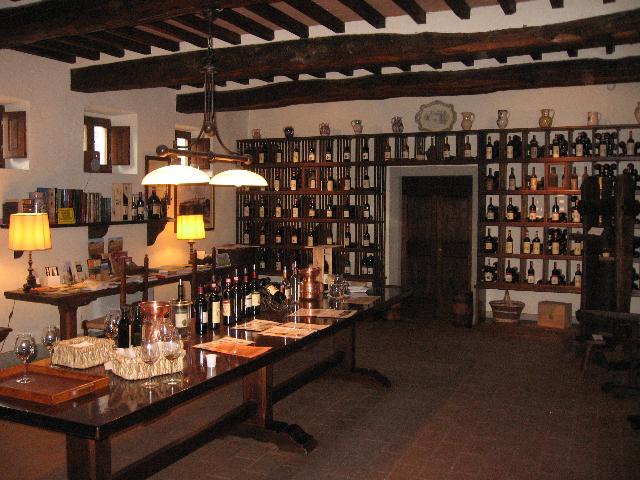 Our first stop was at the Fattoria di Albola in Santa Catarina, where we took a quick tour of the wine cellar and grounds followed by a wine tasting.  We tasted some great Chiantis (both San Giovese 80% Carnaiolo 20% blends as well as 100% San Gioveses), Super Tuscans (Sangiovese, Merlot, and Cabernet blends), and Vin Santo, which is a white dessert wine of dried white grapes of the region which are squeezed and fermented in oak barrels for a minimum of 8 years.  Yea, we brought a couple of bottles of the reds home.  I even learned the proper way to drink Grappa.  See, you can teach an old dog a new trick!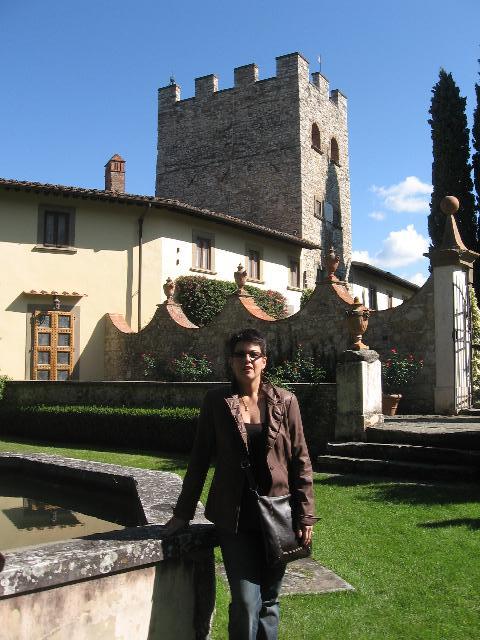 We spent Tuesday at the Castle Verranzzano located on a hilltop overlooking the Greve valley in the Chianti Region.  The castle was built even before Italy was Italian (the Etruscan era) and was settled by the Verrazzano family in the 7th century.  Giovanni da Verrazzano was born here in 1485 and went on to discover what is now the bay of New York and the American east coast.  The famous (and expensive) bridge in New York carries his name.  The vineyard in at the Castle was making wine as far back as 1170 and is renown for its Chianti's and Super Tuscans.  Not only did we go on an extensive tour, but experienced a great wine tasting of 6 different wines and grappa around a 5 course lunch.  Tony, I think I finally understand what being Chianti means and how they differ from Super Tuscans.  You'd have loved this!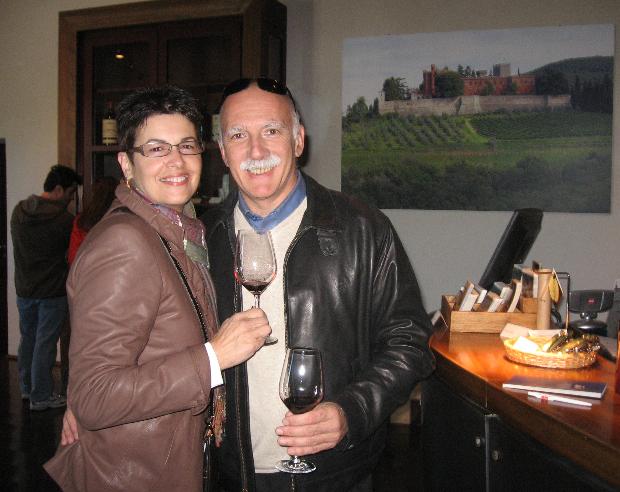 "Hello, my name is Joan…and I'm an alcoholic."  Wednesday started with an early morning ride through some beautiful curving roads through Tuscany to the Brolio Castle in time for a 10:30 AM wine tasting.  The Brolio Castle is where the tradition of Chianti wine making began.  These are Chiantis that we have had in the US for many years.  The big surprise was a tasty white dessert wine (not Vin Santo) that is not available in the US.  So we picked up a couple of bottles.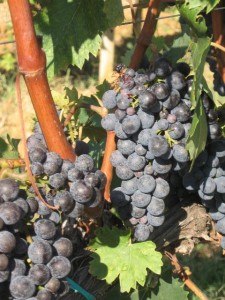 As the morning was still young and we barely had a buzz, we traveled to the "micro" vineyard called "I (pronounced "EEE") Selvatici".  This is a family run vineyard that specializes in a 100% San Giovese Super Tuscan with a very limited production and easily the best Vin Santo in the world.  In fact, Mom has completely disowned her 40yr old Ports for this Vin Santo.  Yeh, we got a couple of bottles here too.  Lunch was at one of the best seafood restaurants that I have ever been to, Il Posto Usuale (The Usual Place).  We started with Proseco and appetizers of fried cod, salmon and swordfish salad, squid salad, sauteed mussels, followed by pasta with octopus, squid, and mussels, followed by fried calamari, shrimp, large fried sardines.  With this feast, we drank an interesting white wine from the Vesuzius area of Naples.  Dessert was a medley of profiteroles, sweet custard, and tiramisu with, of course, espresso/cappuccino.  Needless to say, the Vespas strained under the added weight of our fat butts after that lunch.  Wait, we still had dinner too!!!!!!  We went to Pizzaria da Michele where we had pizzas that were made on crepe-like dough and beer (Mom drank wine). For dessert we had, are you ready?  Chocolate pizza.  Yep!  crepe pizza dough covered with mozzarella, nutello, and whip cream.  Incredible!!!!!!!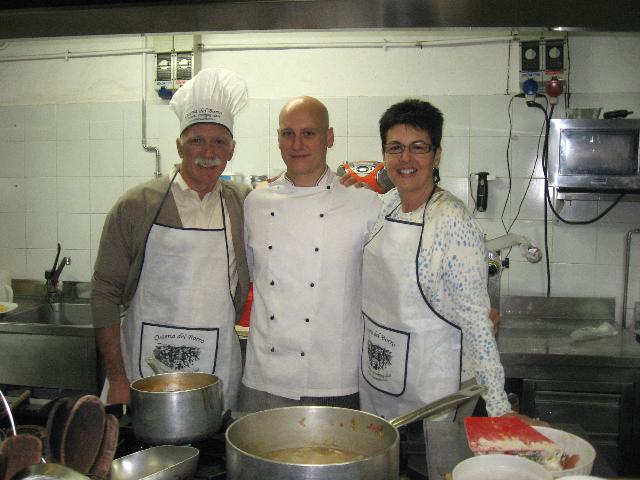 Thursday morning we rode our Vespas for an hour through the countryside to get to Il Borro.  Il Borro is the private estate of Salvatore Ferragamo which is a "neighborhood" of medieval buildings, renovated by the Ferragamo family.  The estate includes villas for rent, a vineyard, church, and the home and shops of local artisans, as well as L'Osteria del Borro which is the restaurant where Mom and I, took a cooking lesson from Chef Leonardo Bindini.  We and four lovely ladies helped prepare our lunch which consisted of pear and pecorino risotto, tortelloni stuffed with zucchini and ricotta in a butter and thyme sauce, followed by minestrone soup, typical Tuscan tomato soup (crusty bread cooked right into the soup), and finished with chocolate mousse.  The lunch was accompanied by a lovely bottle of local Super Tuscan.  Check out the photo album for our cooking experience.  The Vespas will definitely need some air in the tires before our trip tomorrow.  We had dinner at Il Chiasso dei Portici in Radda.  Dad started with a light eggplant lasagna, followed by a delicious stuffed quail to die for.  Mom had a mixed salad and sliced beef with rosemary oil and roast potatoes.  The wine was a great 2001 Brunnello from Santi Vineyards and dessert was a cinnamon apple muffin with stewed apples and ice cream on the side.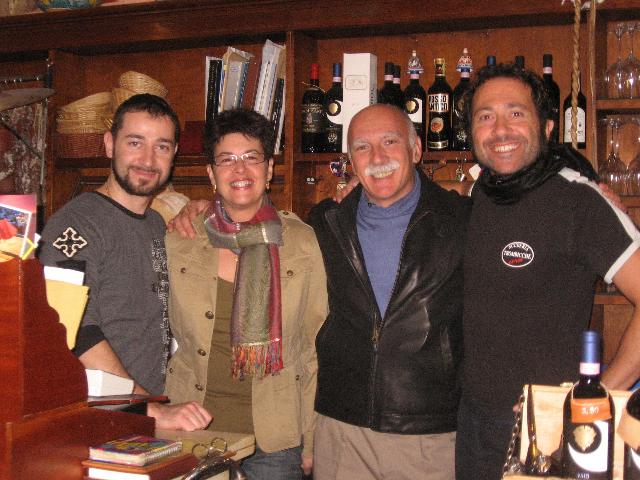 On Friday we rode into Siena.  Mom and I had been to Siena in the past and did the tourist thing, so we did a little shopping.  We visited the Vespa dealership there and also looked through some of the leather shops and jewelry shops.  We had lunch in a little place called da Trambicci Osteria.  Mom had a hearty Tuscan soup and potato and meat croquettes.  Dad had Bacala in tomato sauce and string beans and shared a half liter of homemade Chianti.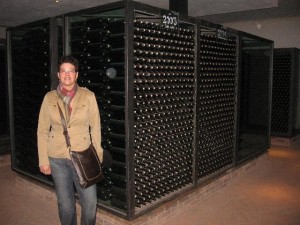 On the way back to Radda from Siena we stopped at the exclusive Campanelle Vineyards, currently owned by the Orient Express.  This vineyard first started making wines in 1994 and are noted for their Chianti Reserve, and three super Tuscans; a 100% San Giovese that is no longer available (we drank this the other night with dinner, see above), a 90% San Giovese 10% Black Malvese called Solare, and a 50% San Giovese, 50% Merlot called 50:50.  They also make an incredible Chardonnay that would rival the best California Chardonnays!  Only the Chiantis and the Solare are available in the States.  Don't worry Tony, we picked up a couple of bottles of the others!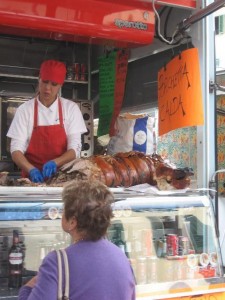 Saturday we rode into Greve in Chianti and strolled through the open market.  Vendors from all over Chianti have come to the central piazza in Greve to sell their product every Saturday, non stop, since before the Medieval times!  You can find just about everything here including groceries, clothing, and hardware.  One of the delicacies sold here is a porchetta panino, which is a pork sandwich where the pig was stuffed with its spiced "innards" and then slow roasted on a spit.  Hmmmmm!  From Greve, we rode to lunch at Montagliari vineyard where we tasted their Chianti and Super Tuscan wines and lunched on an crostini, insalata mista, roasted pheasant, and stewed lamb.  It rained on the ride back, but Mom handled it like a seasoned rider!  We had dinner this evening at the hotel restaurant where we ate pici in veal ragu, tripe in tomato and parmesan cheese, insalata mista and grilled pork chop with a 1998 Brunello followed by tiramisu.  Guess who ate what.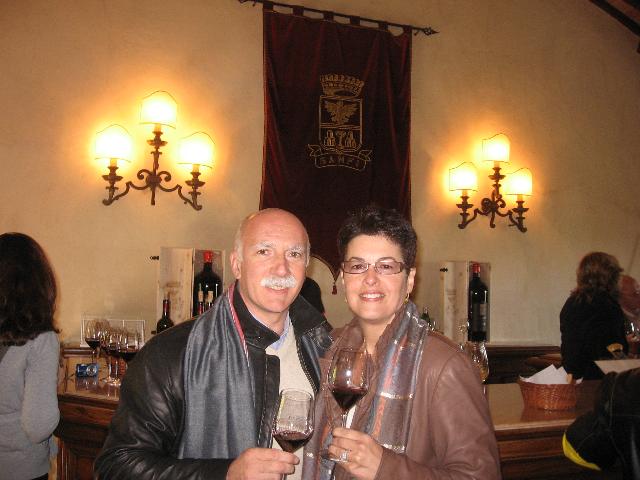 Sunday was our last day in Tuscany and what a day!  OMG, we covered over 250 KM today and you guys would not believe Mom.  We rode about 1.5 hours to the Banfi Estates in Montalcino to taste their Super Tuscan and Brunello.  I don't think Mom will ever taste a blush or her "Wild Horse" merlot again.  We then rode for another hour to Arezzo for lunch.  Mom was incredible!  Not only did she keep up, but she was cooking at 65 mph on the autostrada!!!!  We were traveling so fast that Mom couldn't keep her jacket closed, so we had to wrap my belt around her to keep the jacket closed and Mom from getting airborne!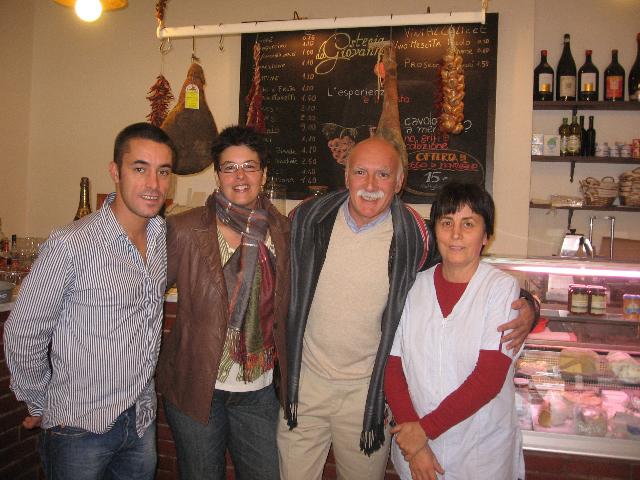 We had lunch at this completely out of the way restaurant called Osteria da Giovanna. There is no way we could ever find it again without a guide.  This is a great family restaurant that actually started as a truck stop on the road between Siena and Le Marche and is now a secret local gourmet restaurant.  Lunch today included: liver pate on crostini, ravioli stuffed with ricotta and spinach in butter and covered in slivered truffles, paparadelli in goose ragu, bacala in tomato sauce, grilled bacon, tripe, pork snout stew, pork liver with fennel, and white beans.  Lunch was accompanied by a local Super Tuscan and we had chocolate torte for dessert.  We needed the fortification for the long and chilly ride back to Radda.  Can you believe that Mom ate pork snout??!!!!!!
Here are a few more pictures and stories.  Either click on the "slideshow" or arrow down to page through the pictures one at a time.  Enjoy and don't forget to leave a comment in the Guestbook!