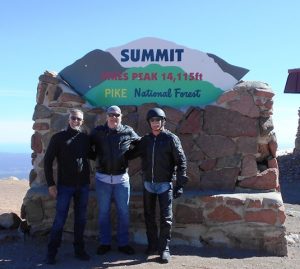 Back in 2010, Mr. Smith and I took a ride through the prairie states and ended up riding through rain, wind, sleet, and snow.  We called it "2010 Road King Classic All Weather Prairie Ride". This time our buddy "Pedro" joined us and we're riding the new Harley Davis Memphis 8 power train bikes (they're on Ultras, I'm on "the King").  We'll be starting and ending in Denver this time instead of South Dakota, with planned destinations to include Pikes Peak, ride along the Salmon River in Idaho, as well as rides to Mount Reniere and Yellowstone National Park.  Can't wait!!!!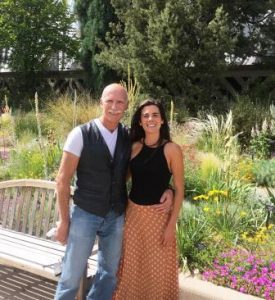 We arrived in Denver on Day 1 at midday which didn't leave us much time for riding. Pedro and Mr. Smith headed south to Colorado Springs on some back roads. I was treated to a visit with none other than the lovely Stephanie (our favorite daughter)! We chatted over lunch and spent a little time wandering through the Denver Botanical Gardens. Isn't she beautiful!  I headed to Colorado Springs that afternoon on Rt 25 where I met up with my biker buddies.
Day 2 – The fun begins! The day was beautiful as we headed to Pikes Peak on Rt 28. It got chilly pretty fast as we climbed from about 7000 ft to over 14,000 ft.  The temperature at the top was well below freezing.  The road up is not for the faint-hearted.  There are plenty of switchbacks and not many guard rails so you really need to know what you're doing.  Here's a little video snip of part of the ride.
After lunch, we switched into lighter clothes and got onto Route 82, Independence Pass which took us over the continental divide and into Aspen Colorado. After 8 hours and nearly 250 miles of riding, we were ready for showers and dinner in Glenwood Springs Colorado. Here's a little snip of the ride through Independence Pass…and yes that's snow all around us!
Day 3 was sunny and brisk as we left Glenwood Springs, Colorado. Reed Mapwell (A.K.A. Mr. Smith) found us some really fun twisties and turns that took us from northern Colorado into Utah and eventually Wyoming. We started on Route 6 west to Rt 13 North which got us onto Route 64 West which was a really fun back road with twisties that could handle speed. From there, we headed onto Route 40 west and then Rt 191 North which took us to 44 west which is a road that takes you through prehistoric rock formations close to the Utah/Wyoming boarder like the two videos below:
We ended the day in Evanston, Wyoming after 350 fun miles on a beautiful day. Tomorrow we head to Idaho!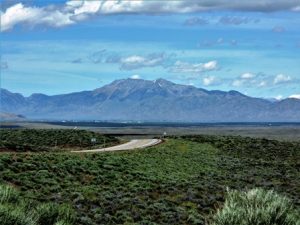 Day 4 – A brisk, cloudy, full leathers day as we head to Idaho. Mostly a windy travel day as the Wyoming winds blow us 360 miles through the mountains to Sun Valley, Idaho.  Mostly traveled on interstates through the prairies and some fun twisty backroads through some canyons. We did get to enjoy some homemade PIE after lunch at the Homestead Restaurant in Blackfoot, Idaho.  Tomorrow we head to one of my favorite rides along the Salmon River.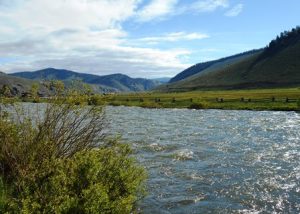 Day 5 was another brisk morning that found us in full leathers again.  The day started out sunny but turned cloudy around lunchtime. Reed Mapwell got us onto Idaho Rt 75 north also known as the "Salmon River Scenic Byway" which took us along the Sawtooth Mountain chain on the left with the Salmon River running to our right. This is our favorite picturesque ride through some gentle rolling turns which eventually becomes more technically challenging (yet handles speed nicely) as we transfer to Rt 93 north as we get into Montana following the Bitter root mountains and circumnavigate Flathead Lake. All told, this was our best riding day yet with over 440 miles of great riding spread into Rts 75 and 93. We settled into Kalispell, Montana with huge smiles on our faces after a long, but great day of riding. Tomorrow, Glacier National Park and Yellowstone National Park.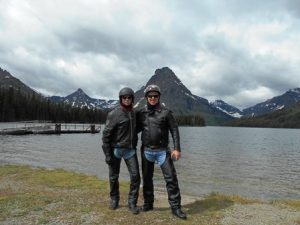 Day 6 – We left Kalispell at 60 degrees and sunny, but in the 90 miles to Glacier National Park along Rt 2, the temperature dropped into the 40s. The ride took us through forest filled hills and fun roads. See the first video below. The mountains in Glacier National Park look a lot like those from Lake Louise in Banf, just not as much ice.  There is a sip of that in the second video below. The "Highway to the Sun" was closed again due to snow, but we managed to have fun on the great twisty Rt 49. From Rt 49 we jumped onto Rt 89 which is a beautiful "longboard" type of road that can handle decent speeds as we traveled 100 miles through a sea of green pastures as far as the eye could see.  It was a short day with only 250ish miles as we stopped for the night at Great Falls, Montana. Tomorrow, on to Yellowstone National Park.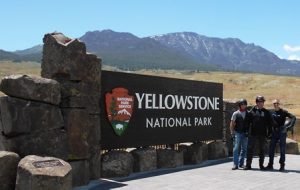 Day 7 started out chilly and sunny as we left Great Falls on Rt 89 South.  The ride on Rt 89 just south of Great Falls took us through the spectacular Helena Lewis and Clarke National Forest with great turns and twisties at a decent speed.  The ride started through green meadows then turned into a ride through the forest with a rambling river to our right.  Easily one of our top 5 rides ever! As we proceeded south towards Wyoming and the Yellowstone National Park, the 50 miles just north of the park on Rt 89 are actually more spectacular than the Park itself as we saw homes and ranches nestled in the hills on our left and rolling hills on our right.  The park itself was busy and had a fair amount of road construction on going so we got to practice a little of our "off-road" techniques as well.  The park is always amazing.  Where else can you ride along and see brown bear and bison in as natural a habitat as you can find.  We exited the park at the eastern entrance which lead us through great brown canyons and fun riding. After a 10 hour day of 360 miles, we settled into Cody, Wyoming for showers, dinner, and much needed rest.  Tomorrow we continue south into South Dakota.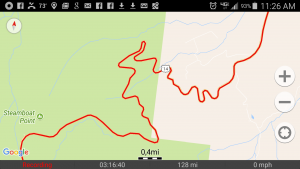 Day 8 – Wow! Nice cool morning as we started out on Rt 14A towards Gillette, Wyoming. The first 30 miles were a little boring, but then we headed into Big Horn National Park and one of the rides of our lives. The ride through the park was at speed through nice curves at close to 9500 ft and just as we thought that the ride was ending, we descended to about 4000 ft through 45 minutes of switch backs (see the inserted map) by the time we pulled into Gillette after 260 miles I was picking flies from my teeth, I was smiling so much. Tomorrow, we head to Deadwood, South Dakota.  Here's a little snip of our ride.
Day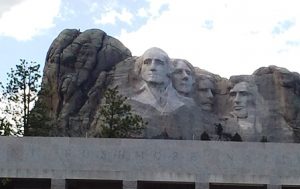 9 – We left Gillette with the sun out and a little breeze, but the weather quickly turned windy and cold.  Glad I brought my leathers! We headed south to Newcastle, Wyoming for our second breakfast at Donna's and then on to Devil's Tower. From Devil's tower, we headed to Sturgis, South Dakota for lunch. After lunch we headed to Deadwood, dropped off our bags at the Best Western there (not really their "best") and headed to one of our all time favorite rides to Mt. Rushmore.  We started on the Needles Highway which unfortunately was crawling with cars, but then exited onto the Iron Mountain Highway (16A) at Custer State Park and had one of the rides of our lives as we proceeded on to Mt. Rushmore.  It was a long day of about 420 miles over around 11 hours, but worth every minute!  Tomorrow we head into Nebraska. Can't wait (not!).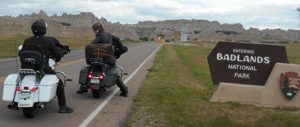 Day 10 – Another cold day as we left Deadwood South Dakota headed south on Rt. 385 windy conditions of 40 degrees!  Oh yea, hardcore, cold weather biking today. It was mostly a transit day as we headed through Buffalo Gap on Rt. 44 (there are actually no Buffalo in the US only Bison, we were told) through the Badlands of South Dakota. From the Badlands, we continued into Nebraska on Rt. 20 for the longest 200 miles of my life into Scottsbluff, Nebraska after a total of 385 miles.  Tomorrow we head back to Colorado.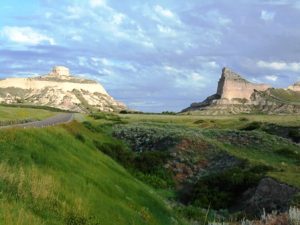 Day 11 – Our last day of riding was cold and breezy as we head back to Denver to return our bikes.  On the way, we made a few stops.  First we stopped at the "Gateway to the West" in Scottsbluff, NE. This is where anyone in the pioneers day would have to cross in order to get to the west coast. See the picture above.  We then stopped in Boulder, Colorado for lunch with Stephanie, Christie, and Christie's boyfriend, Andrew. In total we rode 259 miles today and a total of 3410 miles over 11 days. Nothing better than a fun-filled, safe adventure.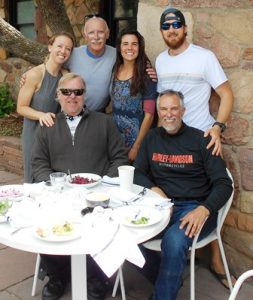 Please check out the other pictures from our trip in the photo album below.  Either click on the "slideshow" or arrow down to page through the pictures one at a time.  Enjoy!  Don't forget to sign in on our Guest Page!