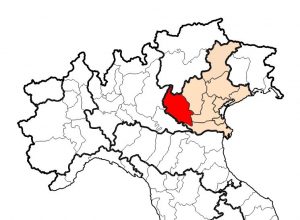 Fully vaccinated and virus free, Mom and I are headed for our long awaited Bluone Tour of Verona with our great friends and tour guides, Raffa and Marcello. This year's trip is not only special because it's our  first time back to Italy post-COVID quarantine, but we get to spend 10ish days and nights eating great food and drinking wonderful wine with our longtime friends, Gae and Ron.
According to Wikipedia, the province of Verona Italy lies just east of Lake Garda (highlighted in red in the above map). It's a hilly agricultural and marble-quarrying region of Italy north of the Adige and is famous for Valpolicella and Amarone wine production.
We arrive in Milano just in time for Mom's birthday and a train ride into the Swiss Alps and Bern. Assuming Italy accepts us back into their country, we'll then head to Verona by slow train and the start of our wine and food extravaganza visiting Soave, Lake Garda, site seeing, and of course tasting some great wines like valpolicella, amarone, soave, and franciacorta. Stay tuned for the fun!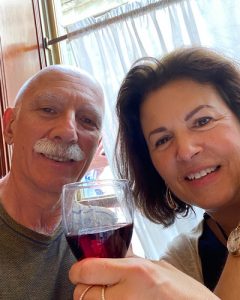 Day 1 We landed in Malpensa Airport, picked up our bags and headed to our favorite Milano hotel, Hotel Spadari, just a couple of blocks from the Duomo. After a quick shower, we did a little "Birthday Shopping" (It is Mom's birthday after all and we ARE in Milano!).  We had lunch at our favorite trattoria Lucca's. Mom had veal medallions with porcini mushrooms and I had fagioli work with mussels. We celebrated Mom's birthday with Gae and Ron at Cantina delle Vetre, a cute family restaurant specializing in Milanese risotto and osso bucco. Perfect cibo for a 2015 Tignanello!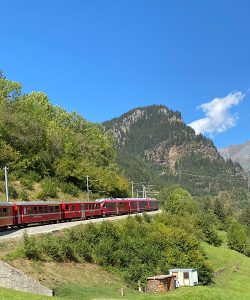 Day 2 An early morning as we gather at the local tourist bus station for an all-day trip north to Tirano, Italy where we'll catch the Bernina Express to St. Moritz, Switzerland. The Bernina Express is an historic red Swiss mountain train, that travels what is considered one of the most beautiful railway routes in the world with its unsurpassed alpine view of the Swiss Alps along the Bernina Pass to St Moritz.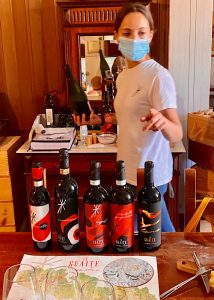 Day 3 A beautiful morning as we head for our first food and wine excursion of the tour to the Frantoio Salvagno Olive Oil Company. From there we headed to the Coffele winery to taste their Soave Classico wine and Prosecco. After lunch, we stopped at Le Guaite di Noemi winery to taste their valpolicella, ripasso, and amarone wines.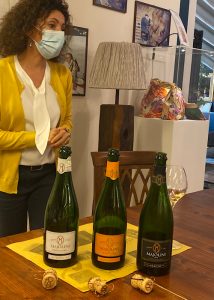 Day 4 Another beautiful day as we drive back into the Lombardi province to visit the Cantina Majolini for a class on Franciacorta wine making and taste three very different spumante wines. After a great lunch of local pastas at a family owned trattoria, we drove to Gardone Riviera on the shores of Lake Garda and the Heller Botanical Garden. Dinner was insalata mista and pizza and draft beer at a pizzeria in the Bra Galleria in Verona.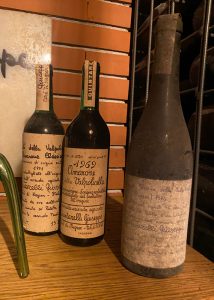 Day 5 The day Mom and I have been waiting for as we travel into the Valpolicella Classico region for a wine tasting at the Quintarella Winery. This small production (60,000 bottles/year), third generation winery makes some of the most sought after valpolicella, ripasso, and amarones in the world (and boy are they proud of them!). What a great tasting experience! From the Quintarella Winery, we had a delicious lunch at the Enoteca della Valpolicella, followed by another wine tasting at the Cantina Brigaldara family winery for more valpolicella, ripasso, and amarone. Yes Tony, we're bringing home samples.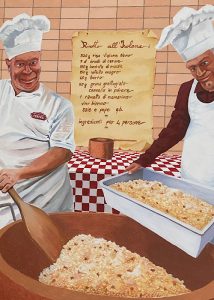 DAY 6 It's a cooking day as we head to Isola della Scala for a lesson on growing rice in Italy and risotto cooking class. We learned two methods of risotto making that are different than the more popular Tuscan method that requires constant stirring and attention. In this region, risotto is made by using two measures of broth for one measure of rice and only stirring once before boiling and then again at the end of cooking. You also toast the rice before adding boiling broth. The second method is more like making normal rice (not risotto) because you boil broth and then add rice resulting in a more sticky rice. Both were very delicious. On the way back to Verona, we stopped at Vileggio sul Mincio, a milling town with rivers running through for a café and a stroll.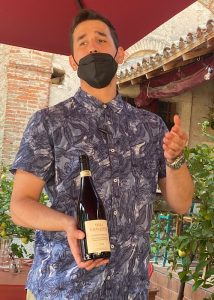 Day 7 Today we head north to the Lake Garda area to taste a couple wines we've never had in and around Bardolino. We first stopped at Villa Calicantus, a biodynamic winery where we tasted their frizzante (unfiltered with lees on the bottle), their rose, and their classic bardolino (Chiar-Otto) made from Corvina, Rondinella, Molinara, Sangiovese grapes. We then took a boat ride around Lake Garda which has about 140 miles of coastline filled with exclusive hotels, castles, and Roman ruins. We next headed over to Cantina Citari for aperitifs of their Lugana white wine (Terra Bianche) and rosé (18 Quarantacinque; Groppello, Marzemino, Sangiovese, and Barbera grapes). Both were among our favorite wines on our trip. Our farewell dinner was delicious grilled meats at Selva Capuzza with their Estate wines.
We'll be adding photos to the photo album below from this great trip.  Either click on the "slideshow" or arrow down to page through the pictures one at a time.  Don't forget to drop us a line in the Guestbook!