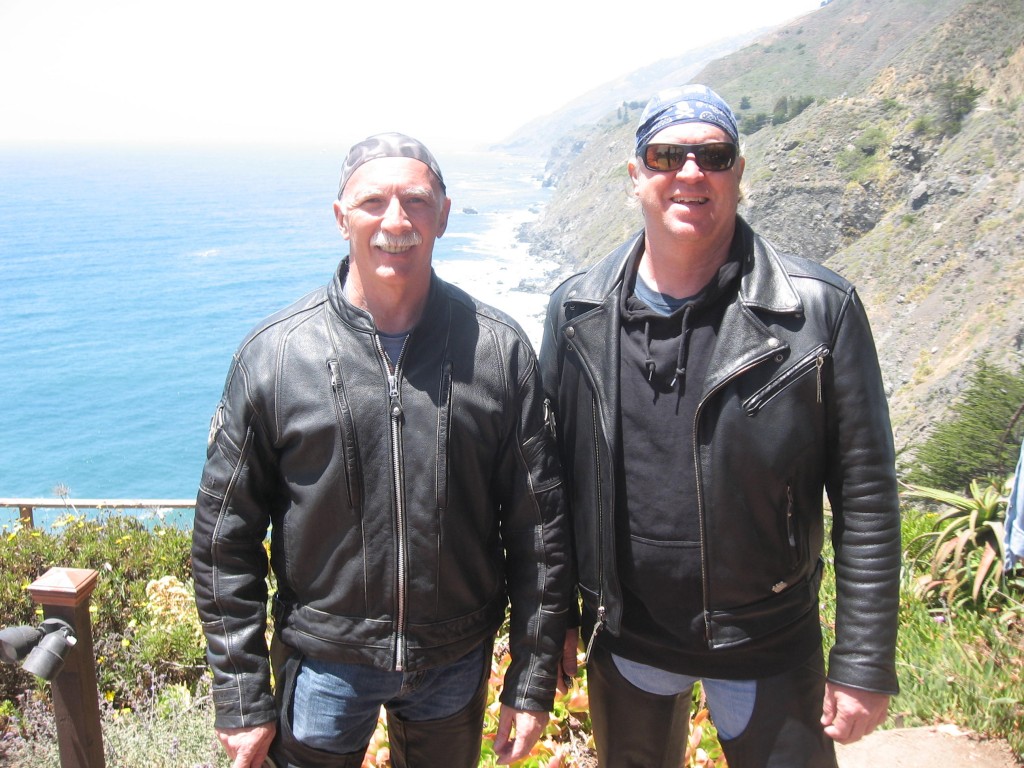 Mr. Smith and I are headed to Los Angeles, California to pick up a couple of Harleys and head north to Washington State.  The plan is to take the Pacific Coast Highway north as far as it will take us, cross the Columbia River into Washington State, make a U-turn back over the Columbia River, across the Cascade Mountains,stop for a day or two in Lake Tahoe, and then continue along the Sierra Nevada Mountains, back into California and LA.  We'll do our best to make the whole trip in 10 days, weather and butts permitting.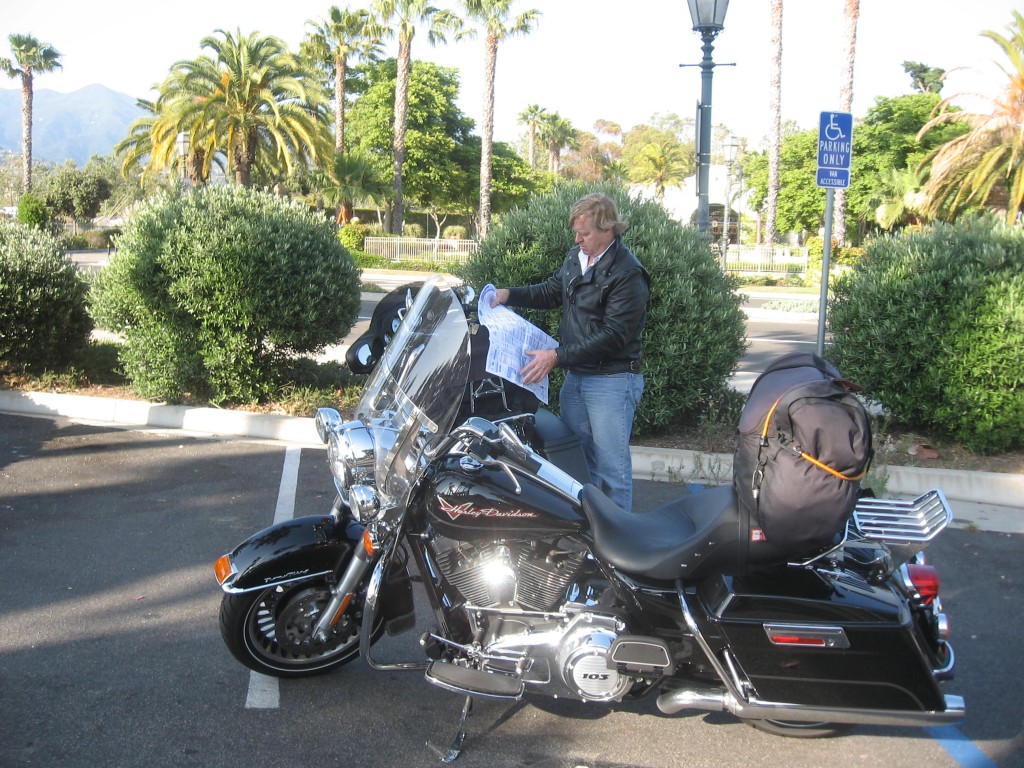 Day 1 – After an uneventful flight to Los Angeles, we took a cab to Glendale Harley Davidson and grabbed our bikes.  Mr. Smith is riding a 2012 Street Glide and I'm riding a 2012 Road King.  We had a little excitement at the Harley store.  A well-dressed gentleman entered the store directly behind us and walked to a different part of the store.  Within 30 minutes, the police were at the store and had the gentleman in handcuffs.  It seems the gentleman "allegedly" was caught shoplifting.  Anyway, we eventually got on the road.  We took Sunset Strip through Hollywood, Beverly Hills, and Belair to the Pacific Coast Highway in Malibu and headed north.  The ride was beautiful and a little chilly as we were following the Pacific Ocean north to Santa Barbara for the night.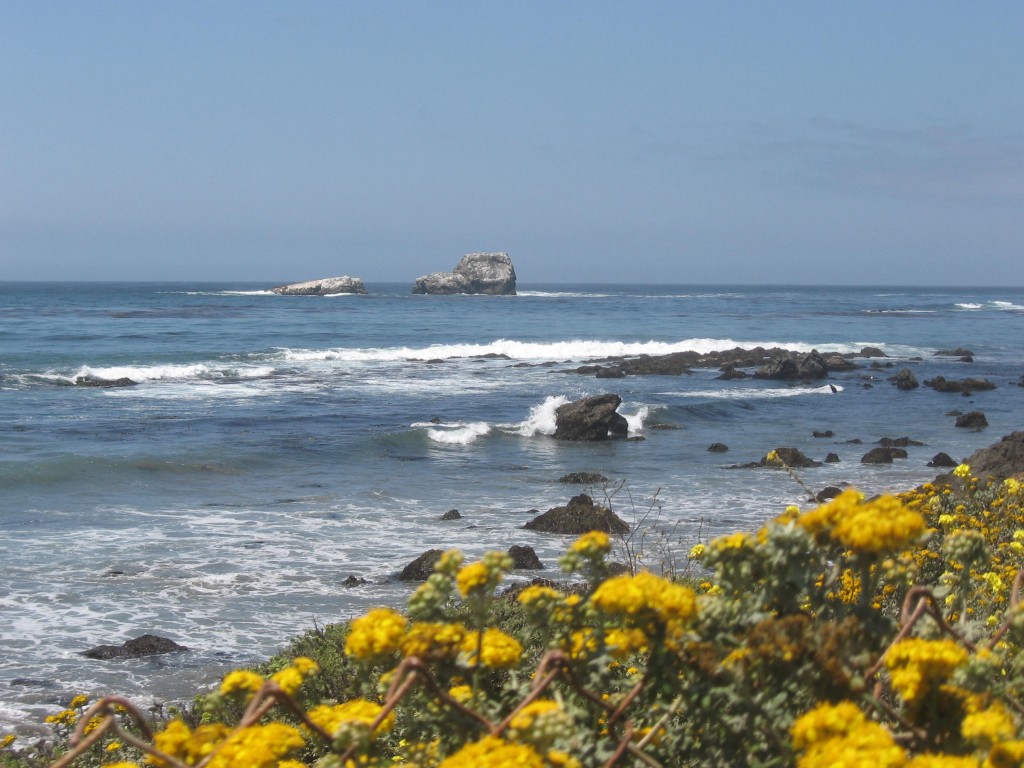 Day 2 – Leathers and layers!  56 degrees and foggy when we left Santa Barbara.  The fog and the chill followed us up the pacific coast all morning.  It is amazing how so much of the California coast looks nothing like San Diego, Hollywood, Beverly Hills, and all those other towns that get all the media coverage.  If not for the cliffs we could be riding in South Dakota or Northern Florida.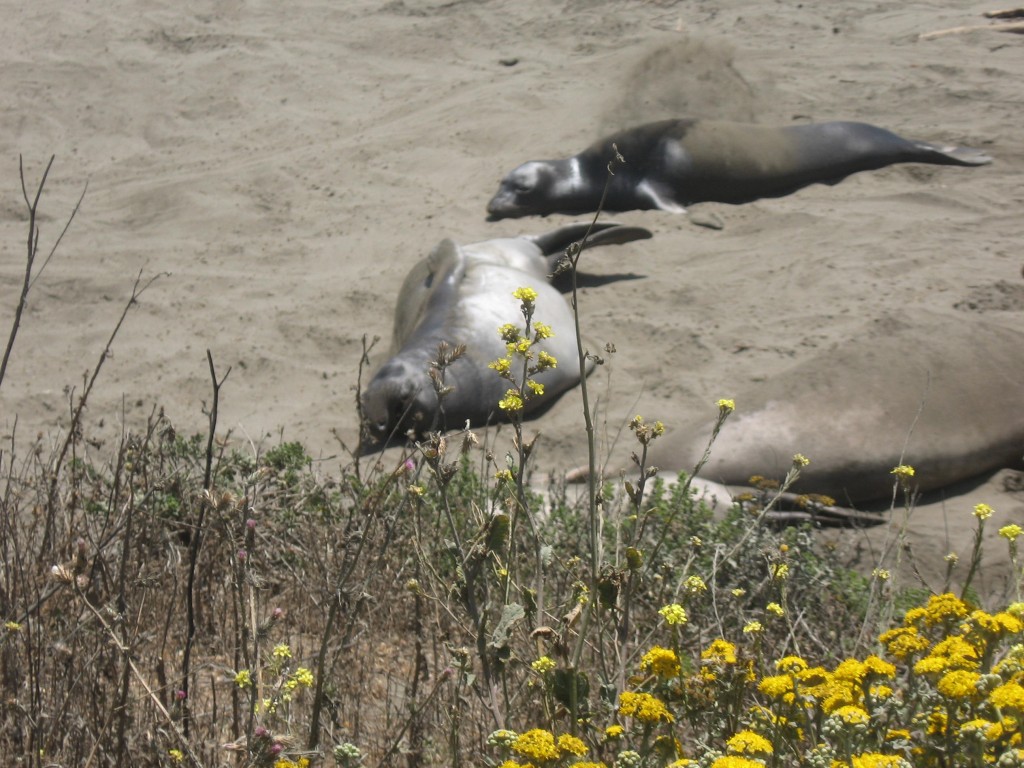 The sun finally came out around noon just in time for our arrival at Elephant Seal Beach.  These humongous creatures were all over the beach just laying there throwing sand on themselves and basking in the sun.  Every once in a while one of the seals would roll into the water to cool off.  What a life.  No surfers though.  Seals attract sharks.  Speaking of laying around, we decided to spend the night in Monterey.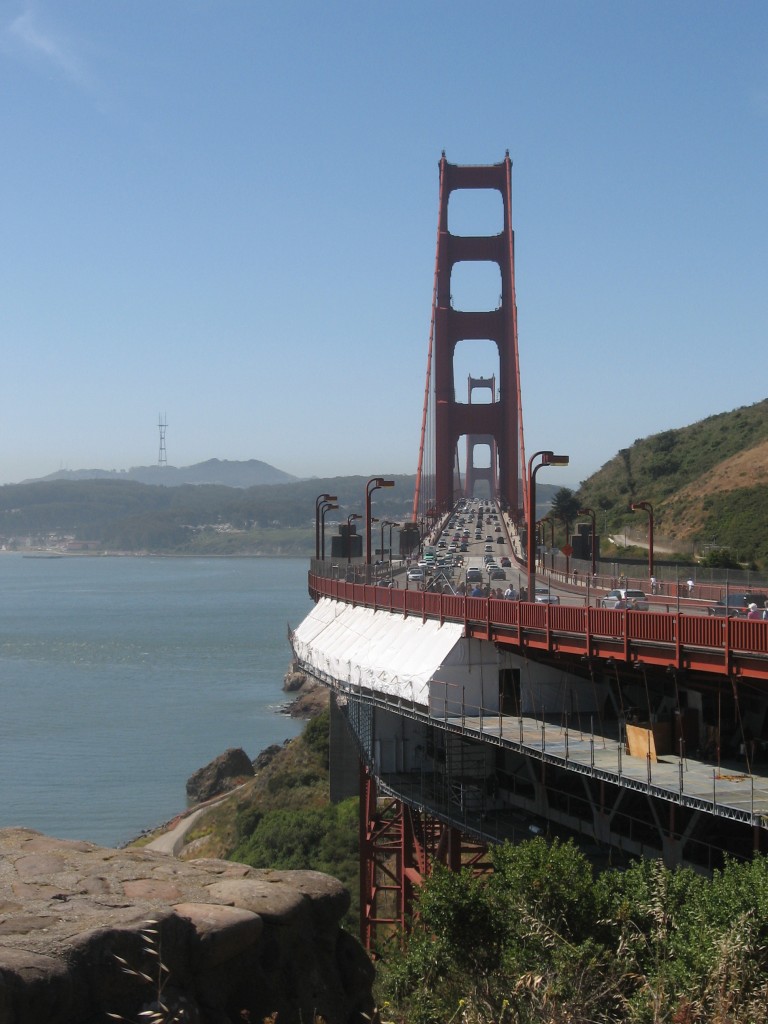 Day 3 – We left Monterey early in the morning with the sun brightly shining, headed for San Francisco.  It's Saturday so traffic was incredible as we got close to the Golden Gate Bridge.  How is it that San Francisco's temperature reached 101 degrees, but everywhere else the temperature was a chilly 60 degrees?.  There was no parking available at the Muir Woods when we got there so we didn't get an opportunity to see this magnificent Redwood forest. We did ride some great twisties around Muir Woods though.  The road opened up as we got north of Sonoma Beach and we did some great technical riding for the rest of the day.  After 11 hours on our bikes we pulled into Fort Bragg for the night.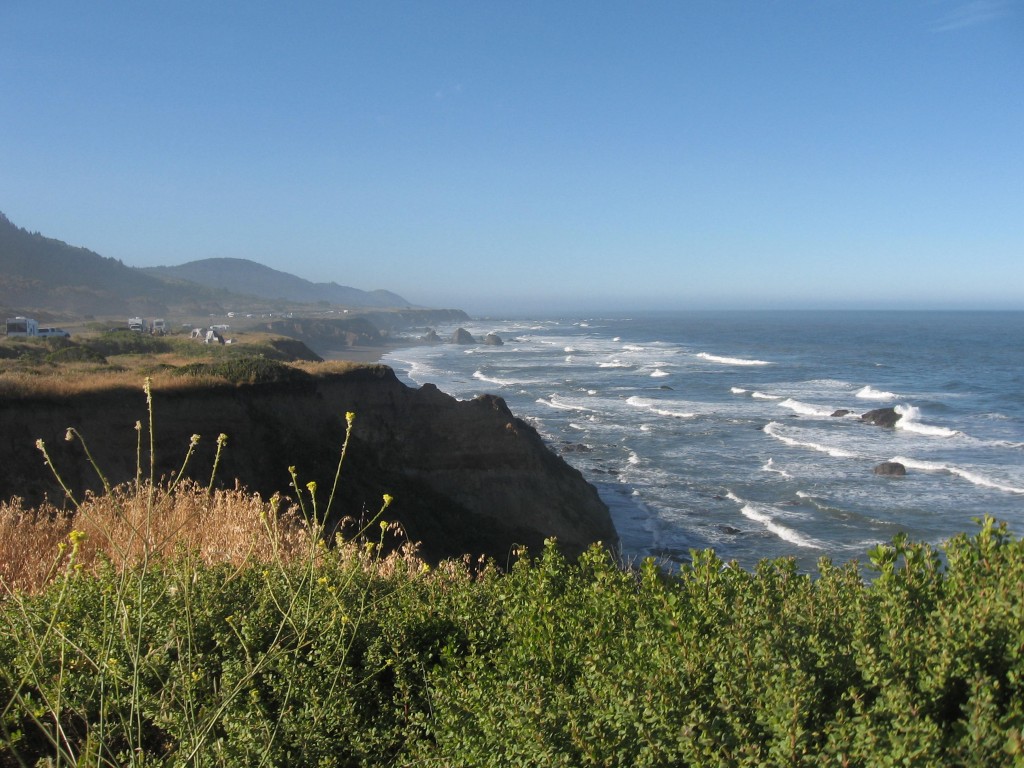 Day 4 – It was sunny and cool in Fort Bragg when we headed to Oregon. Fort Bragg, no Fort, and nothing to brag about… but what great riding just north of Fort Bragg and all the way to Oregon!  Great curves, and smattering of redwood forests, hills, and the beautiful rocky cliffs of the pacific!  The fog set in once we crossed the Oregon boarder and the temperature dropped about 10 degrees.  Spending the night at Coos Bay.  Headed  to Washington in the morning.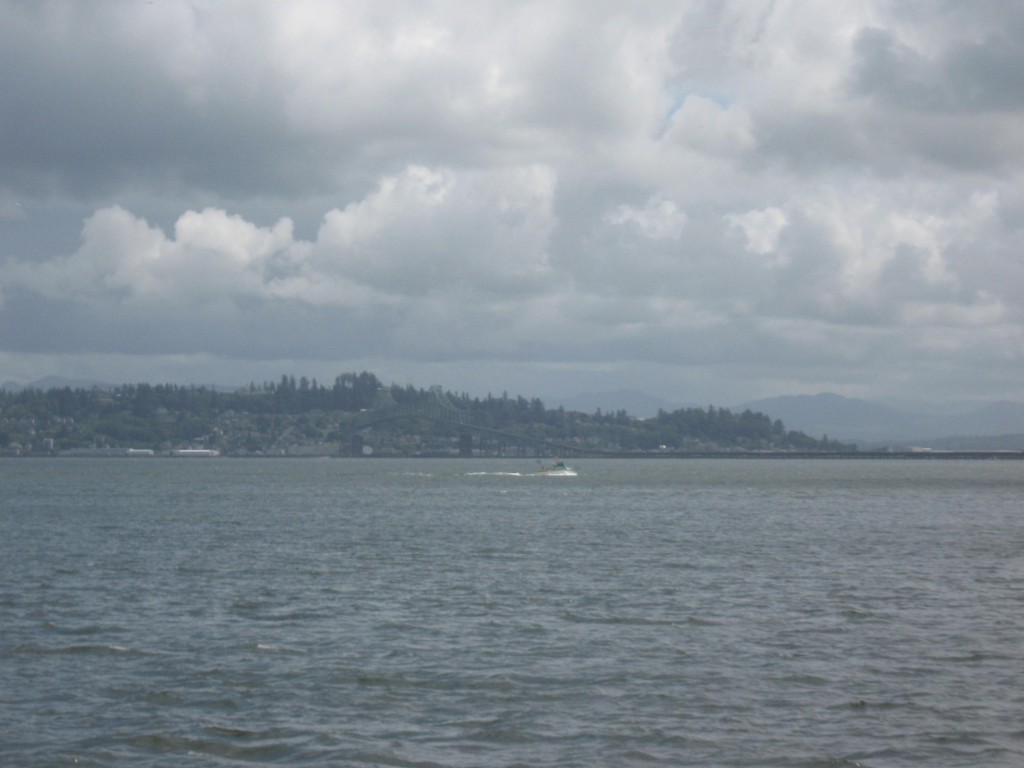 Day 5 – We left Coos Bay,Oregon in the rain and at a chilly 50 degrees.  It was cloudy through most of our ride north on Route 101 up to Washington State.  We crossed the Columbia River on Route 401 north, where the sun finally showed its face.  From Route 401 we went south on Route 4 through some fun winding roads and back over the Columbia River to the I – 5 and Portland, Oregon.  After a quick dinner at a Lebanese restaurant, Kamara, we hit the sack, exhausted after another 11 hours of riding.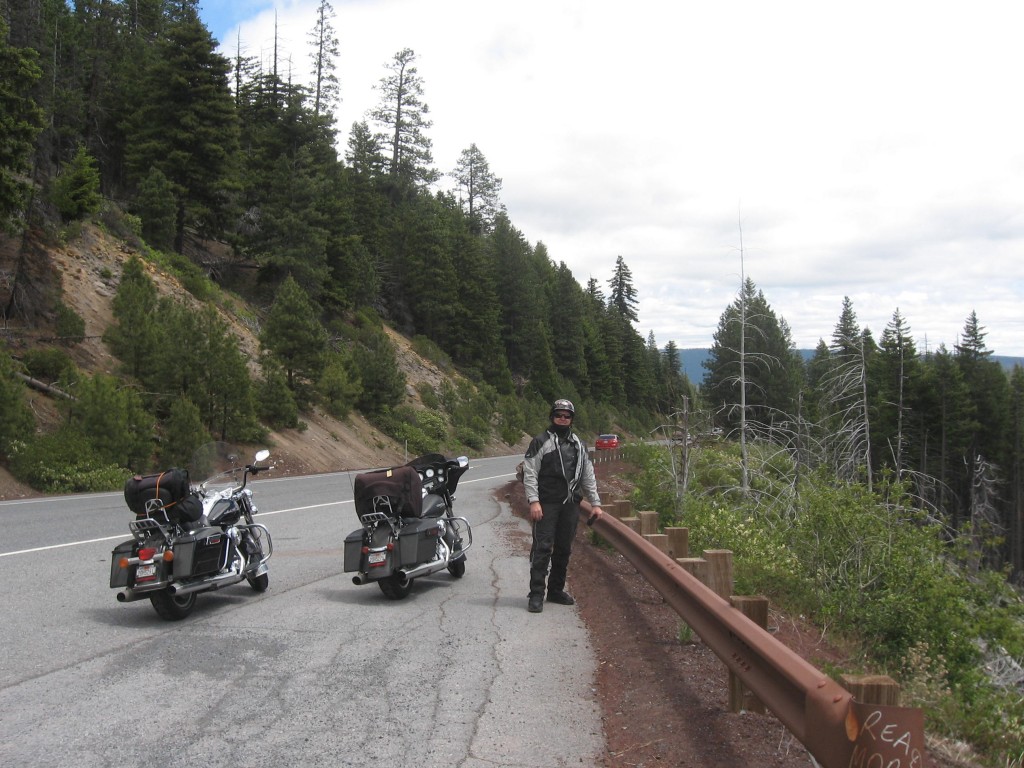 Day 6 – We headed south from Portland today under cloudy, chilly, and wet conditions.  After leaving Interstate 5 south onto Route 22 east to Bend, Oregon for lunch.  A very relaxing ride through some great fir and spruce tree forests.  At Bend, we jumped on Route 97 south through the Cascade Mountains (some still covered with snow) to Klamath Falls. Klamath Falls sits in the middle of a tremendous crater possibly formed when an asteroid hit the earth millions of years ago.  The town is surrounded by very high hills (26 miles around) and lies next to the beautiful Lake Klamath.  Headed to Lake Tahoe,Nevada tomorrow.
Day 7 – From Klamath Falls we headed south on route 97 back into California, across the lava beds and past beautiful Mt. Shasta. Mount Shasta is an extinct volcano responsible for the lava beds and boulders strewn all around the area.  It's a bright chilly morning, and the views and ride is incredible!
From Mt. Shasta, we jumped on route 89 which took us to Lassen Volcanic National Park.  Not only a great ride, but beautiful vistas of snow covered mountains.  In this picture we're at around 9000 ft with about 2 ft of snow and about 38 degrees.  From the park we continued southwest on 89 into Nevada towards Lake Tahoe.  Good news, the temperature headed up to over 90 degrees!  Bad news, the heat caused the regulator on my bike to give out and we needed to wait 2 hours for a tow to our friend's house (Brian) just outside of Lake Tahoe to spend a few nights.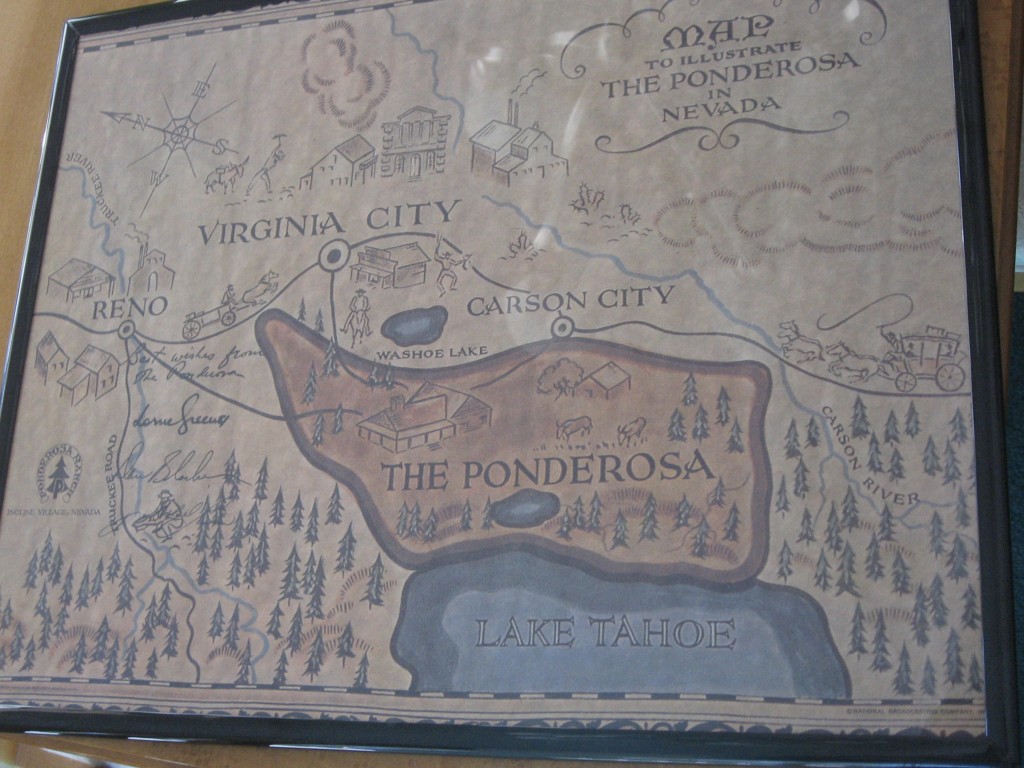 Day – 8 BUM…bum,bum,…BUM…bum,bum,…BUM…bum, bum,…BUM…bum,bum…BUM…BUM… That's right little fella, that's the Bonanza theme song.  And here we are at Brian's house just outside of the Carson City studio set in Incline Village, Nevada.  Brian let me borrow his Ponderosa map, but reneged on letting me burn a hole in the middle like on the TV show.  We're staying just about where the left most Ponderosa boundary meets the lake.  Pretty nice!!!!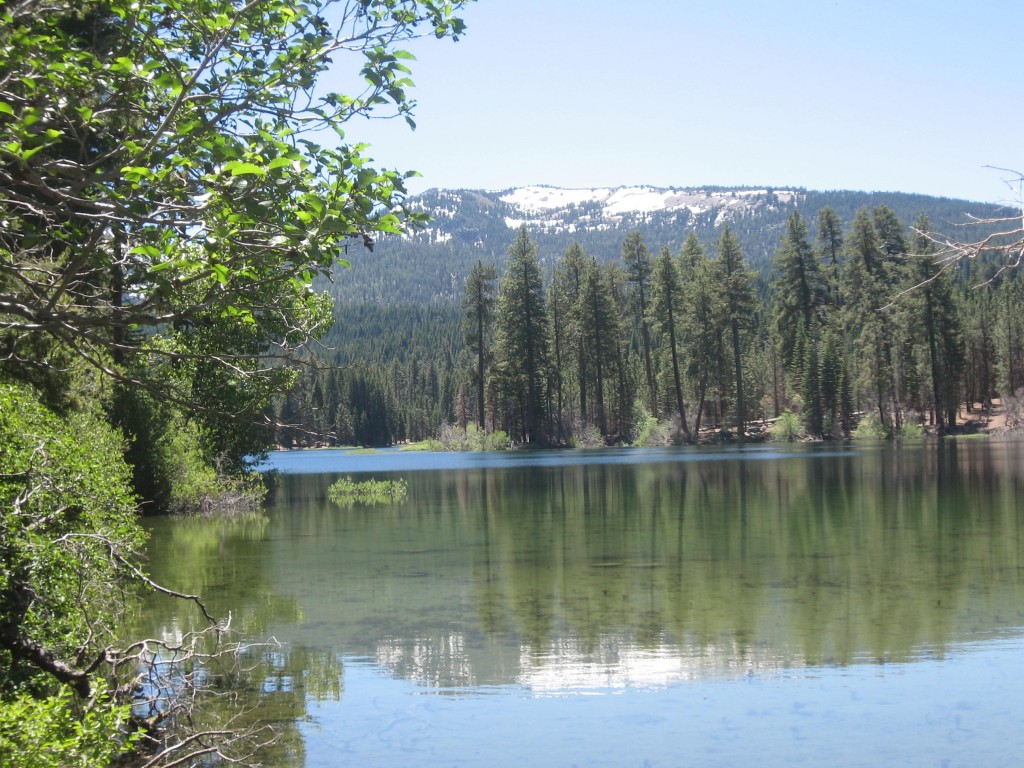 We woke up to beautiful weather at Lake Tahoe, but unfortunately my bike was not repaired until late in the day so we did not do much riding. Brian and the lovely Janice are great hosts and we enjoyed sipping wine out on the deck, talking and laughing. Tomorrow, we'll follow the Ponderosa boundary along the north of the lake, north to the route that leads to Carson City, but in the opposite direction.
Day – 9 We woke to another beautiful, but chilly morning and bid Brian and Janice so long as we took off for Bishop, California.  Everyone we spoke to recommended that we take route 395, and they were right!  A fun ride of about 250 miles along the east side of the Sierra Nevada Mountains at elevations of 5000 – 10,000 ft, passed Yosemite National Park and into Bishop.  We went from temperatures in the 50's to temps less than 40 and then temps of about 90 when we arrived at Bishop.  South to Burbank tomorrow.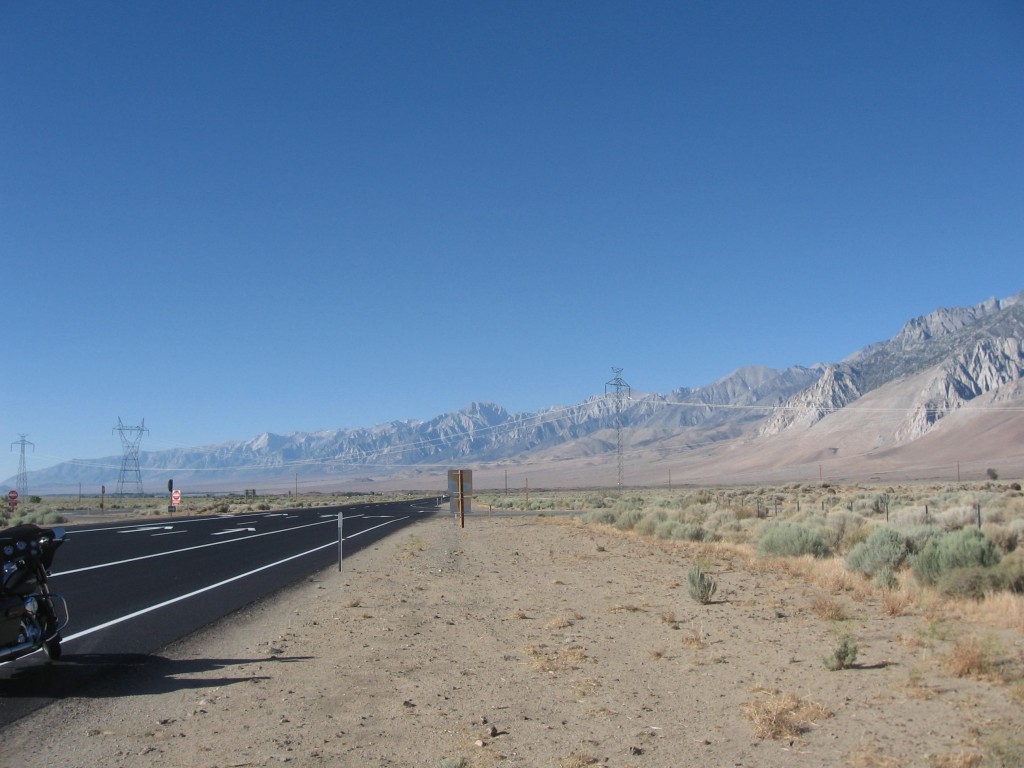 Day 10 – "Long and (not so) winding road…" A beautiful warm morning met us as we headed south on route 395.  We rode most of the day through straight-aways in a valley between two mountain ranges, passing through ancient lava fields, passed Death Valley, Red Rock, and the Mojave Desert.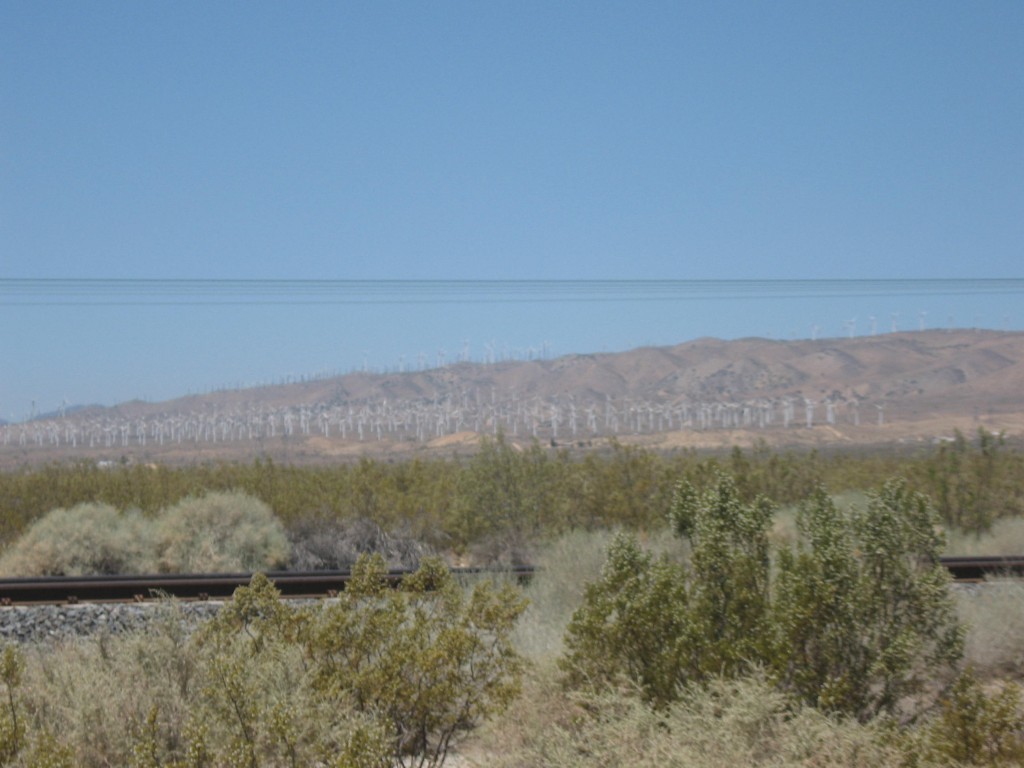 Someone finally found a way to make use of the space in the Mojave Desert.  This is a picture of windmills just outside of Mojave, California.  These are only about half of the windmills visible from Route 14.  Just across the street from the windmills, is a parking lot for commercial jets.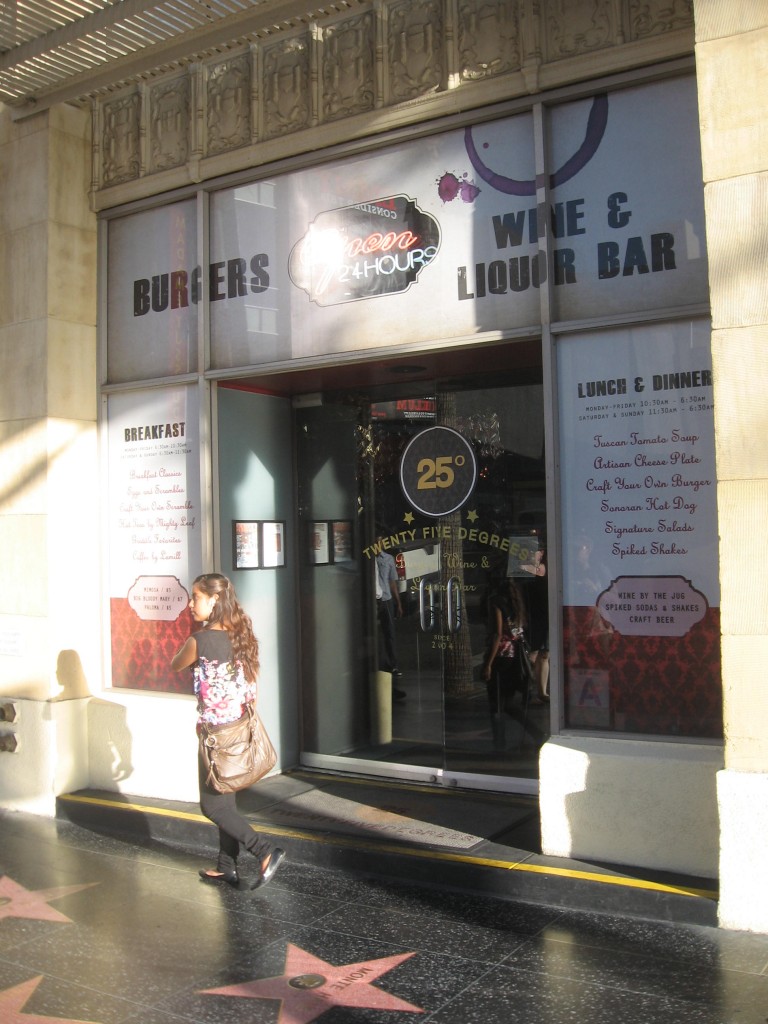 Mr. Smith and I rolled into Burbank around 2 PM and headed to Hollywood to do a little sight seeing.  We walked down Hollywood Boulevard and noticed all the Stars with performers names, as well as Madame Trousseau's Museum, and Grauman's Chinese Theater.  I was most impressed by the lunch we had at 25 degrees (the difference in temperature between medium-rare and well-done hamburgers).  Mr. Smith enjoyed a classic burger while I ordered an Ahi Tuna burger that was exquisite, definitely a "must" for anyone visiting Hollywood Boulevard.
Day 11 – Last day of our ride "…so we loaded up the bikes and we rode to Beverly.  Hills that is, movie stars, swimming pools…" Actually we jumped onto Mulholand Drive and rode in the hills above Los Angeles and then down to the beach. Mulholand Drive is the famous road from where movies shoot Los Angeles from above and has been used in many movies.  This picture is from the first turn out on Mulholand Drive.  A little hazy, but what do you expect from LA in the AM?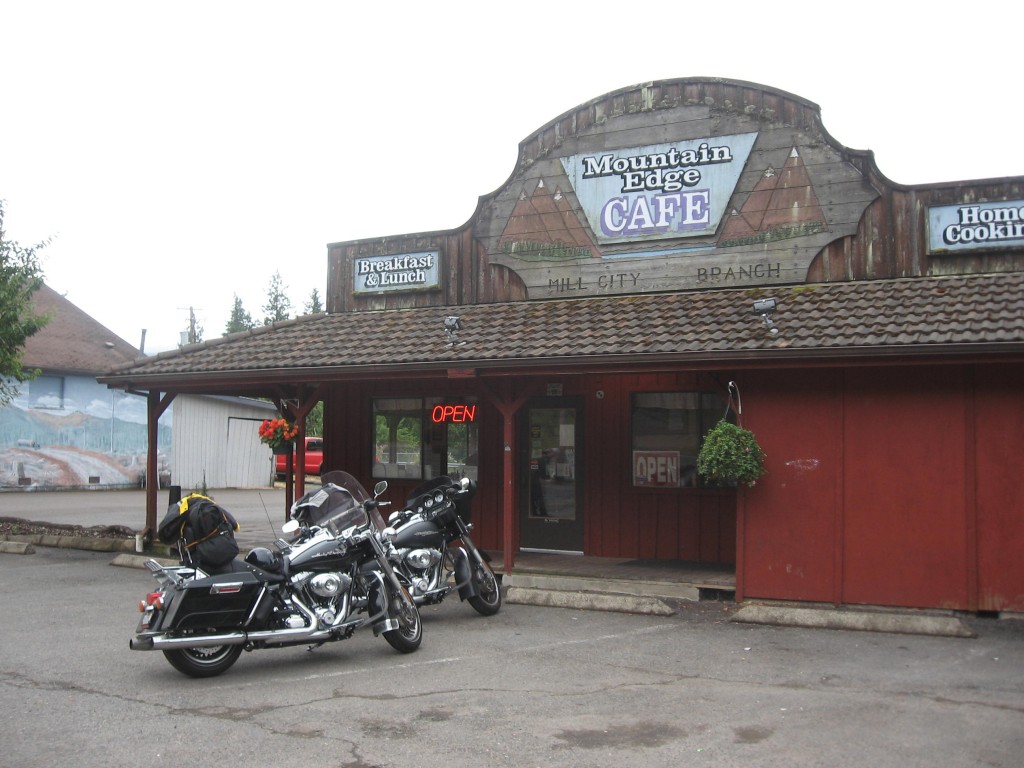 Well another great trip in the bag.  Just under 2800 miles, from LA along the coast of California and Oregon, into Washington, back into Oregon across the Cascade Mountains, into Nevada, down along the Sierra Nevada Mountains back into California and to Glendale Harley Davidson and home.